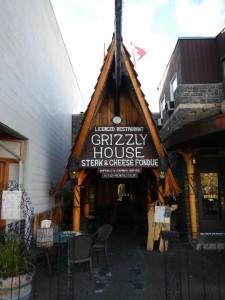 When we visited Banff, AB last fall, we quickly fell in love with the little ski town. What's not to like? It's a little ski hamlet with lots of quirky and fun shops and restaurants tucked into the middle of a national park. While sightseeing,  we came across a little spot to eat that was well recommended and looked right up our alley! Who wouldn't want to eat at a place called Grizzly House? On top of the cool name and design, this place offered a great selection of exotic meats and had an awesome laid back feel that turned out to be much more than we expected. Win! We had a great meal and wanted to share our review of Grizzly House in Banff, so you too can enjoy this unique dining experience.
When we first arrived at the Grizzly House we had no idea what to expect. We walked in and it was surprisingly empty, which can be a bad sign for a restaurant. It turns out the combination of our off season visit and the fact that it was a weekday, resulted in the lull in business. Apparently this place often needs reservations and can be booked solid for weeks. Our first impression of the Grizzly House was quite positive. It was dimly lit and full of a mixture of hunting lodge decor and funny quotes. Strangely though, there was a display case selling t-shirts and, oddly, g-strings. That was our first sign that there was something fishy going on here, but hey, this was our first night in Canada, maybe G-strings are a common thing at restaurants, eh?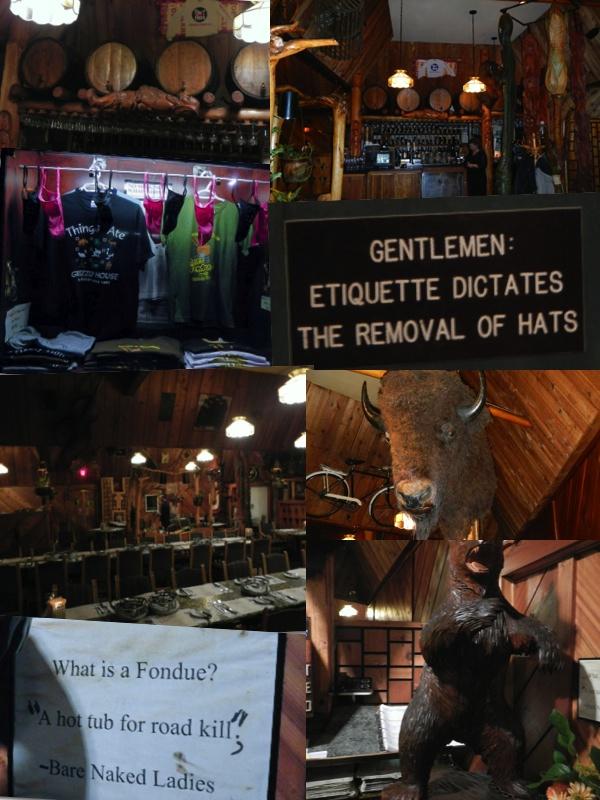 The decor was definitely eclectic!
When we were seated at our tables we took care of the most important thing first. We ordered beer! Grizzly House has a decent selection of brews and wine available, and we both found something we liked from a local brewery called Grizzly Paw.  Once the server brought us our beers and explained the menu we started to look around the Grizzly House and both noticed something a little odd about the place (in addition to the souvenir thongs that is). There was a phone at every table. In addition to that, we had these little placemats that looked innocent at first, but then revealed their true nature when overturned.  First off, there were more thongs for sale, then there was this little map of the whole place on the right with phone numbers for each table, and thirdly (and most obviously I must admit) was this phrase across the bottom: For Lovers and Hedonists since 1967!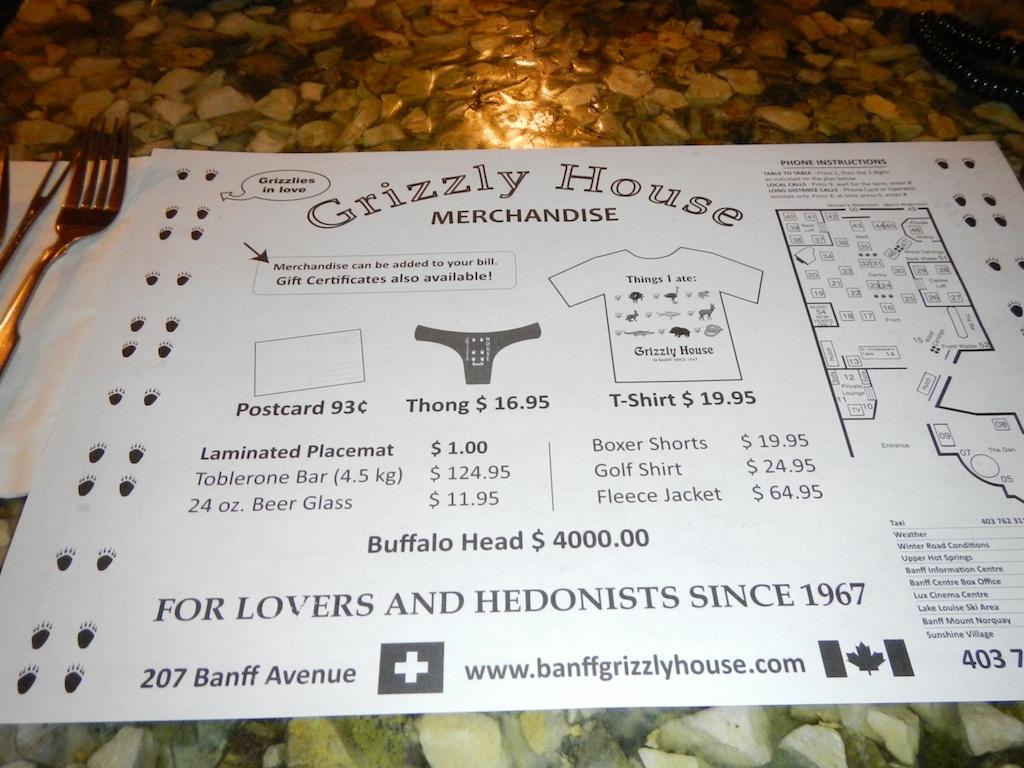 Did you say Lovers and Hedonists ?!?!?!
Not that there's anything wrong with lovers or hedonists, we were just shocked that this place was in the middle of the main street on Banff Ave! We called our server over and immediately gave him the third degree on the whole situation. This is what we found. When originally founded, the Grizzly House was owned (and still is) by a couple that was very active in the "lifestyle". Being the '60′s they started a disco, that eventually turned into a great fondue restaurant with a twist. Every table has a phone, so you can call up and meet another couple that you may be interested in at the restaurant. There is even a table in back (by reservation only) that has a curtain that can be drawn for "privacy". Now, don't get the wrong impression here, there wasn't exactly a whole lot of anything going on this night, and according to the server, it's not too common for random meeting to occur anymore. Some times though on some nights, well… a little of the restaurant's history comes out to play. Now that you have the whole back story on the swingers let's move on to the  reason Lauren and I went: food!
Grizzly House is most famous for their wide variety of fondues that include exotic meats like Venison, Elk, Bison, Boar, Shark, Frog Legs, and even Rattlesnake. We both decided we would take advantage of the rare opportunity for some exotic meats and selected a four course fondue. The first course was a selection of soups. Lauren went for the house vegetable soup and I went for the french onion. It's a buck extra but totally worth it.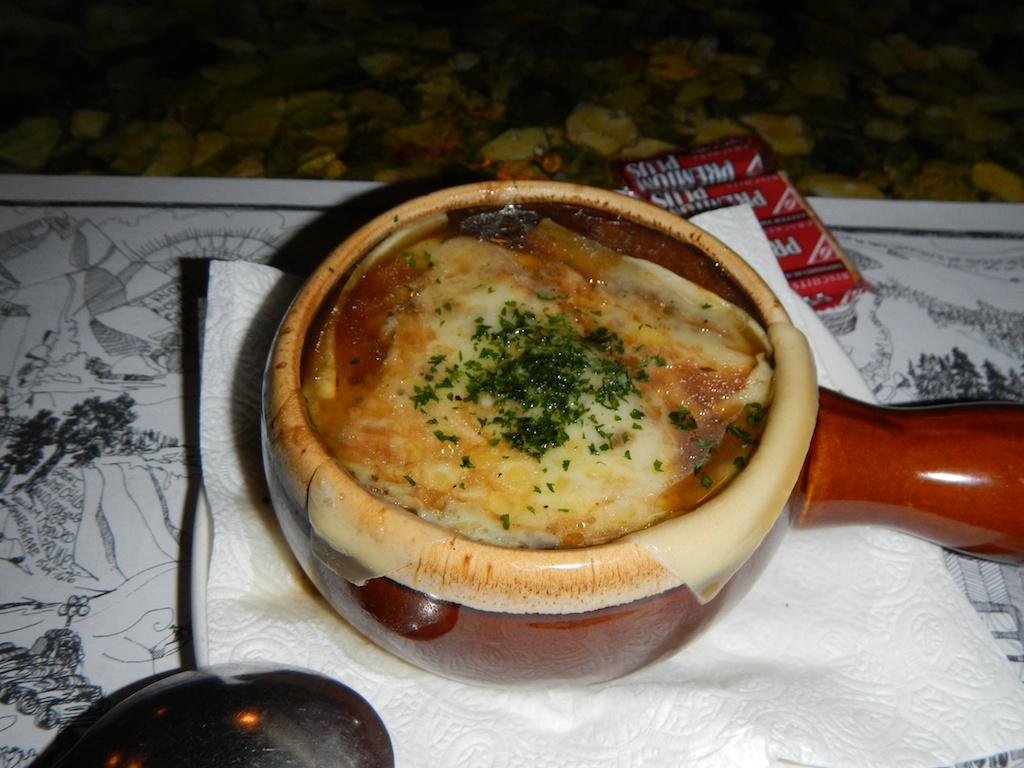 It was rich and tasty!
The soups were both good (although not great) and started off the meal nicely. For the appetizer we went for the Neuchâtel fondue. A variety of Swiss cheeses, wine, and other seasoning are blended together and then served with bread and vegetables for dipping. The cheese was velvety and smooth, and clearly high quality. The bread was nice and fresh as well, so the appetizer made up for anything that the soup was lacking.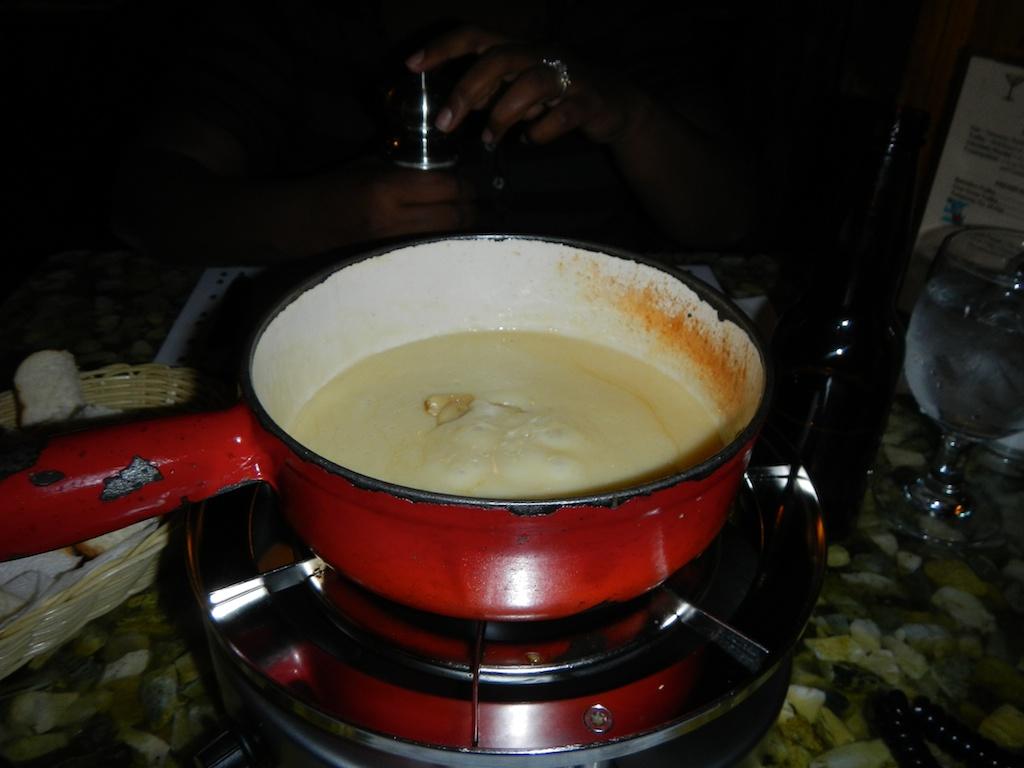 The cheese was velvety and delicious.
The main course was a choice of either an oil based traditional fondue pot or a hot cooking stone. Lauren and I both like our meats seared and quite rare, so we went for the stone. If you've never tried it, the stone results in much more flavorful meats than the traditional oil based method. As far as the meat selection went, we both chose plates that had a mix of Venison, Boar, Bison, Beef, and Caribou. We couldn't bring ourselves to order the ultra exotic plate, but only because we've already eaten most of the other exotic meats, and hadn't tried these. The meats are brought to the table raw for cooking and include a variety of dipping sauces. As soon as the hot stone and meats came out we knew the right choice had been made.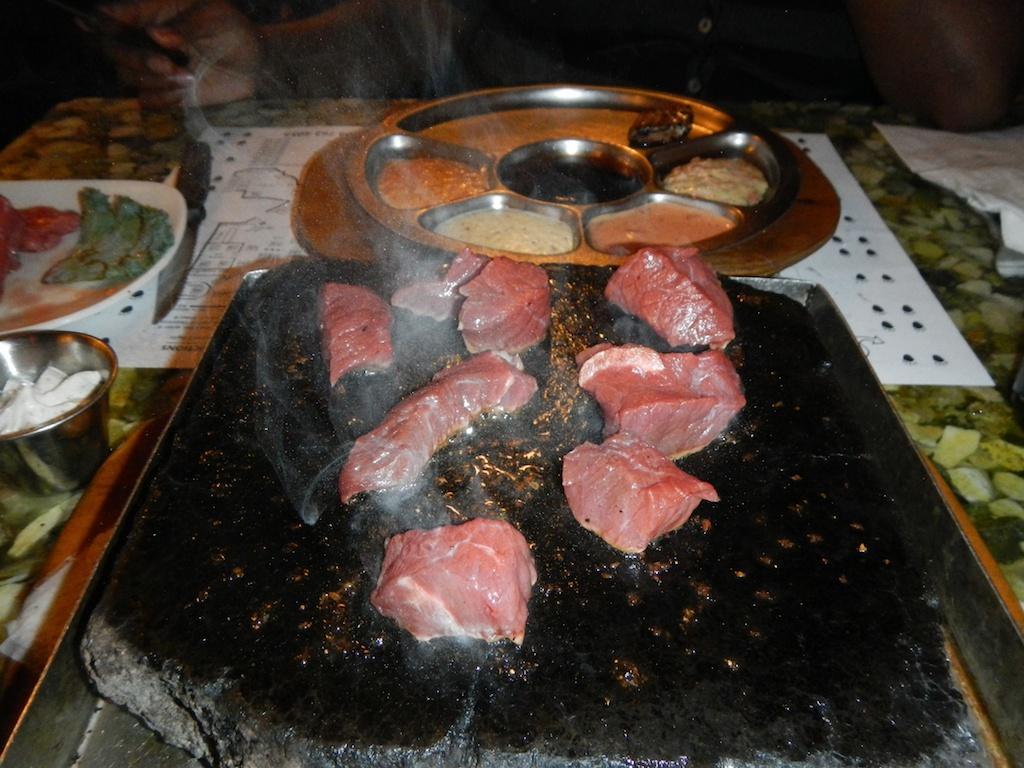 The hot stone allows for a nice sear.
We proceeded to cook our chunks of meat on the stone and coat it with the house garlic butter and enjoyed every bite of it. If you've never had exotic meats before, they  taste similar to beef, with a more gamey and rich flavor. Except of course  for the boar, which tasted like gamey pork. The portions of meat aren't huge, but as part of the 4-course meal they are definitely filling.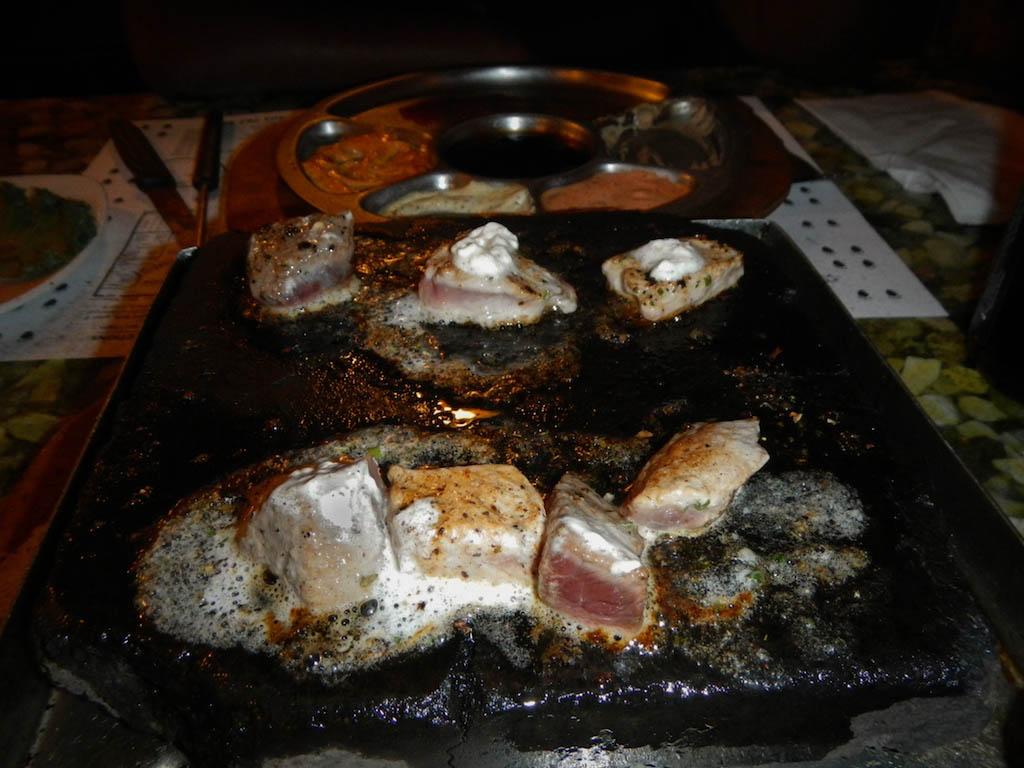 The garlic and herb butter was a nice addition.
After cooking and eating all this meat we were pretty full, but had already committed to the last course: dessert. Grizzly House takes the typical chocolate fondue and kicks it up a notch by adding chunks of Toblerone, which happens to be one of my favorite chocolates. We dipped our selection of fruits and wafers in chocolate and ate until we couldn't move. To finish off the meal we paired our dessert with an Irish coffee.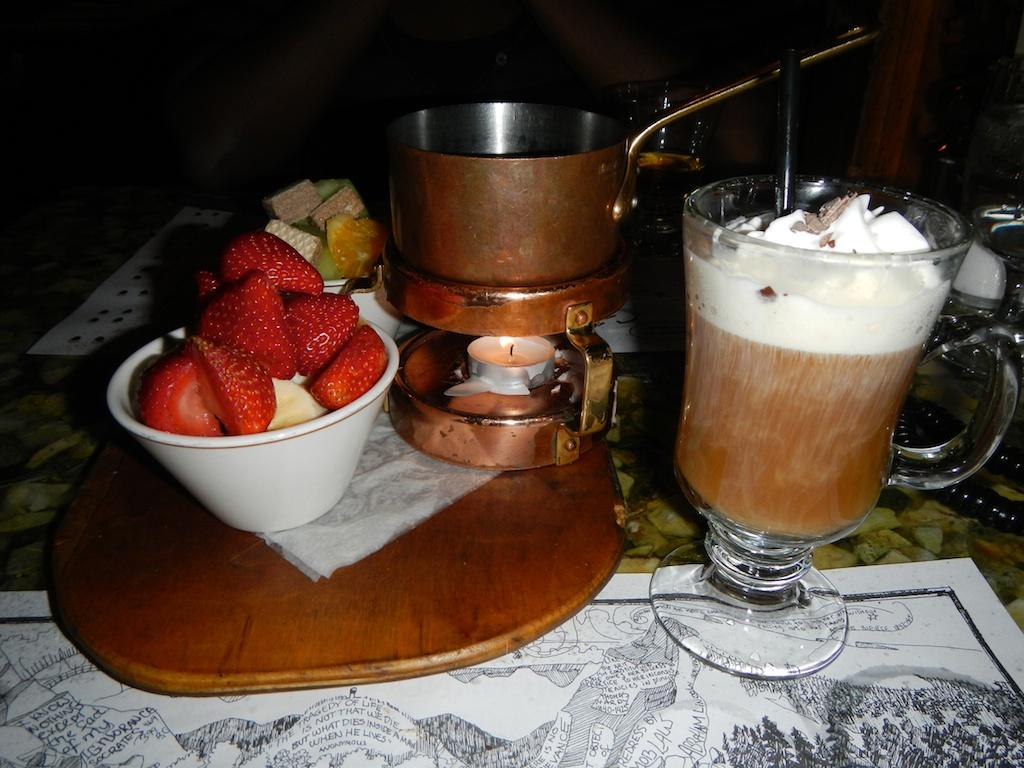 Desert anyone?