Visiting other Balkan states is quite easy to do from Dubrovnik. There are many tour operators within Old Town that offers Mostar and Kotor day tours. Day tour is used quite loosely as they really only offer transport to and from the destinations. Entrance fees, meals, and other activities are to be paid separately.
The next day, we were picked up at around 7:00 am near Ploce gate. The drive took around 1.5 hours with several border crossings as there is a disputed strip of land between Croatia and Bosnia & Herzegovina. Border crossing was a bit confusing. Needless to say, it is very important that you have your passport with you!
When we finally arrived in Mostar, I immediately noticed the soviet-looking buildings. It seems that the area is less developed than Dubrovnik even though it's been drawing tourists in recent years. You can even see bullet-ridden buildings when you walk around town.
Undoubtedly, Mostar's biggest draw is Stari Most or the Old Bridge. One can't help but admire its perfect arch. It was actually destroyed in the 1990s conflict and has been rebuilt. It crosses the Neretva River and connects the two parts of the city.
On each side of the bridge, there are alleys lined with shops, restaurants, and cafes that look out to the bridge and the emerald river that runs underneath it.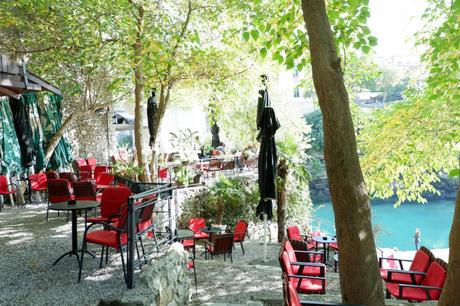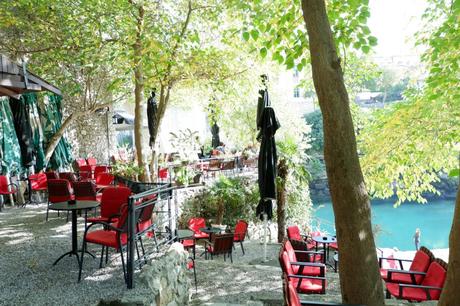 Another attraction are the divers of Mostar. Once they get enough money from tourists, they jump off from the 24-meter bridge. Not just about everyone can jump though. They need to undergo training and obtain a license to become an official diver. They've been participating in the annual Red Bull Cliff Diving competition since 2015.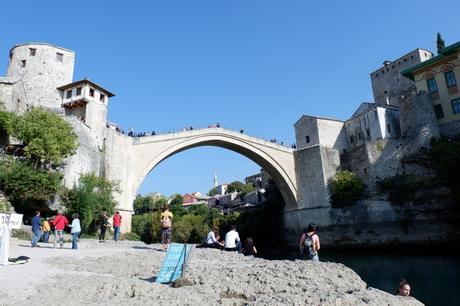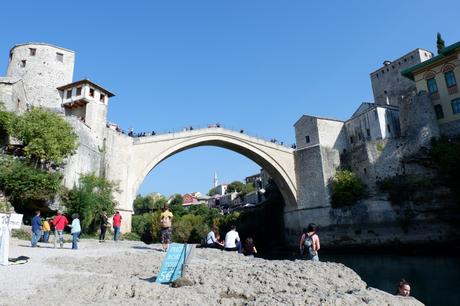 For a bird's eye view of Stari Most, head over to Terrasa Café.
Since it was almost lunch time, I decided to get a cevapi. Cevapi is a traditional Balkan dish of grilled meat with chopped onions, cottage cheese, and other herbs served together with a flatbread. The price is way cheaper than in Dubrovnik!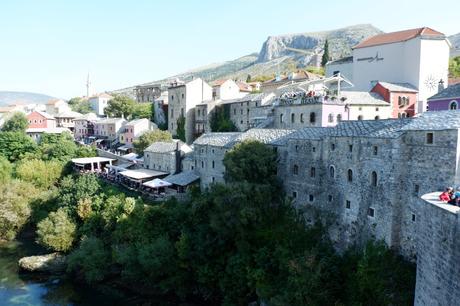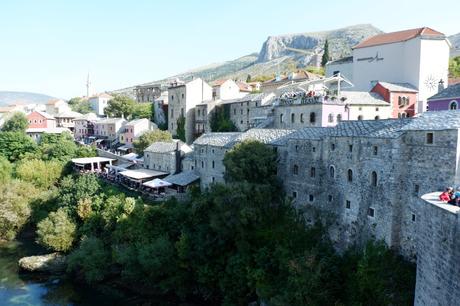 There is a strong Ottoman influence in Mostar, so you will find plenty of cafes serving Turkish coffee.
We also wanted to go to Blagaj, but it was not part of the tour. I'm not sure if there are any operators that include it in their package, but if you can stay for at least a couple of days in Mostar, you can probably rent a car to go there.
We had around 2 hours to explore the area then we went back to the parking lot to wait for our driver. We thought we were done for the day, but the driver said we will visit another attraction called Kravica Waterfall.
As we were about to exit the town, we were stopped by police officers. My friend and I were seated at the front, so we were naturally wearing seatbelts. However, the police claim that the passengers inside the van weren't. I mean, how could they have seen it from outside? They asked for our driver's license and turns out they just wanted to extort him. I guess corruption is still rampant in the region.
Kravica is a series of waterfalls southwest of Mostar. It's said to be one of the most beautiful natural sights in Bosnia & Herzegovina.
There's quite a steep set of stairs going to the waterfall, so if you have knee problems, there's a "toy train" that can take you halfway there. There's also a couple of viewing platforms where you can admire the cascading waters.
Kravica is popular among the locals especially in the summer months. Even though we went during the low season, there were still groups of people swimming, kayaking, or just enjoying a pint by the bar across the waterfalls.