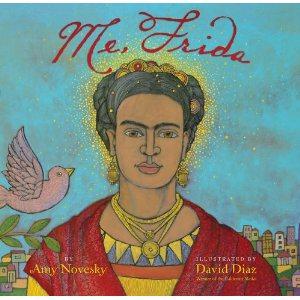 This past spring I had the honor to serve on the committee to select a book for Friends of Children and Libraries (FOCAL) of LAPL (Los Angeles Public Library) annual award.   The committee chose the beautiful picture book,  Me, Frida (Abrams, 2011), written by Amy Novesky and illustrated by David Diaz.  Congratulations to Amy and David! 
   The FOCAL Award is presented to an author and/or illustrator for a creative work which enriches a child's appreciation for and knowledge of California.  In Me, Frida, the reader joins the artist Frida Kahlo on a visit to San Francisco with her husband Diego Rivera, who has been invited to paint a mural there.  We see the city through Frida's eyes, receiving a whole new perspective both on Frida Kahlo as a person and on the diverse qualities of the city itself.  As in all the best picture books, the words and pictures of this book work together to create a unified whole that is greater than the individual parts. 
   We will be honoring the author and illustrator of Me, Frida at the annual FOCAL Award Luncheon on Saturday, January 28, 2012.  Prizes will also be awarded to children who have read Me, Frida and written an essay about the book and how it has impacted their lives.  For more information about the luncheon or essay contest, contact the librarian at your school or local library or go to the FOCAL website.