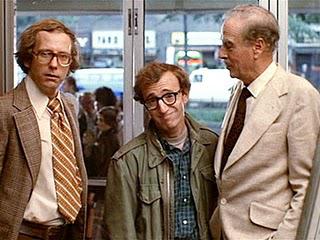 The latest issue of the Walrus has an article on Marshall McLuhan by Jeet Heer. I knew that
McLuhan
converted to Roman Catholicism, but I hadn't realized how strong was his antipathy towards Protestantism. Heer says that McLuhan blamed pretty much all that's wrong in modern western culture on Protestant attitudes. For
McLuhan
, the Reformation was a long, slippery slide into a real slough of despond. According to Heer,
McLuhan
reached this conclusion during his sojourn in a vast, blighted waste that the Protestants had left in their path (
Winnipeg
). I wonder if his dislike of Protestantism is one of the sources of the friction between
McLuhan
and some of his United Church colleagues in the English Department at the University of Toronto (such as Northrop Frye and N. J. Endicott).
Heer refers to some
McLuhan clips on YouTube
. However, the one from which Heer quotes most extensively is a longer piece on Google Video in which McLuhan goes head to head with Norman Mailer. The discussion was recorded by the CBC's
The Summer Way
in 1968. Heer includes this neat quotation of McLuhan from that broadcast:
Every age creates as a utopian image a nostalgic rear-view mirror image of itself, which puts it thoroughly out of touch with the present. The present is the enemy.
 Here's the whole discussion:
While poking around on the Walrus' site, I found this older piece on
McLuhan
by Lewis Lapham. Lapham quotes McLuhan as follows:
Anything I talk about is almost certain to be something that I'm resolutely against…it seems to me that the best way of opposing it is to understand it and then you know where to turn off the button.
Finally, here's a reminiscence of McLuhan by an acquaintance of his.