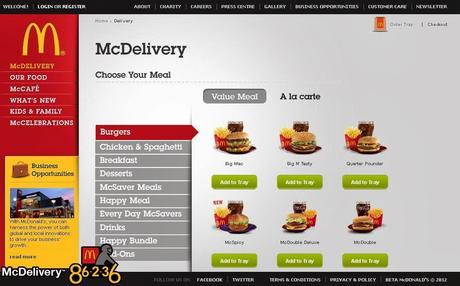 McDelivery Philippines March 2014: Screenshot
Nowadays, convenience is one of the biggest effects most developments do to human society. Instant coffee, noodles, information, communication and even instant money can now be accessed with just a few clicks in your computers or mobile phones (Hold on a second and try to think of your life for about 10 or even 5 years ago - if applicable, can you just believe that? That such kind of things will be available after sometime. Crazy right?!). We look on development or should we say making things easier always a good thing most of the time, but just a reminder that in some cases we should also see some of its cons where effects are lethal and changes are slowly felt. Retain this reminder as we connect it towards the end of this feature.  
Now, for
McDonalds Philippines
as per their
McDelivery
service
nationwide,
If I am going to review my delivery order history on their system, I am pretty sure to have a lot, and yes I mean A LOT of past transactions on them as I dial
8-6236
once to thrice per week for a good satisfying meal (especially when I feel stressed or feel when I deserve one). The convenience it brings to me over the delivery fee of P40 is just like letting me choose from good food + time + effort  and less hassle over an additional decent amount of money is a no brainer pick.
The website's current design is very nice as I remember their previous aesthetics were kind of confusing for the customers. Now, the meals are placed well and are categorized properly according to their food line. They even had made some of the key profitable information really visible like the business opportunities, career and franchise pages. Now, I know that I have to have P30 - P50 million of funds before I can start a McDonalds franchise (I guess I have to save money longer than my lifetime to officially own one haha!).
  The process of ordering is now in one of its simplest form:
  1. Selecting your product/meal order2. Adding it to cart3. Checking it out 

Login as guest
You can even place an order as a
guest
which does not require you to make an account on their website. That simple thing is already a big plus for most of the customers as some consider it a hassle thing if they plan to order very seldom. And just for a trivia, requiring of account creation is one of the main barriers where online people or NETizens stop clicking more in a website. So good job for that McDonalds!
One more thing that drives me to order online is that all deliveries can be paid via cash on delivery or COD. As credit cards and other online payment method or even mobile money transfers are not yet THAT popular in the Philippines unlike in the States, and knowing the Filipino culture, Cash on delivery payment is what mostly Pinoys will prefer.
About their service, the deliveries are quite fast as they promise to serve it 30 minutes after the call. Sometimes they will even come like 10-15 minutes only after hanging up the line, such an amazing thing although it is already expected on them as they have the numbers of McDonald branches in every corner of our highways here (some are even just a few blocks away and on the other side of it - It is just an awe seeing it).
By the way just a personal preference, I still place my order using their hotline number 8-6236 as they will still call you via your given contact information for verification purposes after placing an order. And another thing, specify the number of additional ketchup strips or pickles for your requests on your special orders as when the customer service note it and no specified number is given, only a piece will be added to it
If I will be asked to recommend McDonalds McDelivery service to others? Sure! Why not. You can as well even call me an ambassador of McDelivery service in our area. But call and order
responsively
as
consecutive
or
excessive
fast food meals is not generally good to our health. You can search the internet for its other effects as it may need a more detailed explanation. But the message that I just would like to share in here is
control
.
As we go back to the first paragraph, I enjoy the development that is happening here. But on the other side of it, subtly I became a bit lazy (generally) and very dependent that a meal is just a call away. One of the ultimate example here is the movie "WALL-E" which is not likely to happen in the future but a great balance of things would be great a recommendation here.
Let me know your thoughts about this via commenting below and it will be my pleasure to respond to them.
Carrier Information:
Golden Arches Development Corporation
Popularly known as:
McDonald's / McDelivery
Website:
mcdonalds(dot)com(dot)ph
Contact or Hotline No:
8-6236   
Everybody's Lovin' it!