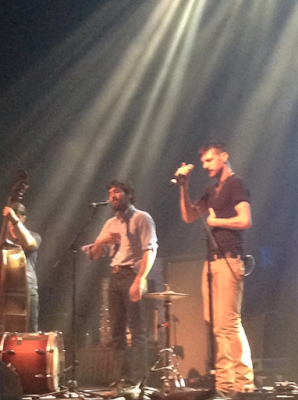 Seth and Scott in Augusta, GA.
On Tuesday, I drug my non-Avett Brothers loving boyfriend to see the Judd Apatow documentary on The Avett Brothers called May It Last.
Y'all. The word love doesn't even come close to how I feel about The Avett Brothers. I've been a fan since 2005. These North Carolina born and raised boys have had my heart for a long time and I was so excited to see this documentary.
It did not disappoint.
I'm half way writing this post to tell you that if you get the chance, go see May It Last. The Avett Brothers are kind, down to earth, amazing people and they deserve more success. Go listen to their music.
But I'm also writing this post because Tuesday reminded me of the importance of something that The Avett Brothers taught me a long time: it costs nothing to be loyal, honest, and true.
I write a lot of about fashion and beauty on this blog.  I can be materialistic and vain and want to keep up with the Joneses. This mentality and lifestyle has led to a lot of anxiousness, stress, and depression and it is something I struggle with every day. The desire to be successful and have nice things often keeps with pressure and endless worry of "is this enough? am I doing enough?"
May It Last served as a reminder that at the end of the day, fame and success fades but being a good person and being true to who you are and loyal and loving those in your life that matter is what's important. I will always love fashion and beauty and enjoy my job, but at the end of the day these things don't define me.
I didn't realize how much I needed the familiar voice of those North Carolina boys and the reminder to be good, to trust, to care until I heard it.
I think my non-Avett Brothers loving boyfriend now sees what I see in this band and why its so important to me. I hope they can be important to you and help you find a little peace and truth in this world that right now is so uneasy and hard.