I went shopping a couple times in the past few weeks and I decided to share with you what I bought. I ran out of some products so I needed to get new ones.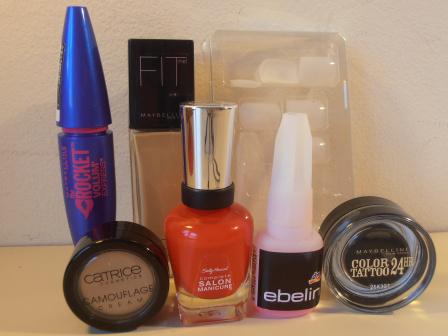 I got new nail glue and clear fake nails. I have never had these exact nails so I was curious about the quality of them and I have them on right now and I must say that they are pretty good. They come in a pack of 20 nails in 10 different sizes and they cost 2 euros. And the last nails related thing is this Sally Hansen nail polish which I have already featured in my previous post so you should check that out if you want to see what I think about the nail polish (http://esterstalk.wordpress.com/2013/05/27/summer-nail-polishes/).  The color is called All Fired Up (number 550).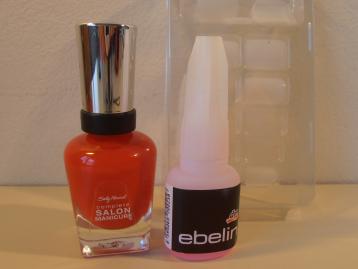 I ran out of my Max Factor false lash effect mascara so I got Maybelline the Rocket Volume Express. I've seen many reviews and every one was saying that it was a good mascara so I decided to try it out. I will probably make a review of it once I will have been using it for a while. I always like Maybelline mascaras so I am sure I will like also this one. This camera came with a gift and it was the Maybelline Color Tattoo 24hr black eyeshadow. I wouldn't have gotten this eyeshadow on its own and I am not sure if I'm gonna use it because it is cream black eyeshadow. I will try to use it and make some eye look with it, though.
I order the Maybelline Fit Me liquid foundation on Ebay because they don't sell it here. I have actually had this foundation before and it had become my favorite foundation so I decided to get it again. The shade I got is 220. The last thing I bought is Catrice camouflage  full coverage concealer cream in the shade Rosy Beige (number 030). It was around 3 euros and I really like it so far.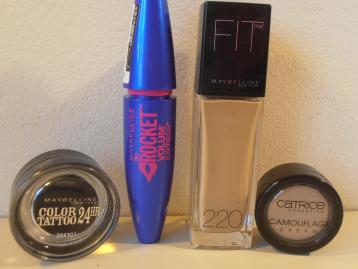 This is all for today and let me know in the comments if you have gotten any good products lately