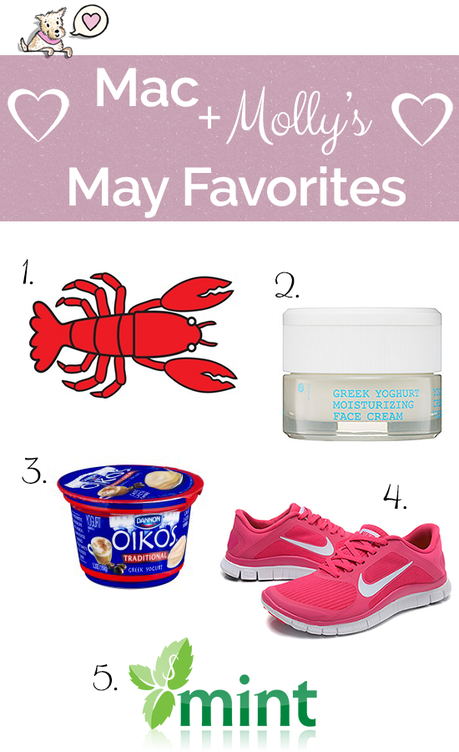 1. Lobster Mac and Cheese
This is the #1 of my May Favorites! I think this is actually a favorite any month of the year, but I had an amazing Lobster Mac and Cheese at The Continental in Atlantic City. I would definitely make the 6 hour drive just to eat this again, but in the meantime I think I'll try making it myself and report back with a recipe!
2. Korres Greek Yoghurt Moisturizer
I've been blessed with terrible skin. I'm 28 years old and my skin still gives me as much trouble as when I was in my teens. I finally found a moisturizer that feels moisturizing enough but doesn't cause any excess oil on my face. I am a VERY firm believer that products work differently on different people, so while it's smart to read reviews, always try things out for yourself. It may cost you to try a few, but in the long run you'll save yourself a lot of heartache (and trips to the dermatologist!), trust me.
3. Oikos Traditional Café Latte Greek Yogurt
Well, I put greek yogurt on my face, why not also eat it! I am a big fan of Oikos because I like it to be a little sweeter and even though it means added sugar, I just can't suffer through the tartness of some other brands. I didn't think I'd like this latte flavor and while it did take me a minute to get used to, now I buy the stuff in bulk!
4. Comfy Shoes + Walking
I bought these Nike Free Run shoes on sale when I first moved to West Virginia. We had an awful winter, but as soon as it cleared up, I started taking Molly on a few extra walks every day. We take 4 walks a day all the way around my apartment complex. It adds up to just over a mile and there are two steep hills so while I'm not getting worn out, I still feel like I'm getting a little extra exercise, and so is Molly!
5. Mint.com
I am really into this site/app lately. It helps me to figure out my finances when I'm looking at them all on the same page. I can put all of my bank accounts, my credit cards and my student loans in this baby and it will tell me what I've been spending on and allow me to create budgets for myself. This month it yelled at me for going pretty well over my budget on 'Alcohol and Bars', but I think it just doesn't know me well enough yet, that's all.