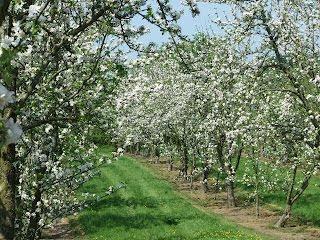 National Tourism Day
-- a day for municipalities and tourism sites around the country to promote their area or region. Municipalities and entertainment venues big and small, use today to let people know about activities and events in their areas.
Source
Read:
People on Holiday
Free Printables:
• Tourism Printables
• Printable Travel Games
• Travel Colouring Pages

Beethoven's Ninth Symphony Premiered
-- The Symphony No. 9 in D minor, Op. 125, is the final complete symphony of Ludwig van Beethoven. Completed in 1824, the symphony is one of the best-known works of the Western classical repertoire. Among critics, it is universally considered to be among Beethoven's greatest works, and is considered by some to be the greatest piece of music ever written.
Source
Read:
The Ninth: Beethoven and the World in 1824
Free Printables:
• Ludwig van Beethoven Coloring Page
• Music Basics Printables
• Musical Instruments Printables

Space Shuttle Endeavour
-- Endeavour (OV-105) first arrived at KSC's Shuttle Landing Facility May 7,1991, atop NASA's new Shuttle Carrier Aircraft
(NASA 911)
. The space agency's newest orbiter began flight operations in 1992 on mission STS-49, the Intelsat VI repair mission.
Source
Read:
The Space Shuttle
Free Printables:
• Space Shuttle Coloring Page
• Solar System Worksheets and Coloring Pages
• Astronomy and Space Exploration Worksheets and Coloring Pages

Macaroni Patented
-- The invention of macaroni
(what the Italians call pasta secca and which specifies dried--versus fresh, pasta fresca--pasta)
has been attributed to the Etruscans, the Chinese, the Greeks, and the Romans, as well as the Arabs. On May 7, 1660, Isaack B. Fubine received the first patent for macaroni.
Source and Source
Read:
Macaroni And Cheese
Free Printables:
• Noodles Coloring Page
• Connecticut Yankee Doodle Noodle Salad Recipe
• Connecticut State Song

Kodak Cameras 1st for Sale
-- The use of photographic film was pioneered by George Eastman, who started manufacturing paper film in 1885 before switching to celluloid in 1889. His first camera, which he called the
"Kodak,"
was first offered for sale in 1888. It was a very simple box camera with a fixed-focus lens and single shutter speed, which along with its relatively low price appealed to the average consumer. The Kodak came pre-loaded with enough film for 100 exposures and needed to be sent back to the factory for processing and reloading when the roll was finished.
Source
Read:
George Eastman and the Kodak Camera
Free Printables:
• The Kindness-Catcher Camera
• Printable Working Paper Camera
• Camera Colouring Page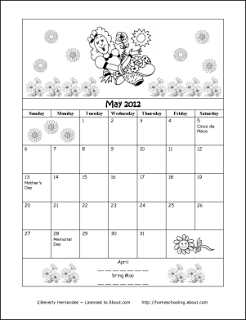 Printable May 2012 Colouring Calendar
- color and use to keep track of your commitments and social life.
May Icons - These icons are designed to be used as each event is explored. The icons can be glued onto the
May Coloring Calendar
.
NOTE -
If any of the above links are not working or the freebies or coupons no longer available, please post a blog comment below and I'll edit it!

- This was posted by Catherine on May 7, 2012 -

---
QUICK FREEBIE TIP:
Is that coupon real or fake? Fraudulent coupons hurt us all! If you received a printable coupon that looks too good to be true; it may be! Free product coupons that can be printed more than once should set off a red flag for you, unless the coupon can be found on the manufacturer's website. You can visit the Coupon Information Center to verify the authenticity of any coupon.
Click for more quick freebie tips
---
◊
Enjoying all the freebies? Want to keep up with the latest free stuff, deals, coupons, and other ways to save money? Subscribe to
Frugal Freebies'
email updates or RSS Feed
! - it's free!
◊
Check us out on Twitter, and join in the conversation of even more great freebies, deals and coupons on our
Frugal Freebies
fan page on Facebook and
Google+.