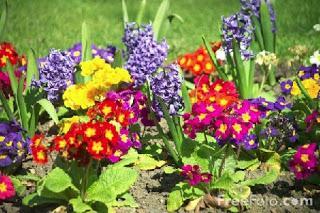 Photo Credit: Flowers in a Garden Border by www.freefoto.com

No Diet Day
-- an annual celebration of body acceptance and body shape diversity. This day is also dedicated to promoting a healthy life style and raise awareness of the dangers and futility of dieting.
International No Diet Day
is observed on May 6, and its symbol is a light blue ribbon.
Source
Read:
The Eat This, Not That! No-Diet Diet: The World's Easiest Weight-Loss Plan!
Free Printables:
• Health, Diet, Weight Loss Printables
• Free Health, Exercise, Fitness, Diet, and Weight Loss Printables

Eiffel Tower Opened
-- Built as the entrance arch for the 1889 World's Fair celebrating the centennial of the French Revolution, the Eiffel Tower is the second-tallest structure in France. Named for engineer Gustave Eiffel, it has three levels accessible to visitors who climb steps or use elevators for the view of Paris below.
Source
Read:
Eiffel Tower (Structural Wonders)
Free Printables:
• The Eiffel Tower Coloring Page
• Eiffel Tower Paper Model

Nurses' Day
-- also known as
National RN Recognition Day
, is always celebrated on May 6th and opens
National Nurses Week
, which begins each year on May 6th and ends on May 12th, the birth date of Florence Nightingale.
Source
Read:
I Want to Be a Nurse
Free Printables:
• Nurse Coloring Page
• Printable Nurses Hat
• Nurses Printable Activities

Hindenburg Disaster
-- At 7:25 p.m. on May 6, 1937, while the Hindenburg was attempting to land at the Lakehurst Naval Air Station in New Jersey, a flame appeared on the outer cover of the rear of the Hindenburg. Within 34 seconds, the entire airship was consumed by fire.
Source
Read:
The Hindenburg Disaster
Free Printables:
• Zeppelin Coloring Page
• Hindenburg Disaster

Robert E. Peary's Birthday
-- Robert Edwin Peary, who has
"made good"
and
"nailed the Stars and Stripes"
to the North Pole, is a Pennsylvanian, born in Cresson, Pa., May 6, 1856. On July 6, 1908, Peary set off on his final assault towards the North Pole. He left New York City on the Roosevelt with a group of 23 men.
Source and Source
Read:
Peary and Henson: The Race to the North Pole
Free Printables:
• North Pole Coloring Page
• Robert Peary Printables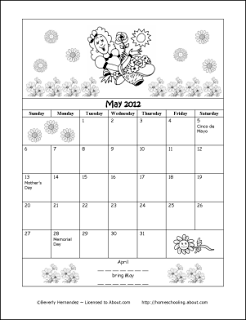 Printable May 2012 Colouring Calendar
- color and use to keep track of your commitments and social life.
May Icons - These icons are designed to be used as each event is explored. The icons can be glued onto the
May Coloring Calendar
.
NOTE -
If any of the above links are not working or the freebies or coupons no longer available, please post a blog comment below and I'll edit it!
---
QUICK FREEBIE TIP:
If you need an email address (or lots of addresses!) you can go to mail.com and create another one just for signing up for freebies.
Click for more quick freebie tips

---
◊
Enjoying all the freebies? Want to keep up with the latest free stuff, deals, coupons, and other ways to save money? Subscribe to
Frugal Freebies'
email updates or RSS Feed
! - it's free!
◊
Check us out on Twitter, and join in the conversation of even more great freebies, deals and coupons on our
Frugal Freebies
fan page on Facebook and
Google+.