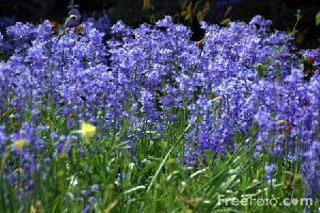 Photo Credit: Bluebells by www.freefoto.com

Cinco de Mayo
- The holiday of Cinco De Mayo, The 5th Of May, commemorates the victory of the Mexican militia over the French army at The Battle Of Puebla in 1862.
Source
Read: Cinco De Mayo: Celebrating the Traditions of Mexico
Free Printables:
• Cinco de Mayo Printables
• Cinco de Mayo Quiz
• Mexico Printables
• Pork Green Chili Tamales

Oyster Day
- is a pearl of a day. Oysters are a shellfish, or
"mollusks"
found in both freshwater and saltwater. They often produce pearls, making Oyster Day a real gem.
Source
Read:
Why the Oyster Has the Pearl
Free Printables:
• Beach Printables
• A Pearl For Your Oyster Craft

Children's Day
-
Kodomo no hi
or
Japanese Children's Day
is a festival originally for boys but which has been renamed for both sexes. The fifth day of the fifth month each year is a public holiday and a day when the sky is crowded with carp kites strung from bamboo flagpoles or from the rooftops.
Source
Read:
All About Japan: Stories, Songs, Crafts and More
Free Printables:
• Children's Day Coloring Page
• Japan Printables

National Hoagie Day
- A hoagie sandwich, also known as a sub, grinder, hero, hoagie, Italian sandwich, po' boy, wedge, zep, or torpedo, submarine is a popular Italian American sandwich that consists of an oblong roll, often of Italian or French bread, split lengthwise either into two pieces or opened in a "V" on one side, and filled with various meats, cheeses, vegetables, spices, and sauces.
Source
Read:
American Sandwich
Free Printables:
• Submarine-Hoagie-Hero-Grinder Coloring Page
• Build your Own Sandwich Printable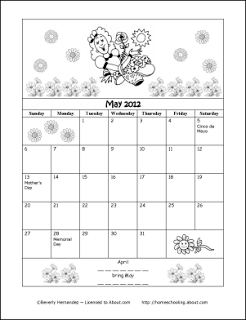 Printable May 2012 Colouring Calendar
- color and use to keep track of your commitments and social life.
May Icons - These icons are designed to be used as each event is explored. The icons can be glued onto the
May Coloring Calendar
.
NOTE -
If any of the above links are not working or the freebies or coupons no longer available, please post a blog comment below and I'll edit it!
---
QUICK FREEBIE TIP:
Whenever you receive a freebie that leaks all over your mail - you should email the company and tell them. You might even get a full-size bottle of their product in compensation!
Click for more quick freebie tips
---
◊
Enjoying all the freebies? Want to keep up with the latest free stuff, deals, coupons, and other ways to save money? Subscribe to
Frugal Freebies'
email updates or RSS Feed
! - it's free!
◊
Check us out on Twitter, and join in the conversation of even more great freebies, deals and coupons on our
Frugal Freebies
fan page on Facebook and
Google+.