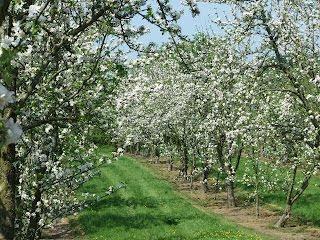 Bird Day
- the oldest of the days set aside to recognize birds. According to the U.S. Library of Congress,
Bird Day
was first observed on May 4, 1894. It was started by Charles Almanzo Babcock, superintendent of schools in Oil City, Pennsylvania. Bird Day events are focused upon conservation training and awareness.
Source
Read:
About Birds: A Guide for Children
Free Printables:
• ABC Teach Bird printables
• Busy Bee Bird Printables

International Firefighters Day
- was instituted after proposal emailed out across the world on January 4, 1999 due to the deaths of five firefighters in tragic circumstances in a wildfire in Australia. May 4 used to be a traditional Firefighters' Day in many European countries, because it is the day of Saint Florian, patron saint of firefighters.
Source
Read: I Want To Be A Firefighter
Free Printables:
• Fire Prevention Printables
• Volunteer Firefighter's Day
• Fireman Coloring Page
• Fire Extinguisher Coloring Page

International Tuba Day
- created to recognize tubists in musical organizations around the world who have to go through the hassle of handling a tuba. What hassles do tubists have? Tuba players obviously have hassles due to the size and weight of their instruments, but what is actually more of a hassle for tuba players is the prevalence of stereotyped attitudes among people towards tubists and their role in a musical organization.
Source
Read: Tubby the Tuba
Free Printables:
• Tuba colouring page
• Tubby the Tuba Colouring Pages

Rhode Island Independence Day
- On this day in 1776, Rhode Island, the colony founded by the most radical religious dissenters from the Puritans of Massachusetts Bay Colony, becomes the first North American colony to renounce its allegiance to King George III. Ironically, Rhode Island would be the last state to ratify the new American Constitution more than 14 years later on May 29, 1790.
Source
Read: Rhode Island (Hello U.S.A.)
Free Printables:
• Rhode Island Printables
• Rhode Island Unit Study

National Weather Observer's Day
- commemorating the birth of John Jeffries in 1745. Jeffries, a Boston physician and one of America's first weather observers, began taking daily weather observations in Boston in 1774.
Source
Read: The Weather Observer's Handbook
Free Printables:
• National Weatherperson's Day
• Weather Printables
• Raincoat Coloring Page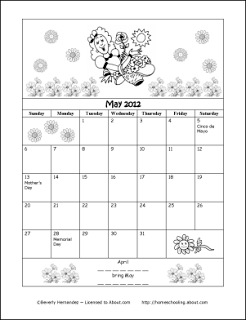 Printable May 2012 Colouring Calendar
- color and use to keep track of your commitments and social life.
May Icons - These icons are designed to be used as each event is explored. The icons can be glued onto the
May Coloring Calendar
.
NOTE -
If any of the above links are not working or the freebies or coupons no longer available, please post a blog comment below and I'll edit it!
---
QUICK FREEBIE TIP:
One reader told us that,

"I thought just because I "liked" something it meant I was automatically signed up for something".

No, sorry, you need to sign up for the freebies by clicking on the links, each freebie separately. Not just sign up for

Frugal Freebies

on

Facebook

and that's it.
Click for more quick freebie tips
---
◊
Enjoying all the freebies? Want to keep up with the latest free stuff, deals, coupons, and other ways to save money? Subscribe to
Frugal Freebies'
email updates or RSS Feed
! - it's free!
◊
Check us out on Twitter, and join in the conversation of even more great freebies, deals and coupons on our
Frugal Freebies
fan page on Facebook and
Google+.