Over the weekend,I watched an older independent film that didn't get much attention when it was released. Too bad, because it was pretty good. It was Harry Potter, ever heard of it? In all seriousness, until Sunday I'd never seen a single Harry Potter movie. When they were first released they didn't appeal to me and only when the last two were released (and looked quite dark and mature) that I was interested. I figured it's best to start at the beginning, and filled up my Netflix queue. Well, damned if that first one wasn't completely charming and funny and totally entertaining. I guess I'm not quite as morose as I thought. Can't wait to get through the rest of the series.
On a slightly related note, Disney is re-releasing Beauty and the Beast in theaters. Who cried a little when she saw commercials for it and heard the songs? Um, not this girl. Nope, not at all.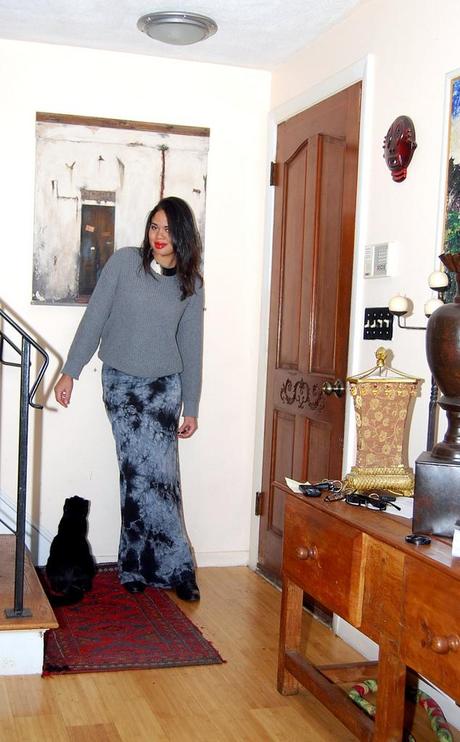 Grey. Again. It really is my favorite of all the neutrals. Now, let's discuss maxi skirts. It may be unhygienic and a safety hazard, but I want my maxi skirt to cover my feet completely. I want my hem to graze the floor. And when I see a maxi skirt that stops at the ankle or (dear god) right above the ankle, I get faint. Maxi means maximum, ladies. Go for the length and the drama. Are you in the same camp as me, or do you prefer to not sweep the floor with your clothing?
skirt/dress – Forever21
sweater – American Apparel
boots (like you can see them) – Sam Edelman
necklace – H&M
Share/Bookmark