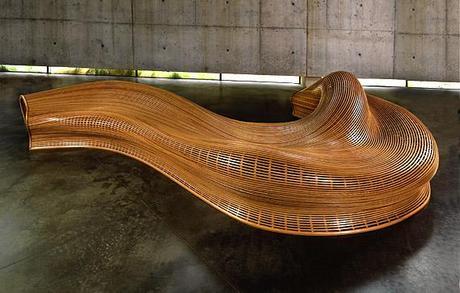 Matthias Pliessnig; Amada; 2010; white oak, birch; Private Collection
"In 2006 I built a boat and was attracted to the process as well as to the form. It required a whole new way of thinking for me--a 180 degree turnaround," said artist Matthias Pliessnig, whose sublime, wood-ribbed works are on view in History in the Making: Renwick Craft Invitational 2011 at the Renwick Gallery through July 31.
At the time, Pliessnig was a grad student in the wood program at the University of Wisconsin-Madison, when an engineering student asked him for help with his own boat project. Building a traditional wooden boat provided Pliessnig a eureka moment, especially during the steam-bending process which enabled him to make permanent changes in the shape of the wood. According to the artist, "The wood is inserted in a tube of steam at 350-400 degrees for about fifteen minutes, but you only have forty seconds to work with it. It's like drawing in space."
Together with 3D-modeling software that enabled him to execute complicated drawings, Pliessnig was able to create works of art that are both fluid and solid. Amada, from 2010, is one such piece. For this work he used three eight-foot lengths of North American white oak joined together to create twenty-four-foot-long stringers, with about 14,000 intersections. It's impressive for its size as well as its construction, its function as well as its beauty.
Matthias Pliessnig will discuss his works included in History in the Making in the Renwick Gallery's Grand Salon Saturday, July 30, at 2pm. It's a great opportunity to visit the exhibition that closes the following day.