There are more things you should consider when choosing your maternity wedding gowns for your big day, not like other normal brides-to-be, you know that, but don't worry, here we collect some helpful suggestions, read on and these would give you some help.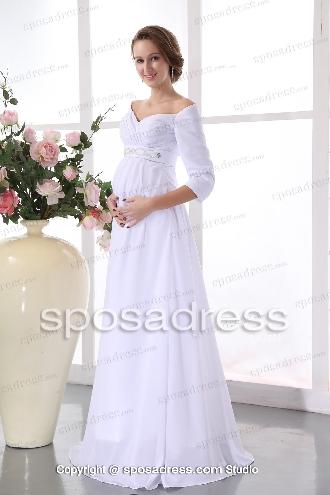 Style: There are always many styles to choose from when deciding upon the perfect wedding gown, but when a little one is on the way, there are some things to consider.Stretchy or flowing, empire waist styles are good for you.
Fabric: Some materials work better than others for expectant brides – you don't want anything that will cling in the wrong places. Chiffon is a fabric that will flow gently over your lower half, as will organza. Stay away from silk, as it will hug some curves you may not want to be hugged!
Embellishments: As a mommy-to-be, you have every right to glam it up, just like any other bride! Just remember a few things when choosing dresses with embellishments. The idea is to pull the eye upward, so whether that means sequins, low necklines, flowers, or other interesting tops, focus on the area above the bustline. Keep away from embellishments that fall below the bustline, as you want the attention up toward your face!
At last but not least, remember that as your pregnancy moves along, you may be more comfortable in a bra that is supportive and has straps – and therefore, you might be better off with a dress that has sleeves.