Swimwear is the most dreaded item to shop for, but add pregnancy into the mix and it can be a real nightmare! To help you enjoy the sun a little this summer we've put together our top choices for chic swimwear for the mother-to-be.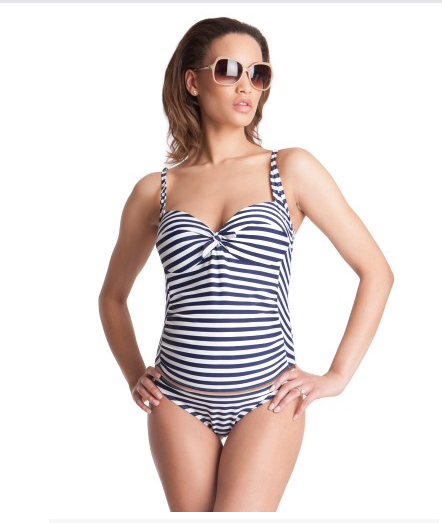 Add a little 50′s flair with a retro inspired nautical tankini by Seraphine. The Nautical Striped Maternity Tankini features a feminine sweetheart neckline with a bow as well as panels on the side which are designed to help slim and flatter your figure. The best part of this tankini is you can keep it down for added modesty or pull it up to get a little sun.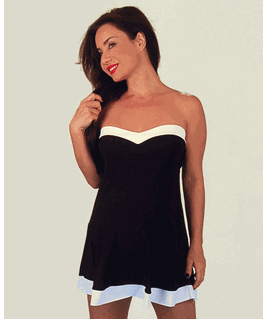 BellaBlu's Black and White Block Bandeau Maternity Swimsuit looks like the perfect summer dress. With a full skirt to help cover your growing baby bump and white trim it's a great option for the stylish woman. Plus the suit comes with attachable straps if you need a little extra support.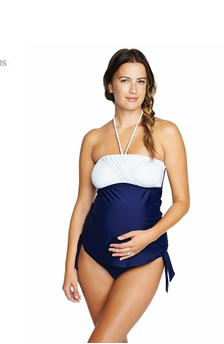 Color blocking is always a good way to look stylish; however, a dark color on bottom with a lighter color on top helps balance out your body. Due Maternity's Maternal America Eva Criss Cross Spaghetti Trim Tankini will leave you looking great and comfortable with built in cups and adjustable ties on the bottom.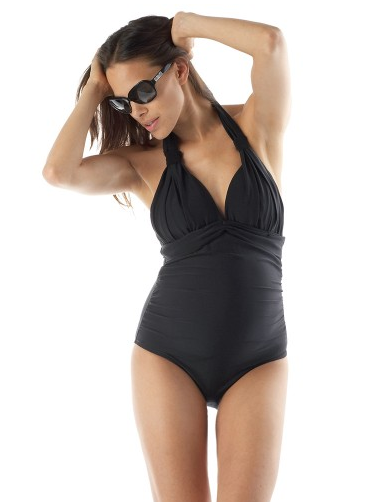 Black has to be the most flattering color of all time. With it's universal appeal it's no surprise that black is the color of choice for Hollywood Celebs as well. Jump on the Star Studded trend and try out Seraphine's Black Halterneck Maternity Bathing Suit. Worn by Kate Hudson, this suit will flatter your figure as it changes week by week. Glamorous and simple, this is a great option to wear while lounging around by the pool and sipping virgin piña coladas!