This post may contain affiliate links. Please read my disclosure.
You're going to love this delightful matcha muffin recipe! For all you matcha lovers out there, this one's for you! These soft and sweet muffins have an earthy flavor, are subtly sweet, and are so easy to make. These healthy matcha muffins are great for breakfast or dessert and are ready in under 30 minutes - perfect for any occasion!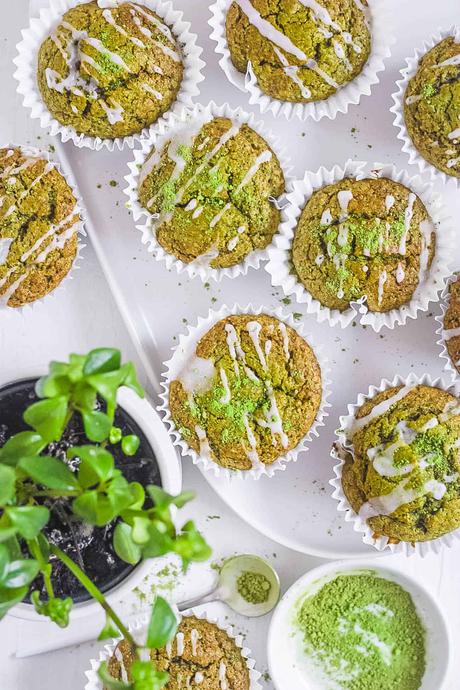 If you are a fan of matcha lattes, then chances are you're going to love these matcha green tea muffins. Earthy flavors from the matcha green tea powder are mixed with sweet vanilla and lemon juice to create a recipe you will love!
We like these muffins because they are so easy to customize and you can easily make them vegan and gluten-free. Not only are these soft muffins highly versatile, but they're so simple to make making this recipe a perfect kitchen activity for the family!
If you're in search of a recipe that is rich in the delicate flavor of matcha, then you've come to the right place. These matcha muffins are so tasty and definitely have that green tea flavor you're looking for. Soft on the inside with a subtle sweetness - these muffins are dreamy and fitting for any day.
Latest Recipe Video!
Not only are matcha recipes pleasant to eat or drink, but thanks to the matcha tea powder, any recipe that has matcha instantly contains additional health benefits! What is better than a treat that is both yummy and healthy?
These muffins can be enjoyed for breakfast, brunch, dessert, or even as a snack with your afternoon tea. If you make a batch of these muffins, then it will be so hard to resist these sweet treats and only stop at one!
Matcha can be used in so many different types of recipes like cakes, lattes, cookies, pancakes, and cookies. Matcha cake is probably one of my favorite things besides these muffins. Be sure to scroll down below to find out how to make a matcha cake!
👩🏽‍🍳 Why This Recipe Works
Easy To Make: Made with some basic pantry ingredients and a few items from the refrigerator, this simple muffin recipe will be ready in no time because the steps are so easy and straightforward!
Perfect Texture: These muffins are super soft thanks to the sugar and creamy yogurt in this recipe.
Meal Prep: Make a double batch of these easy matcha muffins to last you throughout the week whenever you're needing to prepare breakfast, snack, or dessert.
Grab And Go: This recipe is great for road trips, camping, field day, and hiking! These muffins will give you plenty of energy and fuel.
Great for lunch boxes: Yep! These muffins are the perfect addition to lunchbox lunches at home, school, or in the office!
Lots of variations: There are so many ways to change up these matcha oatmeal muffins! See below for variations.
Healthy: Matcha tea is loaded with natural antioxidants and other benefits that are great for the brain and body.
🥘 Ingredients
This list is just a general idea of what you will need for this recipe. Be sure to scroll down to the recipe card for the full measurements and nutritional information. You can find most of these items at your local grocery store or market!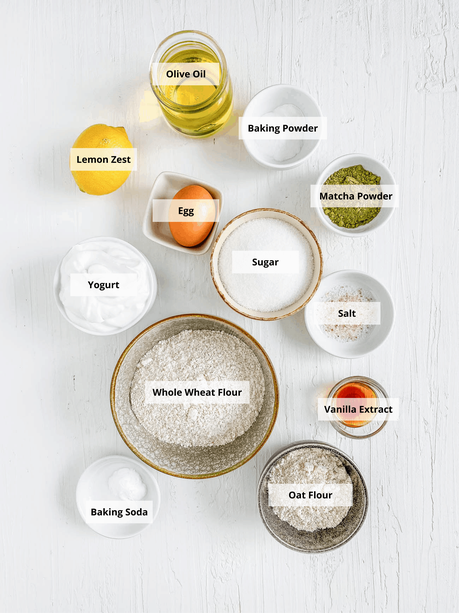 Dry Ingredients
Whole Grain Flour: For this recipe, you will need both whole wheat and oat flour. Feel Free to use white all-purpose flour or white whole wheat flour in place of the whole wheat flour.
Baking Soda And Powder: For lift and fluffiness.
Sugar & Sea Salt: White granulated sugar is what helps make these muffins moist and sweet. Feel free to add a little bit of brown sugar if you would like. Salt helps bring out the sweetness of these muffins!
Matcha Powder: Use high quality ceremonial grade matcha, or culinary grade matcha, for the cleanest flavors and ingredients. There are some great brands out there such as Matcha Love. Be sure to read the ingredients list to make sure you are buying matcha tea with a higher quality.
Wet Ingredients
Yogurt: You can use dairy-free yogurt such as coconut yogurt or plain Greek yogurt with dairy. Both options work! You should also be able to use sour cream if you don't have yogurt.
Oil: A vegetable oil such as avocado, olive, or coconut oil will be just fine in these muffins.
Egg: Make sure your egg is at room temperature before mixing; see below for a vegan option.
Vanilla Extract: Add almond extract with vanilla or replace the vanilla with almond.
Toppings: Lemon glaze, grated lemon zest, powdered sugar, matcha powder, and flaked almonds
🍽 Equipment
📖 Variations
Vegan Matcha Muffins: To make these matcha tea muffins vegan friendly, simply substitute the egg with ¼ cup apple sauce and add an additional ½ tsp of baking powder to the original recipe (total of 1½ tsp baking powder). You can substitute the eggs with flax eggs, too.
Dairy-Free: Use coconut yogurt instead of plain Greek yogurt.
Gluten Free Matcha Muffins: For gluten-free muffins, substitute with gluten-free 1:1 baking flour or with two cups of almond flour or almond meal.
Refined Sugar-Free: For a refined sugar-free version, substitute the granulated sugar with maple syrup, coconut sugar, monk fruit sweetener, date sugar, agave nectar, honey, etc.
Matcha Cake: To turn these muffins into cake, use two sticks of butter, four eggs, and two tablespoons of matcha. Transfer to a loaf pan and bake for 70 minutes at 350 degrees Fahrenheit.
Different Flavors And Toppings: Want to add some extra flavors? Sprinkle some cocoa powder into this muffin recipe and top with coconut flakes. For a more decadent, dessert feel, try folding white chocolate chips into the batter.
Mini Muffins: Whenever we're in the mood for mini muffins, we just use a mini muffin pan instead of a regular muffin pan. The results are always impressive and wonderful! The best part? They're bite-sized! Be sure to cut the baking time in half if you're making mini muffins though.
Matcha Lemon Muffins With Lemon Icing: Mix 2-3 tablespoons powdered sugar and 2 teaspoons lemon juice together In a small mixing bowl to form a smooth paste that can be easily drizzled. Drizzle icing on top of each muffin.
Matcha Protein Muffins: You can add 1 scoop of your favorite vegan protein powder to this recipe and even stir in 1-2 tablespoons of almond butter into the muffin batter.
🔪 Instructions
Preheat Oven, Prepare Muffin Pan: Preheat the oven to 340°F or 140°C. Line a 12 hole cupcake tray with paper liners. Set aside.
Whisk Dry Ingredients: In a medium bowl, sift whole wheat flour, oat flour, baking soda, baking powder, sugar, salt, and matcha powder.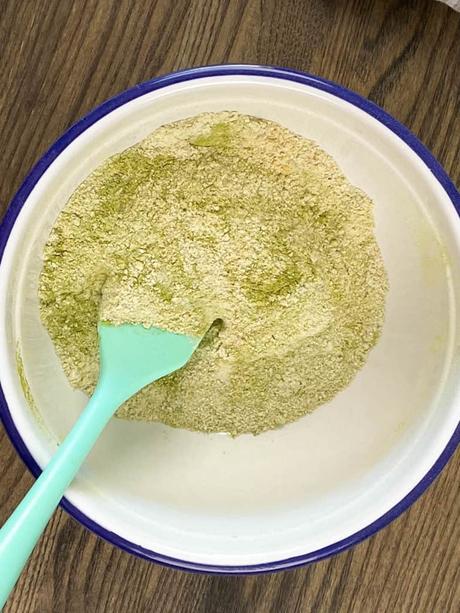 Mix Wet Ingredients: In a large bowl whisk together the yogurt, oil, egg, and vanilla extract until combined.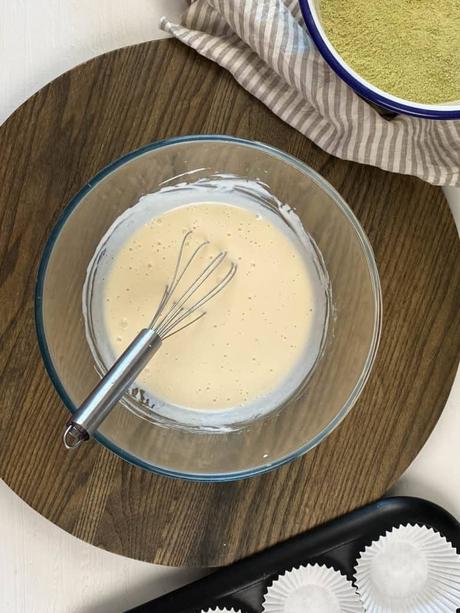 Combine: Next, add the flour mixture into the bowl of wet ingredients and gently fold until smooth.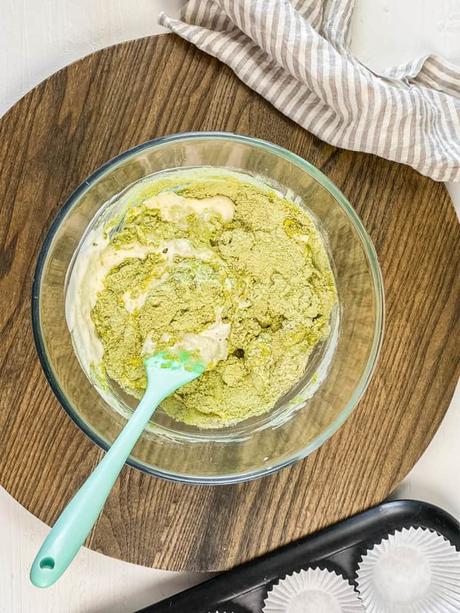 Divide Batter: Spoon batter into the muffin liners, using an ice cream scoop.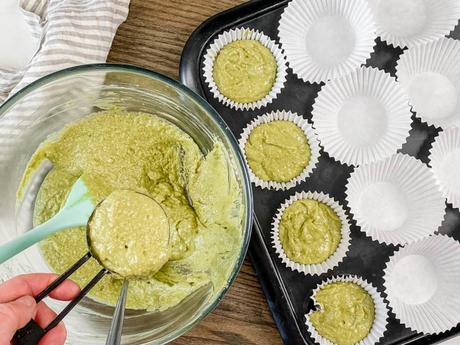 Bake: Bake the muffins for 15-18 minutes, until a knife inserted in the center comes out clean.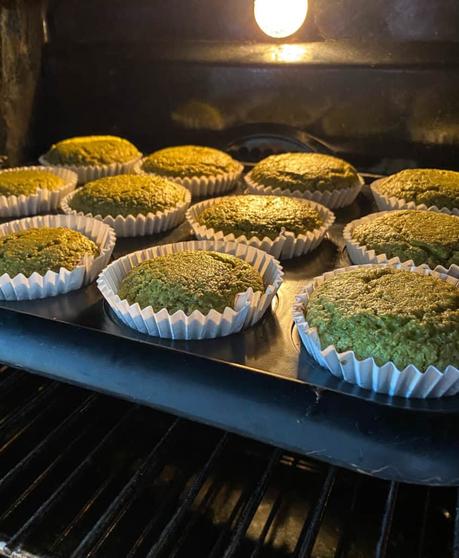 Cool: Finally, remove the muffins from the oven and allow them to cool in the pan for five minutes. Move them to a wire rack.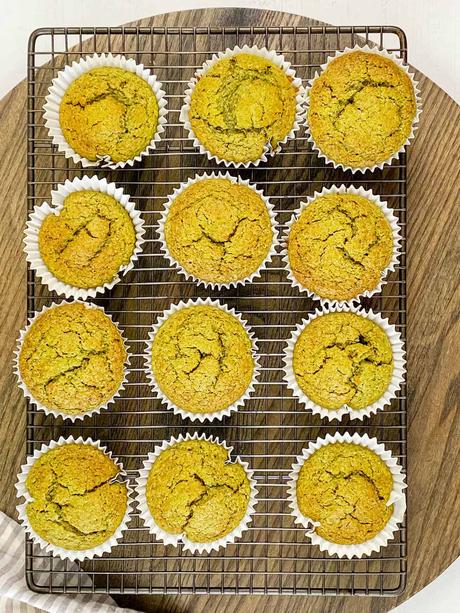 Optional: Frost muffins with lemon icing!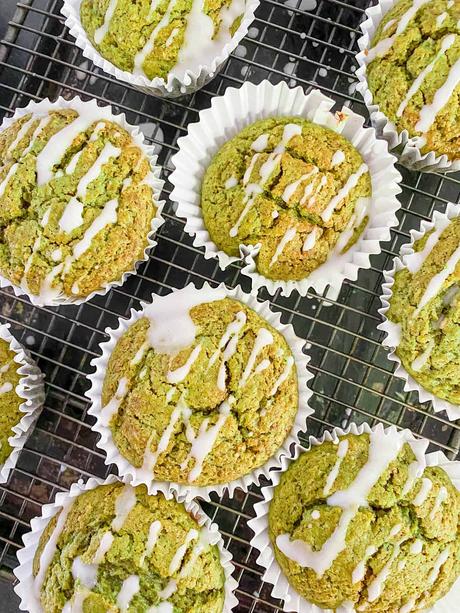 ❓Recipe FAQs
What is Matcha?
Matcha is a type of green tea ground into powdered form. Matcha literally means "powdered tea." The powder is typically whisked into hot water, vs. steeped, to form a hot drink similar to green tea. Because matcha tea is powdered whole tea leaves, it's actually healthier than using loose leaf tea since you get the more nutrients and antioxidants by ingesting the whole tea leaves.
What is the best matcha powder to buy?
Matcha typically comes in the form of a fine powder, but to find the highest quality matcha you want to choose organic matcha powder, that has been tested for heavy metals, has no additives to mask the taste, and is ceremonial grade. Avoid culinary grade matcha as that won't have as smooth and subtle of a flavor than ceremonial grade does.
Is it safe to drink matcha every day?
Sure! It is safe to drink small amounts of matcha in moderation daily. Typically, we recommend sticking to no more than 1-2 cups per day (474 ml max). This is because matcha is high in caffeine, so too many cups of matcha tea can cause headaches, diarrhea, insomnia, and irritability. Be sure to check with your medical provider if you have any more questions!
What Makes This Matcha Muffin Recipe Healthy?
There are a few things that makes these healthy matcha muffins better for you than most muffin recipes!
Lower in calories: One large muffin has just under 200 calories, vs. 400 calories for most bakery muffins
Lower in fat: One muffin has only 10 grams of fat, vs up to 20 grams for most bakery muffins
Lower in sugar: One muffin has 13 grams of sugar, compared to 37 grams in bakery muffins!!
👨‍👩‍👧 How To Serve
Enjoy these muffins as dessert after your main dish
Serve these for breakfast with a glass of whole milk or non-dairy milk such as coconut milk, almond milk, oat, or macadamia milk.
Pair these muffins with your other favorite snacks
Prepare these muffins with a smoothie
💭 Expert Tips
Coconut Sugar: Coconut sugar can be used as a substitute; however, it will produce a darker crumb but will still have the same great taste!
Don't Overmix: Make sure not to over mix the batter as this will remove the air and produce a dense or tough muffin.
Storage: Store muffins in an airtight container in a cool dry place for up to three days.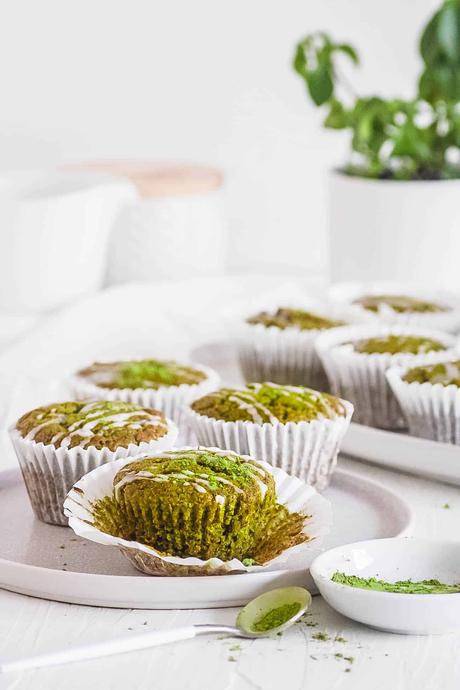 🧁 More Sweet Recipes!
📋 Recipe Card
Matcha Muffins