Mild and flavourful curry made with crushed fresh peas and potatoes
Matar ka Nimona is a winter speciality from the state of  Uttar Pradesh ,when there are fresh peas easily available in the market then this Matar ka Nimona is often made as a side dish to serve with steamed rice and chapati.
Nimona can also be made with fresh hara chana which is again a winter speciality.
The flavor and taste of nimona are mild and fresh so minimal spices are added into it to retain the sweet and fresh taste of peas.
There are many variations of making matar ka Nimona, it can be made like a thin stew only with peas, with peas and spinach combo, peas and potatoes and peas and vadi ka Nimona, and the recipes also differs slightly according to the taste of each family.
In this Matar ka nimona I have added shallow fried cauliflower and potatoes to make it filling and wholesome.Same way you can also make hare chane (fresh green gram) ka nimona.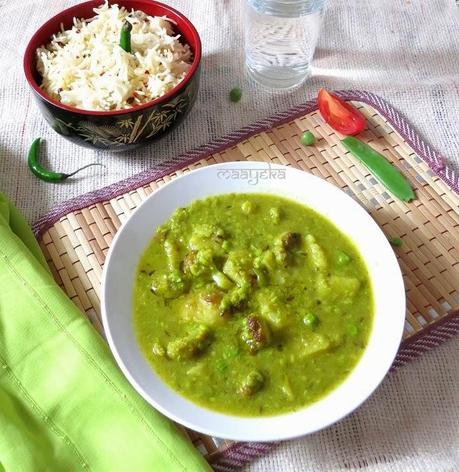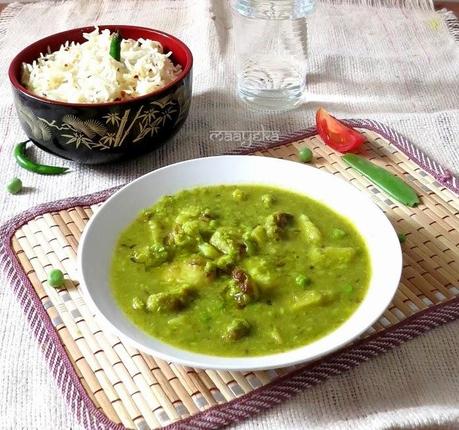 Prep time-15 min
Cooking time- 20 min
Cuisine- Indian
Type-side,main
Serve-4
INGREDIENTS-
Fresh peas,shelled- 250 gms

Potato,boiled- 2

Cauliflower florets-10

Green chilies,chopped- 1 tbsp

Ginger,chopped- 1 tsp

Fresh coriander-1.5 tbsp

Tomato,chopped-1/3 cup

Turmeric -1/3 tsp

Pepper powder- 1/2 tsp

Salt- to taste

Ghee- 2 tsp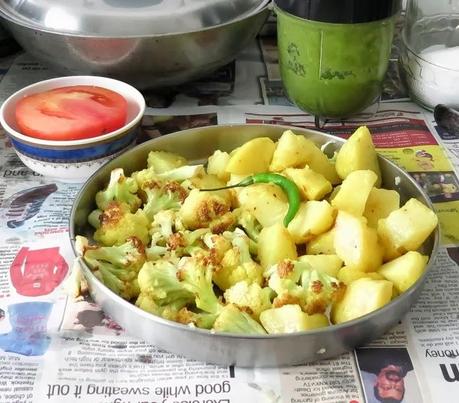 Tempering /Waghar/Tadka
Mustard oil - 4 tbsp

Cumin seeds /Jeera- 1tsp

Asafoetida /Hing- 1/4 tsp

Bay leaf/Tejpatta-1

Clove /Laung-1

Green cardamom-2
PROCEDURE-
Boil enough water in a pan ,when it start boiling add peas and a pinch of sugar and boil for 2-3 minutes.

Drain the peas and keep aside.

Grind together coriander, tomato, green chilies and ginger and make a paste and take out in a bowl.

Now roughly grind the blanched peas and keep aside(use very little water while grinding)

Heat oil in a wide and heavy bottom pan.

Add the cauliflower florets and shallow fry them till it get cooked slightly and the edges become golden.drain and keep aside

Now add chopped potatoes and cook on medium heat for 1 minute then drain.

Add all the tempering in the pan and stir till cumin become golden.

Add the ground coriander paste in the pan and saute for about 2 minutes.

Now add the ground pea paste and saute for 2-3 minutes

Add pepper powder and turmeric and about 3 cups of water and mix well.(amount of water depends on the thickness of gravy you want to have,so add according to that)

When this mixture start boiling add potatoes, cauliflower and salt and cook on medium heat without covering the pan.(to retain the green color of peas.)

Cook for about 5 minutes,but don't stir too much and take care not to break the cauliflower florets and potato pieces.

Add lemon juice and a tbsp of fresh chopped coriander and mix .

Serve hot with a spoon of ghee on top of  the curry.
Serving suggestion-serve with steamed rice, Jeera rice,or any Indian bread of your choice.
NOTE-
1-Traditionally this is made in mustard oil but you can use any cooking oil of your choice.
2-You can adjust the thickness of gravy according to your preference so add water according to that.