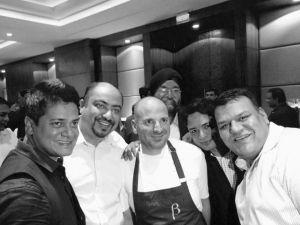 It is Masterchef Australia George Calombaris' (George Dimitrios Calombaris) third visit to India and my second meeting with a person who, in spite of being a culinary icon, has remained humble and grounded. My earlier meeting with him was at The Olive (now defunct) at The Diplomat Hotel. However, this meeting is different – this time, he will be personally cooking with the staff at The Leela Ambience, Gurgaon for a select hundred guests and I am one of the lucky invitees.
Like any evening at The Leela, all guests are greeted with sparkling wine and other alcohol apart from their signature hors d'oeuvre. – my gazing eyes find many familiar faces but not George. I want to keep my appetite for the course that George will be cooking for us.
Amongst the known names that are present are Chefs Manjit Gill, Manish Mehrotra, Kunal Kapur, Bakshish Dean, Ravitej Nath, Neeraj Tyagi, Raminder Bakshi, Tanveer Kwatra and Nishant Choubey and amongst the prominent restaurateurs present are Ashish Kapur and Zorawar Kalra. We are soon seated and begin the silver service. I always feel that for over 100 people pre-plated silver service is extremely difficult but The Leela staff manages it like a breeze.
The pumpkin bisque is nice with the flavors accentuated by caramelized nuts, crispy parmesan and micro greens. I keep biting on the fried calamari and assorted olives, which are some of the various antipasti kept on the table, while sipping on the pumpkin bisque.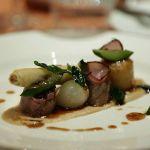 Finally, the main course cooked by Chef George Calombaris is served. I am told that as soon as he arrived from the airport, he went straight into the kitchen to prepare our meal. The plate looks beautiful, and just like George would have done it in Masterchef Australia, I start analysing each element. The plate has a piece of lamb with veggies and some jus. The lamb is cooked rare and the fact that the juices are intact means that sous vide technique is used for the cooking. There is a little drizzle of onion jus, a perfectly cooked onion and baked potato on the side and a phyllo pastry (filled with caramelized onion and some greens) to provide crunch. Well, the taste, as expected, is heavenly. Each element adds to the lamb flavors and makes it a complete meal.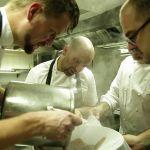 I give desserts a miss to retain the lingering flavors of the main course but do try a few cheeses from Dabon and I must say their cheeses are any day better than what we normally get in the market. This well curated evening by Kavneet Sahni of Culinary Communications has whetted my appetite and given rise to a desire to taste more food from George Calombaris. So George – the next time you are in India, I will be greedy and self invite myself!