Facebook Messenger, it's popular chat service with tons of awesome features. More than one billion people love to use Facebook Messenger every month to get in touch with family and friends. As the developers are making their efforts in adding extra features day-by-day to add new features along with fixing errors and bugs.
Maybe you are not aware of new features of Facebook Messenger, as new features are being rolled out all the time. Here in this article check out our Tips and Tricks below to make the most of Facebook Messenger.
Getting started with the Tips and Tricks....
The first thing you will need here is to make sure you are having the latest version of Facebook Messenger app, you can easily update the app on your Android or iOS device.
Here if you are an iOS user then, open App Store and tap the Updates button on the right. After that just tap on Update All Button in the top-right corner of the Update button directly to the right of Facebook Messenger, if any updates are available.
If you are an Android user the, open Google Play Store and just tap the three horizontal lines in the top left of the screen. Now you have to tap on My Apps & Games from the menu, and here you will see all the possible updates available. Find Facebook Messenger and update the app if the update is available, or simply update all the apps if possible.
1. Basics of Facebook Messenger
Here in Facebook Messenger app when you send any message, you can easily find out if it has been read or not. If the message is read, then other person's profile picture appears to the bottom right of it. Same in the case group conversations, you will many profile pictures appear as people read the message.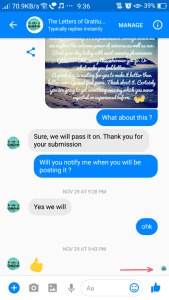 When you see an open blue circle, it clearly indicates your message is being sent. And when you see an open blue circle with a check mark, it clearly indicates that your message has been sent.
And when you see a filled blue circle with check mark it clearly indicates that your message has been already delivered. When you see a red triangle, it clearly indicates that it failed to send. If somehow your message fails, just check down your Wi-Fi and network connections.
How you can make a Voice or Video Call?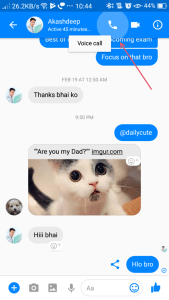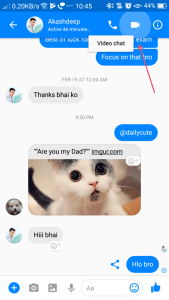 Do you know, you can make voice and video calls with your Facebook Messenger app? Here, just tap the phone icon in the top-right corner for the normal voice call. If you are want to make a video call then, just tap the video icon. Don't worry you don't have to pay for it, its free! If you are connected to Wi-Fi or you are using a cellular network.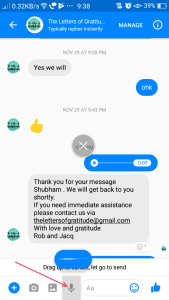 Sometimes it may happen that the person whom you wanted to talk is not available at that time, you can just leave an audio message for them. Here you can tap on the microphone icon and then continue pressing on the red record button just to record your message. After recording the message, release the button to send it.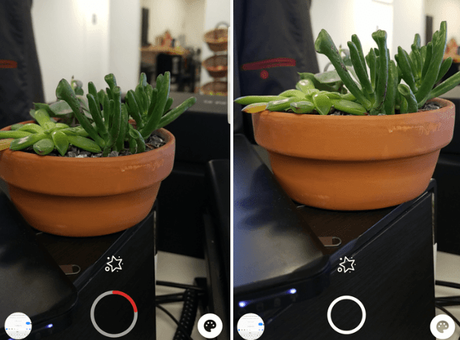 If you are willing to share some of your photos or videos then, all you need to do is tap on the camera icon. Here you in the entire screen you will see the camera view, just tap to snap or you can tap and hold to record a video.
Once you are done, a simple tap on the arrow to send the photo or video. The best part is that you can add special effects and mask just by tapping on the icon right above the shutter button.
Send a Photo or Video from your Phone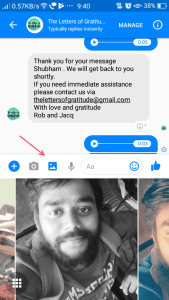 Here you can also send photos and videos from your phone just by tapping to the picture icon which is next to the camera icon. Now you will see a gallery will pop up and you will have your latest photos and videos just choose one, which you want to send. If you want to add any message or any kind of note, then tap on the edit icon (looks like a pen) right before sending it.
Facebook Messenger introduces a new feature "Messenger Day" that will let you share updates with all of your friends at once. Here those updates like Snapchat will disappear after 24 hours- don't think too much it's going to fade away after a day!
If you want to add something to you Day, just open Facebook Messenger and select down "Add to your day" then take a photo or video you want to add and tap the little arrow key. Here you need to choose what you want it to add the item to your day or you also want to send it to your friend's and add it to the camera roll.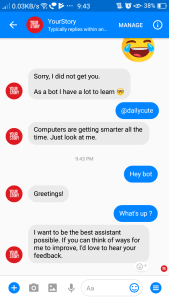 The most innovative and the best Facebook Messenger's inclusion of chatbots. "Chatbots are basically algorithms with that you can interact instead of talking to an actual human". This feature many times helpful for customer service situations, here you can use chatbots for getting news and weather updates.
Also, read:
2. Emoji tricks, GIFs, and Stickers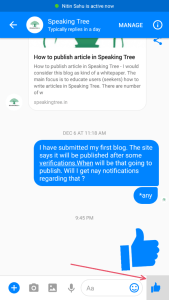 I bet you have used Thumbs-Up once in life to easily respond to a message. Here all you need to do is tap the blue thumbs-up icon. But really do you know that tapping and holding it you can resize it according to your requirements.
If you don't want to use the thumbs up icon, then just go with another emoji to replace it. In the conversation, just tap the top right "i" icon, now tap on the Emoji and choose which one you want. You can also enlarge this emoji like the thumbs icon.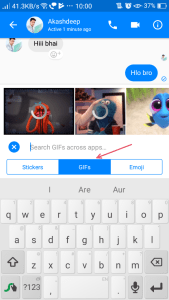 You laugh out loud! Just by seeing a funny GIF, and here GIFs are actually telling you mood and reaction. Facebook Messenger introduces various GIF search engines to give you the perfect result. If you want to add a Gif then tap the emoji icon in the textbox, one tap on GIFs search for something. Here you can tap the GIF you want to send.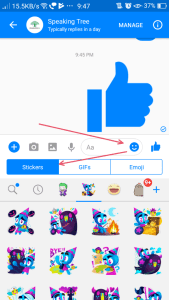 If you really want to make conversation funnier than ever then, send stickers. The stickers are basically divided into sections, here choice is yours enter some specific terms to find what you need. If you got the one, just tap on it to send.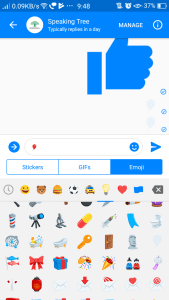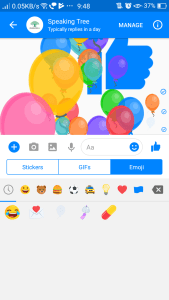 If you are willing to wish someone birthday with balloons then open emoticon and choose the lightbulb icon. Here in this section, you will find balloon emoticon, whoa! The balloon will trigger an animated burst of balloons when you send it to others.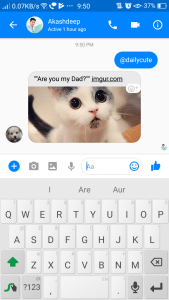 This one is really for cat lovers if you want to send some random cat pics to someone. Just type "@dailycute" right on to the text field and send it. Here you will see random pic pop up right in the message thread.
3. Most handy messaging tips.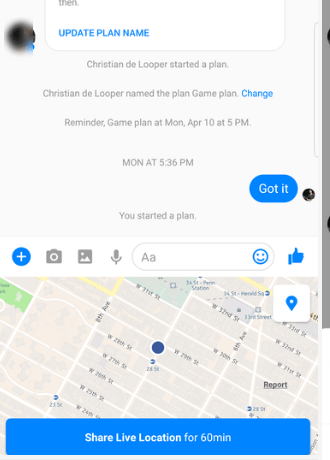 This one is a really good feature from Facebook Messenger, to send a map of your exact location in real time. Simply open any conversation with a contact and tap the plus icon, now click on the Location.
Here you can tap on "Share Live Location" and the recipient will see real-time location just for 60 minutes. If somehow you are using it for the first time, here you will be promoted to allow location tracking.
Set Names and Photos for group chats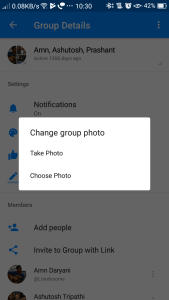 Just open the conversation and tap the name at the top "i" here you can change the name of the group just by tapping it saving your new name. You can also change the group photo in the same manner here you can choose anyone from the camera roll or just capture a new one.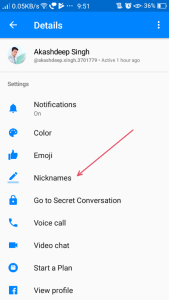 It's better to give your friends and loved ones a nickname. If you want to set a nickname for someone in a conversation then just tap in their name right at the top of the "i". Now here you can choose "Nicknames" just give a name you want and tap to set it.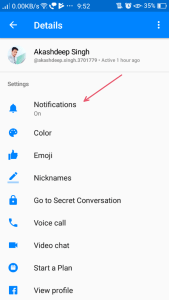 It may happen sometime that you are getting annoyed with bombarded group conversation notification. It's really hard to check them all and reply all them sudden.
Here you can mute a specific conversation that annoys you, just tap "i" and here tap "Notification" and here you will many host option to mute a conversation.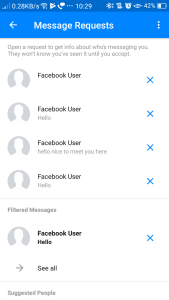 Here you can really send messages who are not officially your friends. Just tap the three horizontal lines at the bottom of the page and here access your contact page. Here you will look for messages request near the top. Now just read the message and decide if you want to accept or ignore them.
4. Play Games, Install Apps
Play Basketball and many other games: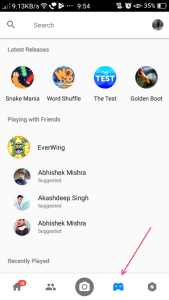 Now Facebook Messenger introducing Games. Here you can play awesome games while chatting with your friends and family. Just tap the plus icon in the left of the text field and now tap Games. You will find a variety of games to challenge your friends like basketball, Snake and Bat Climb and may more.
Also, read:
EndNote: Facebook Messenger Tips
I think all the New Features of Facebook Messenger are covered here, you can now play games and do many more things with the new updates.
I hope this post Master Facebook Messenger with helpful Tricks and Tips suits your purpose well. Share this post with your friend and colleagues on all trending social media platform.