London Walks guide Isobel is embarking on some of her Rep Walks in the next few weeks. Here we find her ruminating on cats, inspired by this 'andsome specimen here…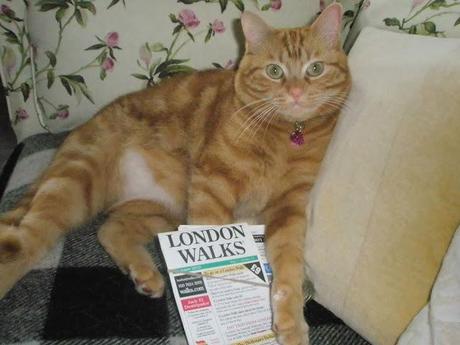 I think C the City (9th Feb 10.45, St Paul's exit 2) is the only walk of mine where you are guaranteed to see a cat, but tales of cats (and dogs) have a way of creeping into other walks. As several of my repertory walks are in local, residential areas - Denmark Hill and Camberwell 15th March 10.45, Denmark Hill Station; Princes and Paupers  29th March, 10.45, Kennington tube; Walworth Old and New 14th June, 10.45 Kennington tube; Viva Vauxhall 1st February 10.45, Vauxhall exit 2- to name a few, cats quite often make unscheduled appearances.
I can't promise you'll see the gorgeously fluffy Toby in Kennington, but I can certainly direct you to where Buster will be making himself comfortable in Walworth.
Now there's a cat who knows how to get his life organised.
Bo'sun (pictured) will be shut indoors when I walk past our home on the Walworth Old and New walk just in case he decides to try and join us. I can always bring photos though!  And I have a range of greetings cards for sale featuring cats.
Isobel
Isobel is an artist, journalist, linguist, prize-winning Blue Badge Guide and London Walks' token aristocrat. One of her ancestors introduced the waltz to this country.