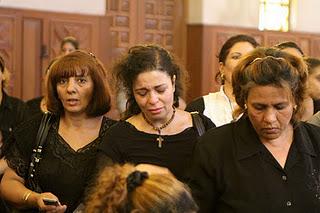 Mourners at Coptic Funeral. Photo Credit: Sarah Carr
 Well folks,
We are all in mourning here in Cairo. Everyone is in tears. I am reaching out to all of my Copt friends. I just cannot believe that the military fired on, and ran over, unarmed civilians. Regardless of religion, this is very difficult to stomach.
One of my colleagues suggested that the military is actually using the Islamists. That had not occurred to me, but that makes sense in a way. If the country is wracked by sectarian violence, the elections will be derailed, and the military retains power. Another colleague, who is a devout Muslim, places blame squarely on the head of Field Marshall Tantawi, head of the SCAF. 
Regardless of religion, the goal here is DEMOCRACY. Do not get distracted. Keep your eyes on the prize. We need to stay focused on peaceful, free and fair elections for all Egyptians, Sufi, Shia, Sunni, Copt, Bahai and secularists.
Here is the Arabist's take on it.
Maspero and Sectarianism in Egypt. 
Here is journalist Sarah Carr's powerful eyewitness account. Marching from Shubra to Deaths at Maspero.
On to the news.
According to the Arabic edition of Al Masry Al Youm, Egyptians demonstrated in Aswan, Alexandria, Ismailia, Qena, Fayoum, and Assiut. Islamic groups held demonstrations in Aswan "condemning Coptic attacks on military personnel." Meanwhile, security forces strengthened their presence around churches to avoid further clashes. ("Egyptians demonstrate in wake of Maspero violence,"
Al Masry Al Youm
, October, 10, 2011)
Umm, is it just me, but why do people believe that the Copts attacked the Army. It just does not make sense from a strictly logical standpoint. Just a little bit of gallows humour here: what are the Copts going to do, fight the Army with giant crosses? But seriously, it is pretty implausible that the Copts attacked the Army. I do not buy it. Many Muslims realize that these clashes represent incitement to sectarian strife, which is ultimately destabilizing.
According to Al Masry Al Youm, political party leaders and activists met Monday and called for an immediate transfer of power to civilian authorities. Political leaders also criticized the state run media's provocative coverage of Sunday night's violence. Leaders in attendance included Naguib Sawiris (Free Egyptians), Amin Iskander (Nasserist Karama Party), former finance minister Samir Radwan, and Hossam Eissa. 
Amr Moussa stated "We as Egyptians are facing a problem. It's not a Coptic and Muslim Problem. It is not a military or civilian problem, but it is a problem in Egypt's flawed society and inter-relations." Amr Moussa is a presidential candidate and a former foreign minister under Mubarak.
Okay, overall that is a good statement. However, I disagree with him on one issue. If the military fires on civilians, that is a military and civilian problem in my book. Call me crazy. . . .Anyway, Moussa lost my support when he stressed the importance of "ruling with an iron fist in order to protect the country from looming chaos." Sounds like he is on the SCAF payroll to me. . . .
Many leaders present criticized the SCAF's rule, and blamed them for their role in Sunday night's events. Those critical of the SCAF included Abdel Gelili Mostafa, leader of the National Association for Change, Mohamed ElBaradei, Ayman Nour, leader of the liberal New Ghad party, Mohamed Abul Ghar, president of the Egyptian Social Democratic Party, and female presidential hopeful Bothaina Kamel.The leaders also criticized state TV's coverage of the incidents, stating that this coverage was inciting sectarian violence. (Rana Khazbak, "Political Forces Slam Ruling Military Council for Attack on Copts,"
Al Masry Al Youm
, October 11, 2011)
Egypt's state run media, which whitewashed the Revolution, has been harshly criticized in the wake of the Maspiro massacre. Minister of Information Osama Haikal urged the media to deal "wisely" with the clashes in their coverage. Maspiro (or Maspero) is the site of the Egyptian television, as well as the site of numerous protests. On State Run Channel One, Rasha Magdy said that Coptic protesters had been attacking soldiers and ended her show with a call for Egyptian citizens to protect the military. Many view her call as an incitement to sectarian violence.  Many media personalities who work in state television have distanced themselves from the official coverage of the incident. The main message of the state run news (the state run paper is
Al Ahram
) is that conspiracies are underway to arouse conflicts between the armed forces and the people. (Mai Elwakil, "State Media Coverage of Maspero violence raises tempers,"
Al Masry Al Youm
, October 11, 2011)
According to Ahmed Zaki Osman, some eyewitnesses claim the military threw the bodies of dead protesters into the Nile during Sunday night's clashes. These reports are unverified. (Ahmed Zaki Osman, "Eye-witnesses claim military threw protesters bodies into the Nile," Al Masry Al Youm, October 11, 2011)