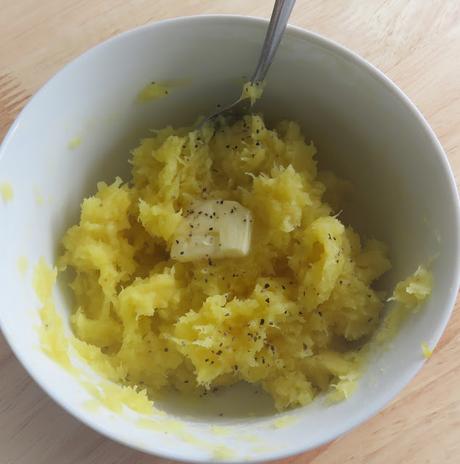 We are coming into one of my favorite food seasons.  More and more I am seeing many of my favorite fruits and vegetables showing up at the local farm markets.  
One of these is Winter Squash.  And there are more varieties than ever to choose from!  
I can only ever remember my mother cooking one kind of squash when I was a child and it was the big old dark green Hubbard squash.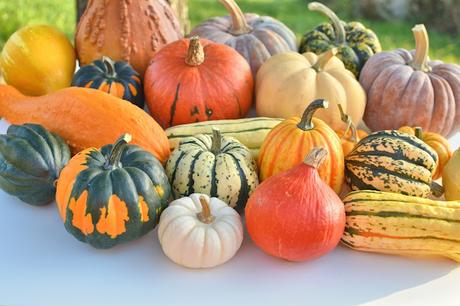 I confess I did not like squash as a child.  Mom would cut it into cubes, boil it to smithereens and mash it with a bit of butter, salt and pepper.
It was watery and I just did not care for it at all.  I don't think any of us did really. I am sure my mom often wondered why she bothered! 
As an adult I discovered butternut squash and fell in love!  I had not realised that there were so many varieties of Winter Squash or that they could be delicious. Roasted or cooked in the microwave, they make a wonderful side dish, and not just for Thanksgiving dinner!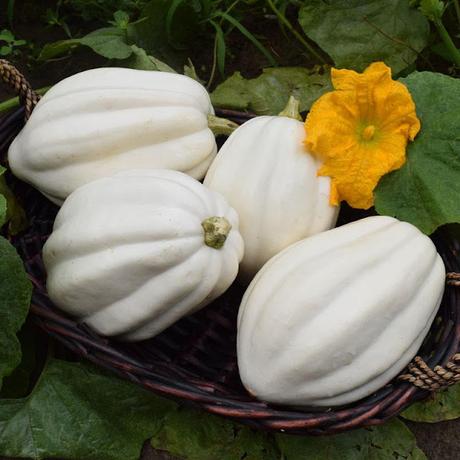 My sister and I stopped at a farm market the other day and were instantly entranced with this particular Squash, Mashed Potato Squash.  With its bright white rind I was very curious as to what it would cook up like. I bought one and my sister did too! 
We also each picked up a Spaghetti Squash. Let the squash fest begin!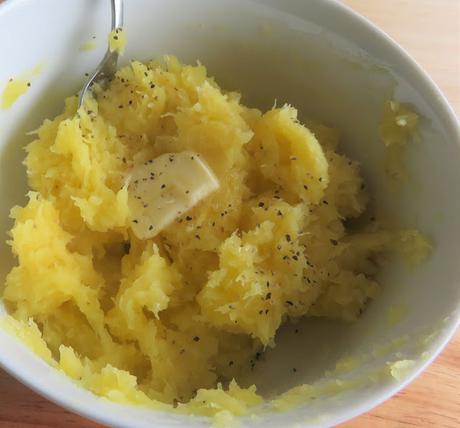 I was thinking this Mashed Potato Squash would be an excellent low carb alternative.  As a Diabetic I try to watch my carb intake and am always on the lookout for low carb alternatives.
However I have since read online, that whilst squashes are a healthy alternative to carbs in that they are filled with fiber, they are actually quite high in carbs so caution must be exercised.  You don't want to go over board with them.  
They are considered to be medium glycemic, so whilst not the worst choice, not the best either. You can feel free however, to enjoy them in moderation, because they are actually quite healthy and packed with nutrients.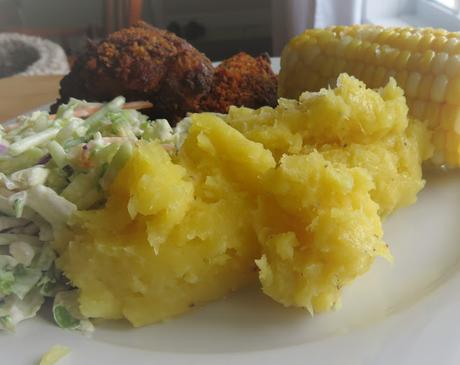 Most Winter type of squashes lend themselves beautifully to a variety of cooking methods. My favorite ways to cook them are roasting, steaming or cooking them in the microwave. 
Calling these Winter Squashes is a bit of a misnomer actually.  Whilst they are easily stored over the Winter, most ripen  and are harvested in the last summer/ autumn months.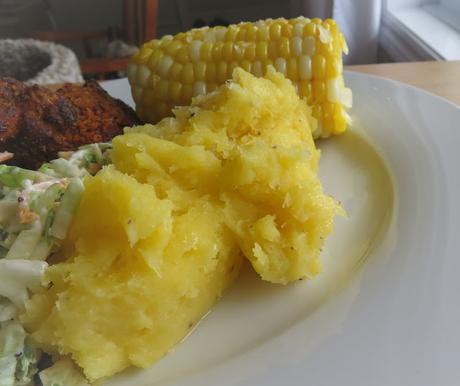 All labels aside, this  is a vegetable which comes in many different varieties, including butternut squash, acorn squash, kabocha squash, carnival squash, Japanese pumpkin, sweet dumpling squash, blue hubbard squash, delicata squash, red curi squash, buttercup squash, sugar pumpkin, and spaghetti squash.
And I am sure there are many others I am forgetting. I haven't met one yet that I didn't like.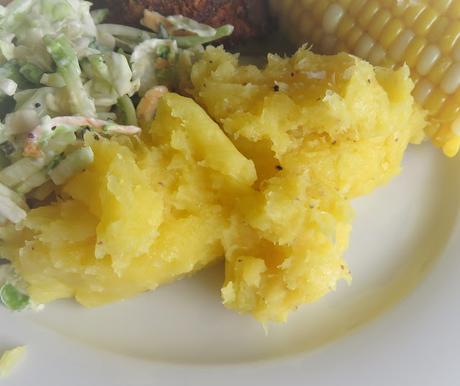 I decided to cook my Mashed Potato Squash in the Microwave as it is still fairly hot and humid.  Its also a lot faster to cook them in the microwave, although the timings will vary according to the size of your squash.
You can also cook them whole in the microwave. Once cooked they are easy to halve, scoop out the seeds and then the flesh, ready for mashing.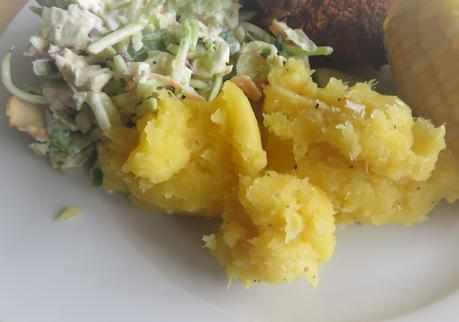 You do need to prick them in several places to make sure that any steam can escape.  Remember squash is a moist vegetable, filled with water, so they can and will explode if that water has nowhere to escape! 
But other than pricking them, just wash  off and pop the squash into the microwave. I like to cook them on power 7 to 8 for about fifteen minutes, flipping them halfway over in the middle of the cooktime. My squash was about 6 inches round about and that was perfect.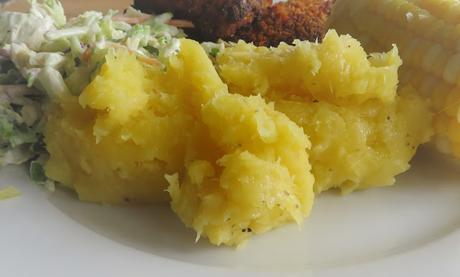 Once cooked you can just let them cool a bit. Then cut them in half and scoop out the seeds. (I hold them with an oven mitt) 
Then just scoop out the flesh and mash, adding a knob of butter and some seasoning.  Easy peasy.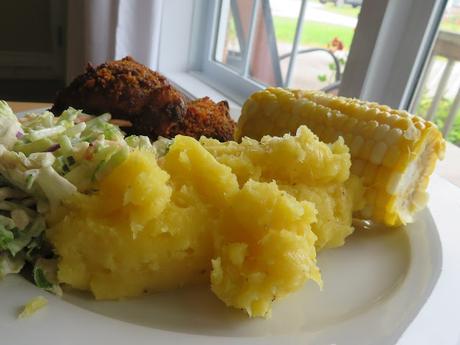 These didn't have a really strong flavor so I think they would benefit from treating them just like a potato, adding butter, cream even, or cheese.
You could do a baked potato type of casserole with them adding all of your favorite baked potato things, like chopped chives, spring onions, bacon, sour cream, etc. Now doesn't that sound good!!!
 Squash does lend itself to many delicious ways of dressing it up.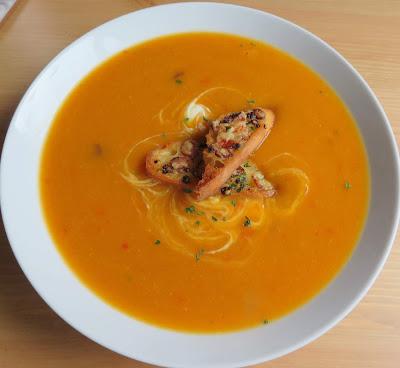 Spiced Butternut Soup with Honey
is one way I enjoy serving it, but of course that is in the colder weather. 
This is a very simple soup to make.  You cut your squash in half down the middle and roast it (covered) on a baking tray along with a whole head of garlic. 
Don't worry, the garlic gets all sweet and mellow when it is roasted. You won't smell, but your kitchen will smell beautiful.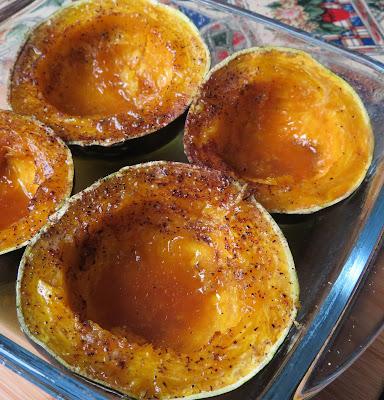 Maple and Butter Baked Squash is another favorite of mine. Filled with maple syrup and butter before baking.This is simple and delicious. The hardest part is cutting the squash in half! You can make as many servings or as few as you wish to make.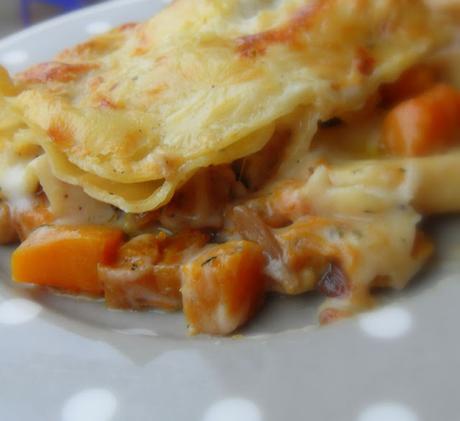 Roasted Butternut Squash Lasagne is another real favorite of mine. The butternut squash gets all caramelized and sweet, along with the onions.
The sage adds a beautiful herby touch, without being over powering.
And that bechamel . . . so buttery and rich . . . all layered with gruyere and Parmesan cheeses.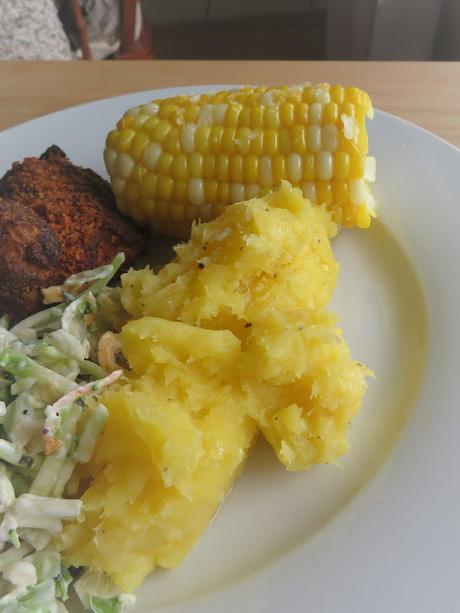 So you see, when you buy yourself a squash, you are not just buying a vegetable. You are getting yourself a feast that will lend itself beautifully to any manner of ways of cooking and serving it.
Gotta go, my little kittens need me.  I am due for some cuddle time.  Photos to follow soon!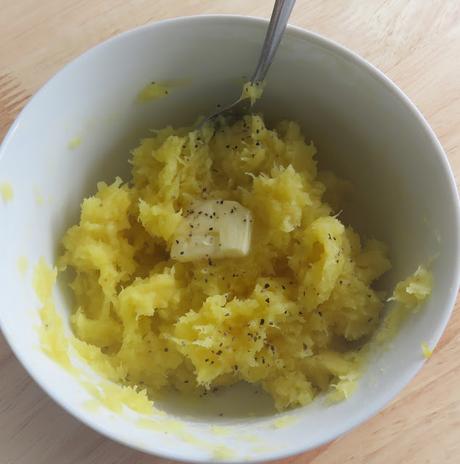 Mashed Potato Squash
Yield:
varies with size of squash
Author:
Marie Rayner
Baked and fluffed, this hard shelled squash makes a deliciously wonderful alternative to the real thing. You can either roast it in the oven or cook it in the microwave (my preferred method).
Ingredients
1 mashed potato squash
Olive Oil if roasting in oven 
salt and black pepper to taste
butter to taste
Instructions
To Oven Roast:
Preheat the oven to 350*F/180*C/gas mark 4. Wash the squash and cut in half.  Scoop out the seeds and discard.
Place the squash halves on a baking sheet, cut side down, and drizzle each half with some olive oil.  Sprinkle with salt and black pepper.
Roast in the preheated oven until they can easily be pierced with a fork, 50 to 60 minutes.
Remove from the oven and cool until you can comfortably handle them. Scoop out the flesh with a spoon into a bowl. Mash with a fork to the desired consistency.  
Add a knob of butter and season to taste with salt and pepper.
To cook in microwave:
Wash and pierce the whole squash in 6 to 8 places with the point of a sharp knife. 
Microwave for fifteen minutes at 7 - 8 power, flipping the squash over halfway through the cook time. A knife should easily enter the squash when cooked.
Cool until you can comfortably handle it, cut in half.  Scoop out and discard the seeds.  Scoop the flesh into a bowl and mash together with a knob of butter and salt and pepper to taste.
Did you make this recipe?
Tag @marierayner5530 on instagram and hashtag it #TheEnglishKitchen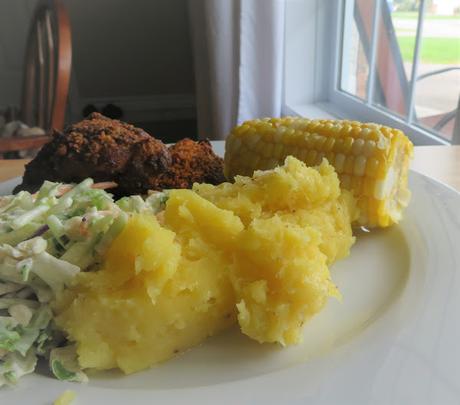 This content (written and photography) is the sole property of The English Kitchen. Any reposting or misuse is not permitted. If you are reading this elsewhere, please know that it is stolen content and you may report it to me at: mariealicejoan at aol dot com 
Follow me on Bloglovin