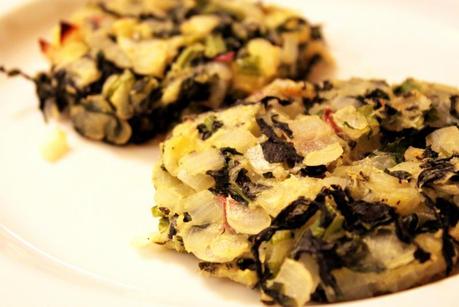 I love recipes that can act as multiple types of meals – like something that can double as a light lunch or an appetizer.
I love recipes even more that can basically work as: a snack, appetizer, light lunch, light dinner, or a side.
This recipe happens to fit all of those categories! It's something that takes a little longer to make than my usual recipes (this one takes about 1 hour to 1.5 hours), but it is so worth it.
The husband asks for this recipe all the time, because it reminds him of latkes which he loves, but it's a much, much healthier version!
And because I don't make it all the time, it's become somewhat of a special occasion recipe for us – I'll make it as a surprise or to celebrate something, since it's one of his favorites that I just don't have the time to make regularly. Before a few weeks ago (when I made this recipe), the last time I made it was literally one year ago.
As I said to my husband, "this one came back out of the vault!"
As always, it was a huge hit.
And the smile on his face as he was eating these almost motivated me to make them more frequently. Almost
The original recipe came from CookingLight.com, and I've modified it slightly to make it healthier. My modified recipe is below and you can find the original here.
The Ingredients
8  cups  water  
1 huge bunch kale, trimmed (about 6-10 oz)
5 small red potatoes, cubed
3/4  teaspoon  salt, divided
1  tablespoon  olive oil
3  cups  diced yellow onion
2  tablespoons  chopped fresh sage
1/4  cup  sliced green onions
1/4  teaspoon  freshly ground black pepper
Cooking spray
Sage sprigs (optional)
Parmesean cheese (optional)
Ketchup (optional)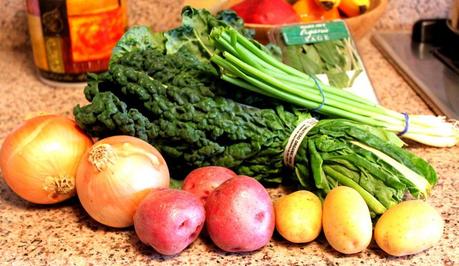 The Directions
Step 1: Bring water to a boil in a Dutch oven; add kale. Cover and cook over medium heat 5 minutes or until tender. While the kale is cooking, chop the rest of your veggies. Remove kale with a slotted spoon, reserving cooking liquid. Chop kale and set aside.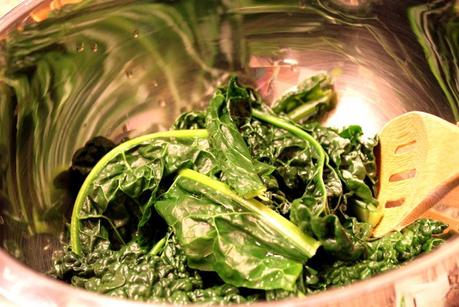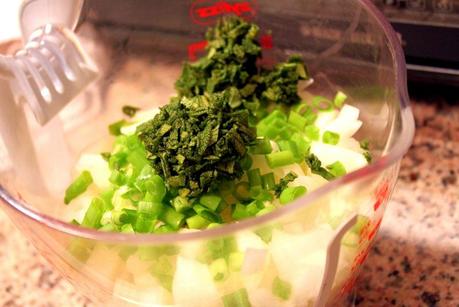 Step 2: Add potato to reserved cooking liquid in pan; bring to a boil. Reduce heat, and simmer 10 minutes or until tender. Drain; partially mash potatoes. Stir in kale and 1/4 teaspoon salt.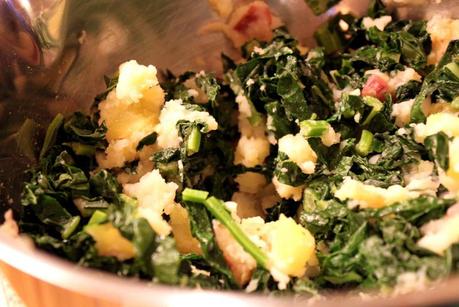 Step 3: Preheat oven to 400°. Heat oil in a large nonstick skillet over medium-high heat. Add 1/2 teaspoon salt, diced onion, and chopped sage. Cook 13 minutes or until browned.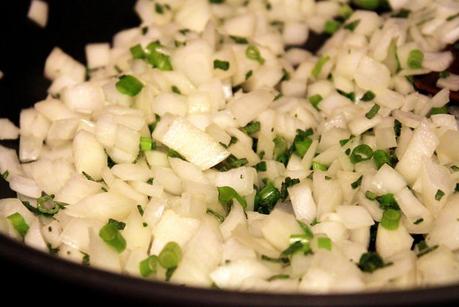 Step 4: Combine potato mixture, onion mixture, green onions, and pepper in the pan. Remove from heat; cool slightly.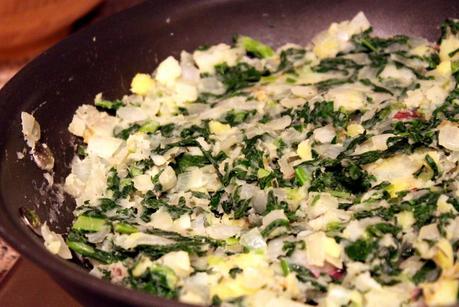 Step 5: Divide potato mixture into 8 equal portions, shaping each into a 1/2-inch-thick patty. Place patties on a baking sheet coated with cooking spray.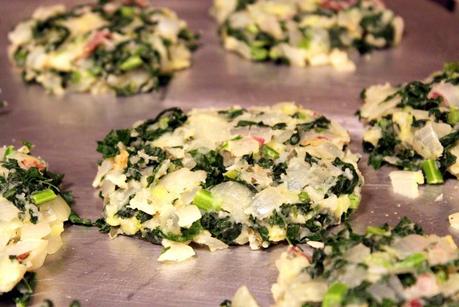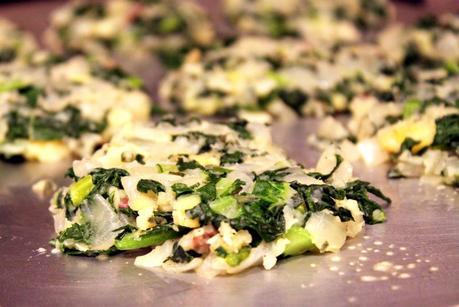 Step 6: Bake at 400° for 20 minutes. Then broil patties for 5 minutes or until browned. When they're done, they look like this: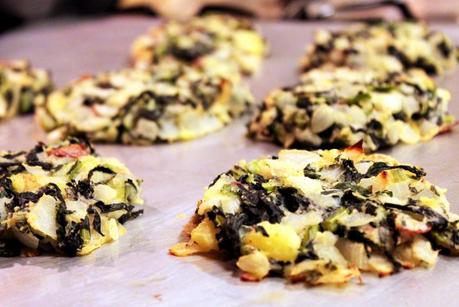 You can serve the patties as is, or top them with 1 Tbsp fresh grated parmesan, or serve them with ketchup, or just garnish them with sage sprigs: you can really do anything you like with them!
I think the husband and I liked eating them with ketchup the best.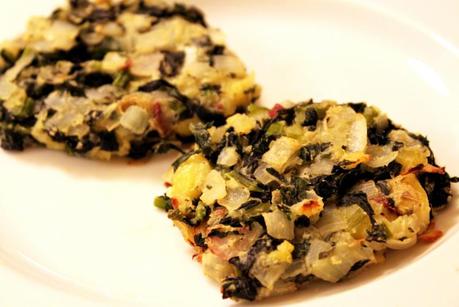 One serving size is 2 of these patties – which is reasonably filling! I think I ate about 3 of them and that was great for a light lunch. The nutritional info for 2 patties is: 250 calories, 5g protein and 5g fiber. For a healthy "latke" that tastes amazing, I'd say that's a pretty guilt-free recipe!
I also love the addition of kale to these potato cakes – it really amps up the nutrition and fiber content and it adds some great color and texture. Kale is such an awesome vegetable – I try to use it as much as I can. And sage might be one of my favorite herbs: its earthy, savory, slighty sweet and soft flavor is so unique – it really makes this dish taste amazing.
If you're anything like my husband, you won't be able to eat this just once – you'll definitely want to make it again and again.