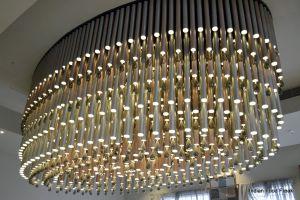 Farzi Café had created a furor with molecular gastronomy. Then came Masala Library in Mumbai with less of molecular and more of modern cuisine. Now Zorawar Kalra has upped his own standards and created post modern or post molecular Indian Cuisine. Masala Library, a standalone restaurant adjacent to Le Meridien in Connaught Place, not only geographically stands apart from the huge list of new restaurants that have mushroomed in C.P. but also stands apart for the post modern Indian cuisine it is serving.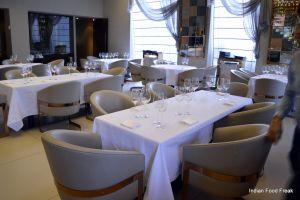 Masala Library's founding chef
Saurabh Udinia
traveled to 15 states of India to get inspired and took more than a year to conceptualize the menu. He picked out every day dishes giving them his own modern twist and presented them in specially hand crafted unique serving dishes. Like the amuse bouche is served in a cracked eggshell look alike ceramic dish with a mango spherification and tender coconut inside – when it is served, you feel you are about to eat a raw egg but you know better.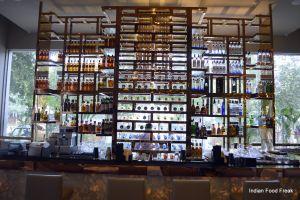 As one walks in through a small stretch of manicured gardens on either side of the walkway, one cannot help but notice the judicious use of the greenery as Masala Library grows its own herbs which are used daily in the kitchen. The décor inside is quite classic and timeless with a huge chandelier dominating the center of the restaurant. One whole wall has been converted into a wine cellar with more than four hundred bottles displaying almost eighty labels of wine.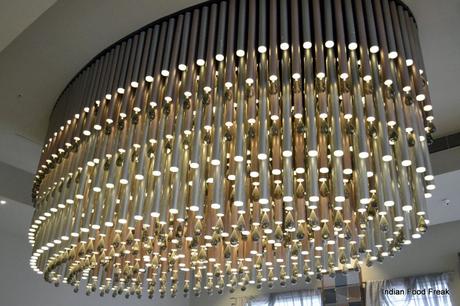 It is highly recommended that you go for the Chef's tasting menu (both vegetarian and non-vegetarian) which is served at 7.30 pm and 9.30 pm daily. The tasting menu takes ninety minutes to complete as it has – yes – hold your breath – only nineteen courses. So it is very important to understand that one has to be punctual – if you are late, it is like trying hard to get on to a train that has already started. The menu and the small portion sizes tease and tantalize you. It has been so designed that for the most part, it leaves your taste buds asking for more. It is as if someone is being naughty and before you can even feel satiated with the first treat, you are given another treat forcing you to think that you have got a better deal with the second one.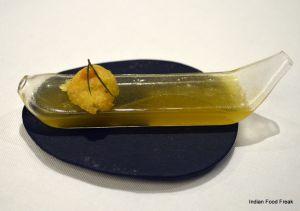 I was not expecting to be literally gob smacked by the explosion of flavours from the food. Chef Saurabh takes you from Kashmir's
Nadir Churma
(a sliver of air fried lotus stem served with the traditional radish and walnut chutney) served on a rounded piece of rock (something you would find by a river bed) to Karnataka's
Maddur Vada
with clear rasam (a crispy one rupee coin sized vada with a speck of tomato chutney which you toss into your mouth and drink the spicy and tangy rasam from an oblong glass tube).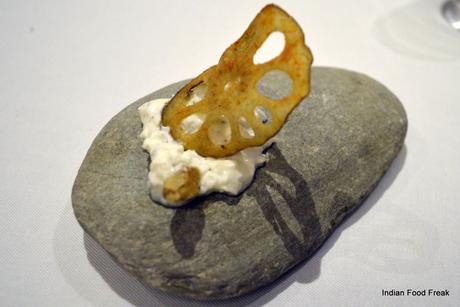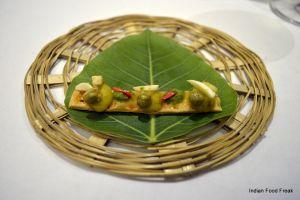 A finger sized portion of a
Deconstructed Baked Samosa
served on a pipal leaf plucked from outside the restaurant (the pea sized spicy potatoes on top of the baked samosa strip has to be had in three bites as advised by the server) has each bite taking you to any street of India. A hand torn, humble
Bajre ki Roti
from Rajasthan served with homemade white butter is stuffed with caramelised onion elevating its flavor with the sweetness of the onions.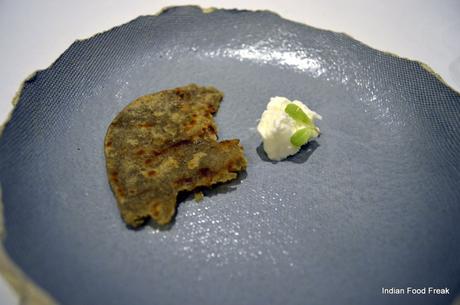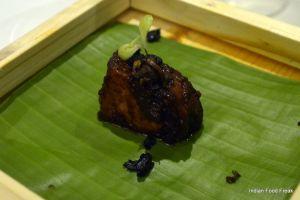 The famous
Galouti Kebabs
from Lucknow served with air sheermal – the most delicious galouti pate piped onto a air fried sheermal was like an explosion of flavours in the mouth.
Curry Leaf Prawn Thayir Sadam
– a dish that can be found in Tamil Nadu, Karnataka, Kerala or in Andhra Pradesh where thayir means curd and sadam means rice – the prawns had a lovely south Indian flavor of black pepper, onion, garlic and curry leaves served along with curd rice.
Naga Pork braised black bean and bamboo shoots
– a mind blowing spicy pork dish from Nagaland.
Tawa Keema
topped with pickled bitter gourd – another masterpiece of a dish where the keema is cooked with Indian spices, fennel and bitter gourd seeds and topped with pickled bitter gourd. It is pickled for six days in apple cider, sugar and salt. It is a perfect marriage between the two where the acidity from the bitter gourd truly lifts the flavor of the humble keema dish to another level.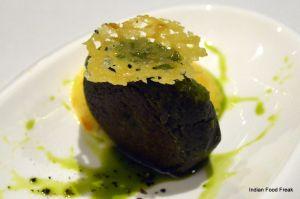 For the first time ever in my carnivore years, I did not mind eating the vegetarian fare on offer. Outstanding to the point of converting a non vegetarian to a vegetarian are the Torai Kebab with a torai crisp as a garnish, Pesto Kebab made from pesto sauce which had a really nutty flavor to it and complemented well with the tomato foam, Shakarkandi Kebab stuffed with goat's cheese and processed cheese with star fruit foam to counter the sweetness and Kuttuki Roti mixed with sambhar and topped with crunchy puffed rice.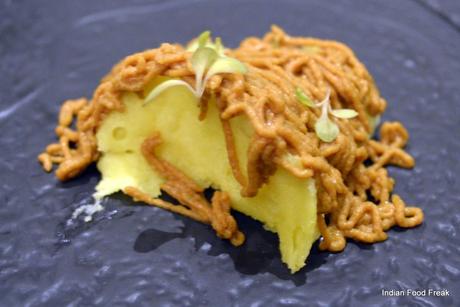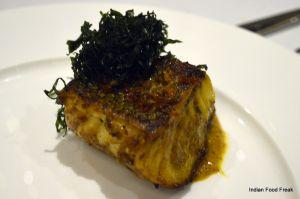 After your taste buds have had a treat of a lifetime with many more innovative dishes, the meal ended with roti and three curries as we were told by the chef that no Indian meal is complete without a curry.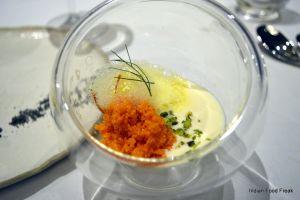 For desserts, we had the
Jalebi Caviar
where jalebi is served like salmon roe and
Ashen Kulfi
where the stem of the banana has been reduced to ashes to convert into a kulfi. If I have to find an area that can be worked upon, it would be the dessert section and only because it paled in comparison to the mind blowing savoury treats. After gorging like a glutton for these ninety minutes, this meal does not make you feel heavy or uncomfortable. In fact, like me, you'll be counting the hours till you come back here again.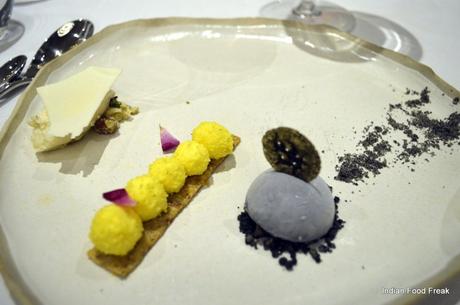 Ratings (Out of 5)
Food: 5.0 | Ambience: 4.5 | Service: 4.5 | Overall: 4.5
Meal for Two: Rs 5000approx, Chef's Tasting Menu: Veg(2100),Non Veg (2300) and Optional wine pairing with the meal (2200) | Wheel Chair Friendly: Yes | Credit Card: Yes | Alcohol: Yes | Timings: 7 pm – 1 am.
Address: 21 A, Near Le Meridien ,Janpath, New Delhi | Phone: 011-69400005,69400006
Disclaimer: This review was done on an invitation from the restaurant. Due judgement and care has been applied by the author to remain objective and unbiased in the review, but readers need to consider this review keeping this fact in mind.