Chicks are crazy…and absolutely terrible drivers.  Those two truths cannot be debated whatsoever.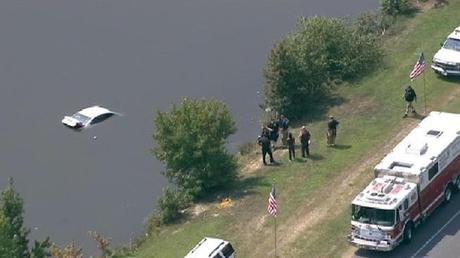 Via NBC Washington:  "The 25-year-old driver of the Hyundai was northbound on St. Charles Parkway near St. Thomas Drive when she drove off the roadway, struck a tree and drove about 60 feet into the lake, becoming submerged in about 5 feet of water.  The driver of a car that crashed into a lake Tuesday afternoon reportedly was texting while driving, authorities said."
Sometimes you read a story and you laugh out loud.  Other times you read a story and you just find yourself shaking your head up and down because you know all too well that the story makes too much sense.  Chicks can't drive, we all know this.  Chicks texting while driving?  You might as well pull over to the side of the road and let them pass because there's a pretty good chance you're getting sideswiped.  Not surprised one bit by this story.  I mean look at where that car ended up!  It's not a few feet into the water, it's in the freaking deep end!  And that's not even all, before she even got wet she hit a tree!  All while trying to text her girlfriend back or let her boyfriend know that she still loves him.  Bat. Shit Crazy!