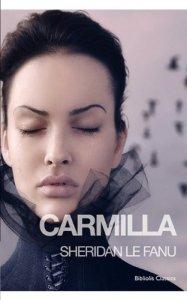 This review contains spoilers.
Given that this was written in 1872 by a presumably heterosexual cisgender man, I was not expecting a happy ending. This is the story of a lesbian vampire preying on an innocent young woman and being killed by said young woman's father and her father's friends (yes, all men). This isn't a particularly feel-good type of lesbian literature, and it's not even particularly well written.
So, why did I read it? Well, I enjoyed the YouTube web series modern adaption of, which does have a happy ending for the lovers and doesn't bury the gay. So, I wanted to see where it came from and it was interesting to see how they adapted the characters. Instead of an old castle, she lives in a dorm room. The main character, Laura, had a nurse and tutor who in the YouTube series were adapted into the RA's for her dorm.
I also wanted to be more aware and knowledgeable of literature that includes women who are attracted to other women, in relationships with women. Not only did this count towards that, but it is a somewhat well-known part of lesbian novel history (no matter how terrible it is for representation).
Those were the reasons I went into it and I wasn't planning on getting too involved, as I was also expecting to be bored by the old writing style. However, I quickly found myself engaged and interested in the plot and the characters. I actually did enjoy the story and was hoping (despite already knowing the ending) it would turn out at least semi-okay for the characters in the end.
Overall, I'm glad I read it and would recommend it if you want to see where the Carmilla webseries comes from, or just to read an early lesbian vampire novel. However, you're looking for a happy ending, you won't find it here.