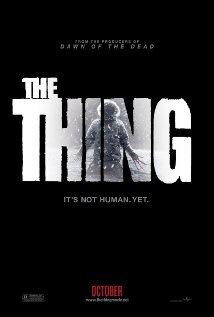 Director: Matthijs van Heijningen Jr.
Writer: Eric Heissrer (Screenplay) John W Campbell Jr. (Short Story)
Starring: Mary Elizabeth Winstead, Joel Edgerton, Ulrich Thomsen, Eric Christian Olsen, Adewale Akinnuoye-Agbaje, Paul Braunstein, Trond Espen Seim, Kim Bubbs
Plot: At an Antarctica research site, the discovery of an alien craft leads to a confrontation between graduate student Kate Lloyd and scientist Dr. Sander Halvorson.
There may be spoilers the rest of the review
Verdict: Good Prequel to Classic
Story: The Thing starts back in 1982 Antarctica as we follow a group of Norwegian scientist where they end up finding something quite remarkable. Kate (Winstead) gets bought in by Dr Halvorson (Thomsen) along with Adam Finch (Olsen) to investigate what the scientist discovered. Helicopter pilots Sam (Edgerton) & Derek (Akinnuoye-Agbaje) warm of an incoming storm and we have met nearly all the characters with the remaining being scientists we will not get to know long enough
What the scientist discover is a spacecraft estimated to have been under the icecaps for 100,000 years. They also find an unidentified life form which they get to be the first to study. When creature escapes it's ice prison the scientists are left to fight for their lives against a creature that could be far deadly than they could ever imagine as now they don't know who they can trust.
The Thing is the prequel to the legendary The Thing where we follow the events in the Norwegian research facility which gets visited during the 1980's version. We enter the idea of an origin story for the creature and how it could do what it does, and we with plenty of cast members to get through we do go through the same scenes as we are used to seeing. On a big positive we do get to have a scene where the scientist just burn the creature, no silly we should catch it, it is all get rid of it as fast as possible. I do think this works well but sadly the thing from stopping this from standing out is that each scene feels very similar to the ideas of the 80's version.
Actor Review
Mary Elizabeth Winstead: Kate is the American scientist who specializes in working in frozen specimens and uncovering their age and biology. She comes on this expedition because of these skills and ends up having to use all her knowledge to survive against the creature. Mary does a good job with the idea of creating a new tough fighting sci-fi woman that does a great job on paper but we never return to see where her character goes next.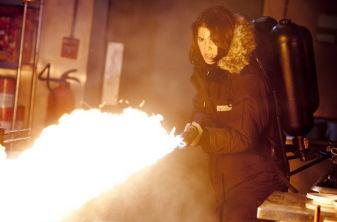 Joel Edgerton: Sam is the helicopter pilot that isn't going to hang around with an incoming storm, when the first signs on danger comes along he is the first to help save the people before it would become too late. Joel does a solid job and gets to show his tough side without being the leading role.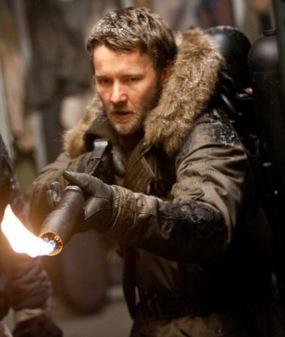 Ulrich Thomsen: Dr Sander Halvorson is the scientist who sees this discovery as his chance to go down in history but just how many lives will he put in danger to be remembered in history. Ulrich makes for a good scientist in this role as he ends up having to questions morales.
Eric Christian Olsen: Adam Finch is the research assistant for Dr Sander who has the connection to Kate, he suggested Kate when this chance came up but how much will he risk to survive or become famous. Eric give us a solid supporting performance that is filled with the correct emotion for each occasion.
Support Cast: The Thing has a supporting cast that is filled with scientist who are all there to offer a disposable character for the main story.
Director Review: Matthijs van Heijningen Jr. – Martin brings us a solid prequel to the classic telling the story we only have to guess about.
Horror: The Thing that all comes off with great horror with the ideas being used.
Mystery: The Thing does give us a mystery about what is happening in the Antarctic.
Sci-Fi: The Thing brings us into a sci-fi world of a spaceship and an alien from space which all works to help work on the horror.
Thriller: The Thing does a good job making us wonder who will be infected by the creature in nearly every scene.
Settings: The Thing brings us to Antarctic for the setting which creates real isolation for the whole story.
Special Effects: The Thing has a mix of good and bad effects, certain effects make us genuinely frightened but you can see how some are CGI.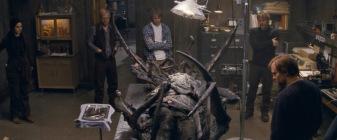 Suggestion: The Thing is one to try because it will let you know how the original started. (Try It)
Best Part: Merging Creature.
Worst Part: You can see the CGI at times.
Believability: No
Chances of Tears: No
Chances of Sequel: Technically this is a prequel to the classic.
Post Credits Scene: It fills in the space between the two films.
Oscar Chances: No
Box Office: $17 Million
Budget: $38 Million
Runtime: 1 Hour 43 Minutes
Tagline: It's not human. Yet
Overall: A prequel that does deserve credit even if it is slightly CGI heavy
Rating