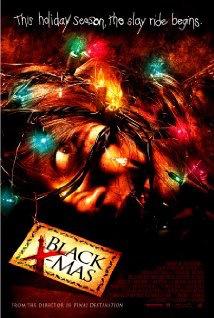 Director: Glen Morgan
Writer: Glen Morgan (Screenplay)
Starring: Katie Cassidy, Michelle Trachtenberg, Mary Elizabeth Winstead, Lacey Chabert, Kristen Cloke, Andrea Martin, Crystal Lowe, Oliver Hudson, Karin Konoval
Plot: An escaped maniac returns to his childhood home on Christmas Eve, which is now a sorority house, and begins to murder the sorority sisters one by one.
There may be spoilers the rest of the review
Verdict: What the Hell is This
Story: Black Xmas starts right on Christmas time where alone in her Sorority a girl is in investigation of any noise mood before thinking everything is ok, well she is dead now. Next we go to the mental institute where killer Billy Lenz is kept. We finish off the introduction Kelli (Cassidy), Melissa (Trachtenberg), Heather (Winstead), Leigh (Cloke), Lauren (Lowe), Megan (Harmon) and Dana (Chabert) along with the house mother Barbara (Martin) all celebrating Christmas together.
When Billy escapes from the mental home it just so happens to go hand in hand with the disappearance and murders of the girls in the home. We do learn about Billy's past and how he was sexual abused by his mother while being locked away in the attic but the question remains which one of the girls will make it out of the night alive.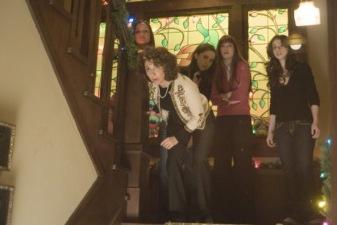 Black Xmas is a horror remake that some how tries to do everything wrong when it comes to film, it has zero character development leaving all the supporting characters literally doing nothing but getting killed. The flashing back and forward between time doesn't help and the idea that Billy is in a home when the film starts makes things even more confusing. The time line is so out of sync nothing makes sense and you are left just think thank god it is over. I really hate slamming films with young stars in because they deserve a chance but I can't even give them proper reviews.
Actor Review
Katie Cassidy: Kelli Presley is our leading lady and member of the Sorority who thinks she has the dreamy boyfriend only to learn the truth about him on the very night the murders start happening. Katie does a solid job but doesn't get any chance to do anything.
Michelle Trachtenberg: Melissa is a member of the Sorority that comes off like the responsible one and that is about all she does. Michelle ends up doing nothing, due to something you are going to see a lot here terrible character development.
Mary Elizabeth Winstead: Heather is the religious member of the Sorority who isn't afraid to get her hands dirty looking for answers about who is behind the mystery goings on in the house. Mary is hardly even involved even though she is in over half the film.
Lacey Chabert: Dana is a member of the Sorority that also does very little to the story. Lacey suffers from terrible character development.
Kristen Cloke: Leigh is the step sister of one of the girls in the Sorority who has gone missing, she was a member of the Sorority before and isn't afraid of anything. Kristen gives a bsic supporting performance but like the rest noting to work with.
Support Cast: Black Xmas has a supporting cast that includes the disposable girls that seem to have one seen before being killed off.
Director Review: Glen Morgan – Glen gives us one of the worst remakes in film history.
Horror: Black Xmas works on the slasher level but has no suspense to talk about.
Thriller: Black Xmas has zero suspense created in a film that needed it all.
Settings: Black Xmas has most of the action happening in and around one house in the middle of a street but no one bothers to leave to look for help.
Special Effects: Black Xmas does create the kills well but they do feel very forced for the violent side.
Suggestion: Black Xmas just RUN AWAY FROM THIS AS FAST AS POSSIBLE. (Avoid)
Best Part: It is short.
Worst Part: EVERYTHING
Believability: No
Chances of Tears: No
Chances of Sequel: No
Post Credits Scene: No
Oscar Chances: No
Box Office: $16 Million
Budget: $9 Million
Runtime: 1 Hour 24 Minutes
Tagline: Silent Night Evil Night
Overall: OH DEAR GOD THIS WAS BAD
Rating