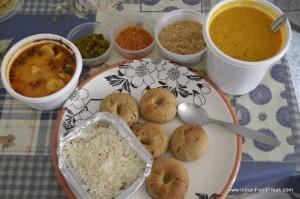 Even if I have to repeat myself, Gurgaon is the new gourmet capital of the country. It has restaurants that serve almost every cuisine including molecular cuisine. Greek, Parsi, Goan with some of the best microbrewery or interesting concept like The Wine Company, but one cuisine that hasn't seen much success in Gurgaon is the Marwari cuisine which is popular and is available at a stone throw distance at Rajasthan. The only two good Rajasthani cuisine restaurants in the city (now defunct) were Chaubara and Kachoree Jodhpuri.
I got few dishes packed for my home on my recent visit to Jaipur and it only whetted my appetite for more. And then talking to one of my friends I got to know about a lady (Abhilasha Jain) who herself is a Marwari and makes food at home for delivery. She tells me that unless there is an order of 15 parcels or more, she makes the Dal-Baati-Churma-Gutta Curry platter only for weekend lunch. Hence I order for two platters for the coming Sunday.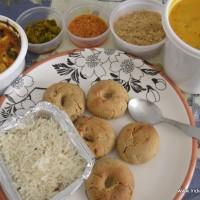 The order arrives just in time and is neatly packed in plastic containers. What I find under the containers is five baati in each plate which are soft inside and crisp outside. The whole coriander that I haven't seen in most commercial available baatis helps in giving it more aroma and flavor. Dal is sent in a big container that is enough to be used along with baati and the rice that are part of the package. What is brilliant is the spicy garlic chutney. Most people would reduce the chilli level, but Abhilasha serves it just the way it should be.
Gatte ki sabji is delicate and soft and I thoroughly enjoy it. Churma is good too, but I miss any dry fruits in it that are usually added. I would have also liked a small serving of desi ghee to be part of the parcel that is poured traditionally over baati. This thaali by Marwari Khana at Rs 350 isn't cheap, but to get a desi ghee based homely and hygienic preparation, I wouldn't mind shelling this amount. More so, the two thaalis were sufficient for our family of four.
Am told Abhilasha also makes papad pyaj sabji, allo pyaj, pakode ki kadi, malai tinda, aachari paneer and besan ka halwa. But that for the next time!
Ratings (Out of 5)
Food: 4.0 | Ambience: NA | Service: NA | Overall: 4.0
Meal for Two: Rs. 350 | Credit Cards: No | Alcohol: No 
Address: Marwadi Khana, Sector 56, Gurgaon | Telephone: 99589-83606/ 88009-36200