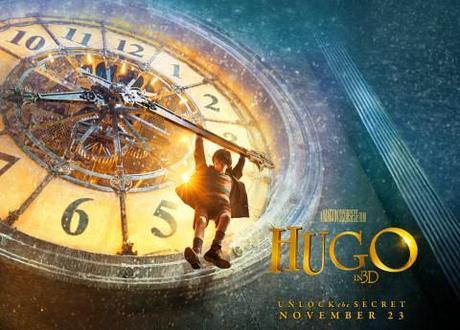 Martin Scorsese's latest film hits US cinemas for Thanksgiving weekend. But instead of violent gangsters, corrupt cops or gang warfare, the Goodfellas director's new 3D movie tells the story of a lonely orphan living in a Paris station who tries to unlock the secret of an automaton bequeathed to him by his late father. Hugo boasts some serious star power, with Jude Law, Ben Kingsley and Sacha Baron Cohen among the cast. But can the film, based on Brian Selznick's novel, win over the hearts of turkey-sated cinemagoers?

A kids' film adults can enjoy. "Hugo flagrantly defies the mind-numbing quality of most contempo kidpics and instead rewards patience, intellectual curiosity and a budding interest in cinema itself," said Peter Debruge in Variety, arguing that the movie has the potential to become a timeless classic. Debruge pointed out that Hugo contains allusions to film and cinema, but never becomes self-indulgent.
A kids' film kids won't enjoy. "Hugo is a personal statement disguised as a sellout," wrote Karina Longworth in The Village Voice. Indeed, Longworth felt Hugo doesn't quite work as a children's film, with its "staid" pacing: "The movie is far more successful as a barely veiled issue flick," she said, arguing that Hugo is about Scorsese's feelings towards the film industry.
Cinema about cinema.  "Hugo is specifically about those observers of life who, perhaps out of loneliness and with desire, explore reality through its moving images," wrote Manohla Dargis in The New York Times, linking the film's plot with the idea of "cinematic imagination". Dargis also said Hugo is beautifully shot, particularly the action-packed opening section.
Too much slapstick. Kenneth Turan admired the craftsmanship of Hugo in The Los Angeles Times but felt the character of the station inspector, played by Sacha Baron Cohen, clashes with the rest of the film, particularly the slapstick scenes: "The inspector's malevolent antics undermine Hugo's other virtues and underscore how far from Scorsese's strengths this kind of farcical material is."
World within a world. By contrast, Time's Richard Corliss thought the station master was a complex character, played by Baron Cohen in a comic style reminiscent of both Jacques Tati and Peter Cook. Corliss reserved particular praise for the "little dramas of disappointment and romance" played out by passengers and workers at the station where Hugo lives.
More film reviews

My Week With Marilyn
Streep earns raves for Iron Lady
Snowtown is harsh but brilliant
More film »