It is no secret that we love brides of all sorts around here at Tux & Tales. From big, lavish affairs at stately homes to down home shindigs in barns and on the back of tractors – we love it all!
I'm not asamed to admit that I didn't enter the wedding industry a decade ago. We haven't been wedding photographers for a millenia – cranking out photos since the dawn of time on our bellows camera, developing it all by hand (although I must admit a certain fondness for bellows cameras). Nope – I don't think we were ready for the wedding industry and I don't think the wedding industry wanted us a decade ago. Rows upon rows of bored wedding guests lined up like cattle ready for the slaughter. Sends shivers up my spine.
No, it was the recent change in the wedding industry which has been slowly taking place over the last 5 years which made this little tulle encrusted world seem like a cozier place.  Brides getting creative. Photographers getting creative. Brides throwing out the rule book. Photographers throwing out the rule book (or at least taking pictures of themselves throwing out the rule book). This whole crazy world of weddings has become a niche industry. Instead of one giant meringue world – the wedddings have split, multiplied and created their own little indie solar systems….. Hipster. Rustic. Goth. DIY. Punk. Shabby Chic. Vintage. Geek Chic.
You name it – you can have it. No Miss Manners can tell you how to have have your day!
It is that kind of panache that brought us running, screaming, arms wide open into the wedding world.
It is in this NEW tradition of diversity that we would love to introduce you to a NEW wedding blog – catering for their own little wedding niche:
Marry Me Ink
A wedding blog celebrating the decorated bride.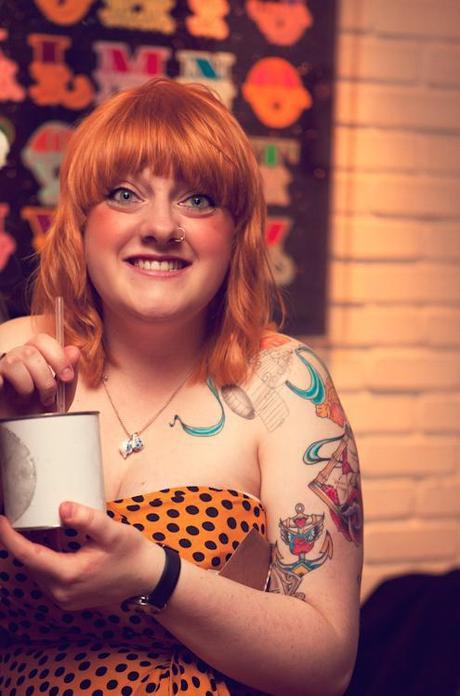 Rachael - Cute as a BUTTON!
Lucky me, the fantastic and amazeballs owner of Marry Me Ink, Rachael Urquhart, agreed to talk to me about why she decided to enter the blogosphere and ink it all up….
What made you decide to begin a blog about tattooed brides?
Being a heavily(ish) tattooed lady myself, people (mainly my Mother!) would constantly ask me, whilst in the process of my sleeve, "And what are you going to do if you get married?" and "How will they look against a wedding dress?". With that in mind & some help from some friends (old & new) the thought of putting together a blog specifically to show off how awesome tattoos can look – especially against something as elegant as a wedding dress!
What/who is your inspiration?
Vintage styles and glamourous icons such as Dita Von Teese are my favorite. I love the 1920s and the 1940s dress, hair and pin-ups! I love the people who I get to meet in the tattoo studio! My tattooist knows some seriously cool people who love to show off their bold ink as much as myself! I never wear long sleeves if I can help it! I am also enjoying getting to know more people within the industry who admire and strive to publicise the individuality of others & their clients!
What kind of content will you be sharing on your site?
I am aiming to draw attention to real-life tattooed brides – to show other brides-to-be that they can look fantastic inked in a dress!
With that in mind – there will be inspirational shoots from photographers also. I am also looking at starting a regular post on His & Hers tattoos, which is something I also admire.
Who is the ideal bride/groom to visit your site?
I am there for the couple who love to show off their ink! If they want to see how brilliant their special day can look whilst being themselves and showing their decorations off at the same time – Marry Me Ink is the place to look! I hope that future couples to be getting married will find the posts that I'll be featuring helpful.
Tell me a little bit about your own tattoos…
I have a 3/4 sleeve on my left arm which started off with an anchor back in September 2009.. 2years on – my left arm is complete with other vintage trinkets such as a perfume bottle, a teacup, an ornate picture frame (Which also contains a Harry Potter reference – VERY geeky I know!) and is all sealed off with a ribbon!
And what is your next tattooed that you have planned (and don't say you don't have one…I haven't gotten a new one in 4 years, but I still have my plans….never done….lol….)
Haha.. I have been told "No more" by numerous people – Rob, my partner, being one of them! but yes I have a few more in mind.. Particularly an owl.. I love owls!
Ohhhh…. I love me some owls…. I vote that Rachael gets just oooonnnnnneeee more. Hoot! Hoot!
Want to visit Marry Me Ink? Well, click HERE, silly billy!
Photo credit: Sacco Photography
{lang: 'en-GB'}