Your kids are going off to college. Where does that leave you as a couple?
You have gotten used to being a family, but now one of your kids is ready to graduate from high school and go off to college. This seems like such a big change! You have taken care of your kids for some eighteen years and made sure they had everything they needed. In some aspects, you may have sacrificed so they could succeed.
Melinda and Tony hadn't realized what this would do to them as a couple. They told me that their only child, Anthony, was suddenly a freshman at a state school three hours away. The family dynamics were changed significantly. Much of their lives had been devoted to "kid stuff," especially sports. Melinda and Tony needed to get reacquainted with "couple stuff." Could they go back to hanging out with each other again? They realized that they had to change their daily routines from being mom and dad to being a husband and wife.
Tony was worried how Anthony would survive academically in the college world. Melinda hoped that Anthony would get enough sleep, eat well and not drink too much beer. Just how much partying will Anthony do? How much studying will get done? They thought about him constantly. But I encouraged the couple to think about themselves, too. What about this man or woman who shares your life? Let's focus on that for a while.
Transitioning from having teens to having grown children is part of life for parents. Kahlil Gibran's masterpiece, The Prophet, is one of the most beloved classics of our time. Published in 1923, it says the following about children:
"Your children are not your children.
They are the sons and daughters of Life's longing for itself.
They come through you but not from you,
And though they are with you yet they belong not to you.
You may give them your love but not your thoughts,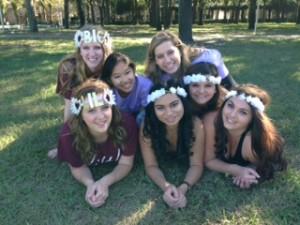 For they have their own thoughts.
You may house their bodies but not their souls,
For their souls dwell in the house of tomorrow,
which you cannot visit, not even in your dreams.
You may strive to be like them,
but seek not to make them like you.
For life goes not backward nor tarries with yesterday."
That poem speaks wonderfully about the transition that we must make as parents. After your children are grown, you and your spouse will continue your life and learn about each other again. I'm sure some of you may have not gotten totally wrapped up in your children but still may have maintained that special couple relationship. Even so, life changes as kids enter college and begin their own journey.
So here are some things you might do to get in that loving feeling again and see each other as lifelong partners:
1. Make a date with each other. Hold hands. Find a place to rediscover each other again. Perhaps you have a favorite park, where you can walk the dogs each day. While you walk, ask each other questions about your dreams, goals and needs.
2. While sitting in nature, away from the TV and computer, look at each other and try to remember what you felt when you each said "I do."
3. Commit to spending time together and interacting in some hobby or activity. Summertime is a great time to take advantage local festivals and farmers markets, go swimming, take a bike ride together or just enjoying some ice cream on the porch. In winter, catch a movie,make a snowman together or challenge each other to a good indoor board game like Yahtzee or Chess.
4. Be intimate more often. Touch each other and share some secrets that you might not have shared before.
5. Make a vision board just about the two of you. What do you see yourselves doing in the next five years?
6. If there are other kids still home, enjoy them and begin the process of preparing for their eventual college years.
7. Visit the college and spend some time getting to know your child's new lifestyle. This will help in conversation and understanding of his or her new journey.
8. Do you recall the things you might have had to put aside while the kids were home? Get out that list and start doing those things.
9. Travel, vacation and discover new local sites you may have never seen.
10. Create a Supper Club or other group with other "empty nesters" to restart your social life.
But the most important idea is this: Commit to growing old together and weathering any storms that may come your way. Learn to be a couple again. Find those feelings that brought you together all those years ago and make each other a priority.
What things have you found that worked after the kids left home? How has life changed and in what ways is it better?
Post your comments below.