Proposing to the love of your life takes a lot of courage, creativity and ingenuity. It only happens once in a lifetime so you want to make sure yours is unique and special in your own way. You already bought the ring and are trying to keep it hidden as you scour the internet for marriage proposal ideas.
If you're in a little bit of a rut for unique and creative ways to propose, we're here to help you out. From simple and intimate proposals to the more complicated ones, we have them on the list. Put your own spin on one of these marriage proposal ideas and she'll definitely remember it for the rest of her life.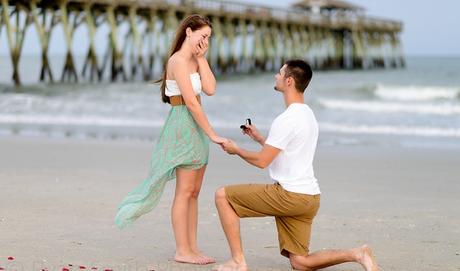 Image Source: www.bustle.com
Go on a vacation
It is not uncommon for men to propose to their girlfriends while on vacation. If you're considering proposing during a trip, we recommend that you do a bit of research before you leave. There are tons of opportunities for you to pull off a romantic surprise for her. Find out what the venue has to offer. While you're at it, you may also want to find the perfect spot for your proposal.
During the trip, you can go scuba diving, hiking, horse-back riding or any other activities you wish. What's great about proposing during a vacation is that she won't realize that you're planning something. Rather, she'll think they're just a part of the vacation.
Seek help from family members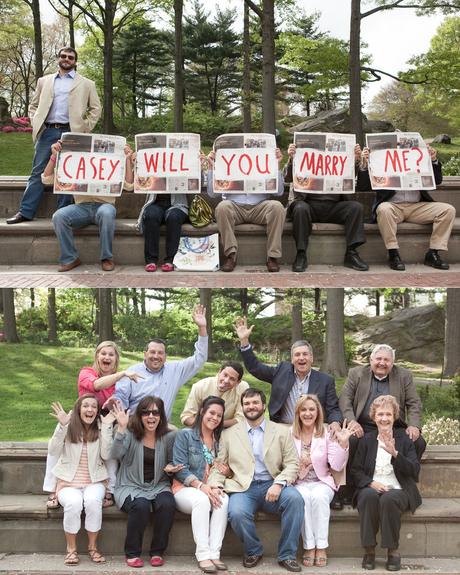 Image Source: www.theknot.com
If your partner is close to her family, odds are she wants to share this moment with them. Enlist the help of her family and try to get them involved in the proposal.
Tell her that one of her family members is throwing a party, so you'll be going together. Since her family is on your side, it will be easier to make her believe that nothing is out of the ordinary. You can ask them to arrive at the venue earlier and hold a sign that says "will you marry me?" This will be the first thing she sees once you reach the venue.
You can also do the proposal in private, so she gets to enjoy the moment. Ask everyone to hide until the proposal is done. Once she says yes, you can give them the go signal to come out to surprise her and then you can all celebrate together.
Ask her favorite author to help with the proposal
If your girlfriend is a book lover, nothing will make her happier than receiving a book as a gift. Buy her a book from one of her favorite authors. To make the proposal extra special, have it signed by the author and ask him/her to write "Will you marry (your name)?"
Take her out on a date and tell her you have a surprise for her. Once you're seated, give her the book. Let her read the message to help build up all the emotions. Make sure that you're down on one knee and holding the ring when she peaks up from the book. Any proposal that involves books and their favorite author is every book lover's dream. Plus, they'll have a keepsake to hold on to for the rest of their lives.
Propose on the beach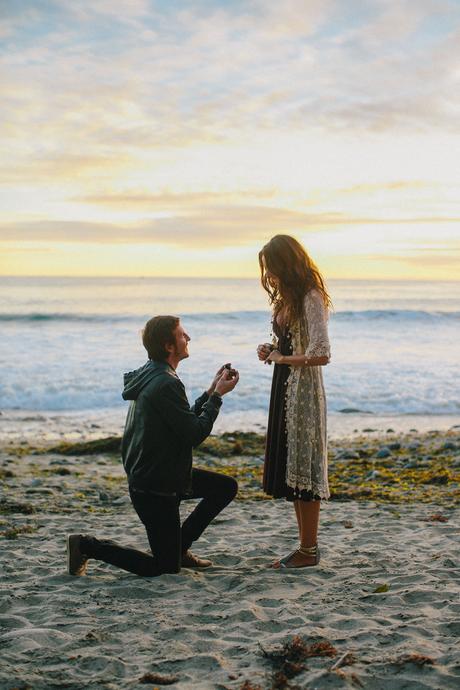 Image Source: www.theknot.com
There is something romantic and magical about a beach proposal. The waves give a serene sound. The views are amazing. The pristine stretch of soft white sand provides an excellent backdrop for giving her your heartfelt proposal.
After a leisurely meal, take your sweetheart for a stroll in the beach. As you walk hand-in-hand, take her to a spot, where you have written the message a few hours ago. As you walk along, ask her to read what is written on the sand. Pretend you've never seen it before. Pull the ring box out of your pocket as she reads it so you have it ready for her when she turns around.
Scavenger hunt
Scavenger hunts are fun and exciting. It provides an excellent marriage proposal idea for ladies who like an adventure.
To start with, think of 3 to 4 places that are meaningful to your relationship. These are the places where the clues will be. For this to work, you may seek help from her family and her friends. You can ask 2 of her friends to help her during the game; while other family members and friends will be waiting for her on the next stations and hand her the clues. You should keep yourself out of the hunt to ensure that you can flawlessly execute your plan.
As she reaches the final location, you'll be there waiting for her. Now, it's your turn to hand her the final clue. While she's reading it, you pull the ring out of your pocket and ask her to spend the rest of her life with you. With such a creative and well-planned marriage proposal ideas, we can guarantee that your sweetheart is going to say yes.
Comments
comments