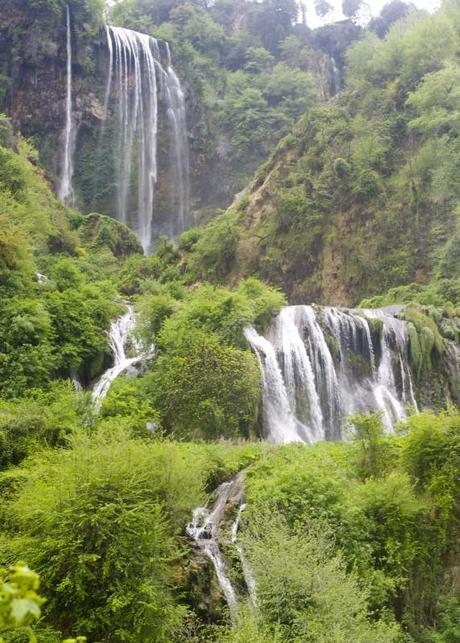 Marmore's Falls (or Cascata dell Marmore) is the world's tallest man made waterfall at an incredible 165m! Making Marmore's Fall  even more incredible is that it was constructed during Roman times and dates back to 271 BC!  Guess building the Rome Coliseum for the gladiators weren't the only things keeping the Romans busy!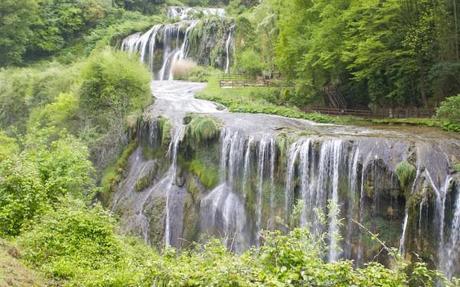 Marmore's Fall When Its Turned Off
For the last 20 years Marmore's Falls has been used to generate electricity for the Umbria region and so miraculously the falls turn on and off – off when the water from the canals above the falls is being diverted to the hydroelectric power plant and only on at certain times of the day.  Our group missed the on waterfall by 20 minutes, not able to pull ourselves away from our amazing lunch at Hotel Cursula where we dined on Umbrian dishes made with local ingredients like truffles and surprisingly, saffron.  Even when Marmore's Fall is off, water is still coming, but just not nearly as much as when its turned on.  It was beautiful off and I can only imagine how beautiful it would be turned on.  I plan to return to find out – then head to Hotel Cursula for dinner!
Know Before You Go to Marmore's Fall:  The World's Tallest Man Made Waterfall
 

The most important thing is to check the schedule to see when Marmore's Falls will be turned on.  For the month of May, Mon – Fri its on between 12:00 – 13:00 and 16:00 – 17:00, on Sat and Sun its on between 10:  – 13:00 and 15:00 – 22:00.  You can check the schedule at Marmore's Falls official site.
There are 5 different routes visitors can choose, each providing a different vantage point of the falls.  All 5 routes combined take  ~ 2hours.  The balcony from Route 4 is popular with painters.
Best Time to Go to Marmore's Falls according to our guide:  June, July and Sept.  Avoid August, especially Aug 16th which is a holiday in Italy meaning large crowds.
There are over 300 caves at Marmore's Falls.  Caving tours can be arranged.
An adult ticket to Marmore's Falls costs €8.  Tours can also be arranged in a variety of languages for an extra cost.
Marmore's Falls is located ~ 7.7km from the medieval town of Terni
Located ~77km of Marmore's Fall is the amazing Monti Sibillini National Park, the only national park in Umbria
This photo has been submitted to Nancie at Budget Travelers Sandboxwhere you can see more travel photos.

View Larger Map