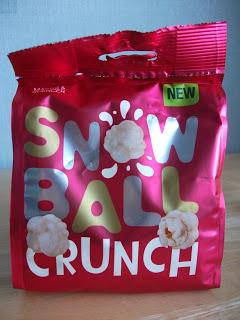 When I spotted this "New" Snowball Crunch amongst Marks and Spencer's bagged range I was itching to give it a try. Not just because it's a new and limited edition Christmas product, but because it's popcorn coated with white chocolate and cinnamon - two of my favorite flavours! This combination sounded fantastically novel and I imagined it would make for a perfect tasty treat.
Alas - it didn't turn out to be all that amazing! Mainly because it was too sweet, thanks to the dusting of icing sugar on the already overly-sweet white chocolate coated popcorn.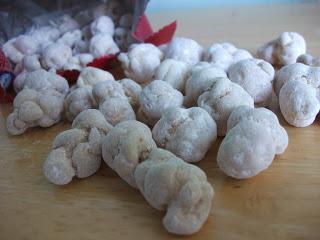 The description on the pack reads "Toffee popcorn covered in white chocolate with cinnamon (34%) and dusted with icing sugar (9%)".
That may sound like a small proportion of icing sugar, but it dominated the overall flavor of the popcorn - it was mega sweet! All I could really taste was a strong, sugary milkiness. There was no real flavor of white chocolate, and only a faint hint of cinnamon. What little flavor there was was just drowned out by the sugar. Which is a shame because amongst all the sweetness there was some semblance of a moreish and tasty snack. I think this could have been much improved by using a thicker coating of better quality, less sweet white chocolate, and a stronger dusting of cinnamon with no icing sugar at all.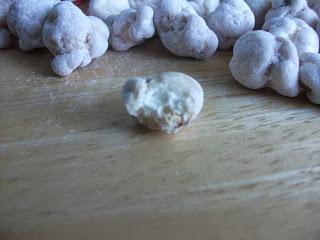 Overall, this bag of SnowBall Crunch promised a lot but was ultimately disappointing. I'm not sure who produces M&S's bagged chocolates but I think they need to have a bit of a re-think with this one! I've also tried other products from their range and found them rather lacking (more reviews of those to come...)
Price: £1.50 or 2 bags for £2 (offer includes other M&S bagged chocolates).
Suitable for vegetarians?: Yes.
Allergy Information: Contains milk, soya. Not suitable for nut allergy sufferers.
Nutrition (per quarter pack): 115 Calories, 19.6g Carbs, 16.8g Sugars, 3.9g Fat, 2.1g Saturates.


RATING: 5 out of 10.