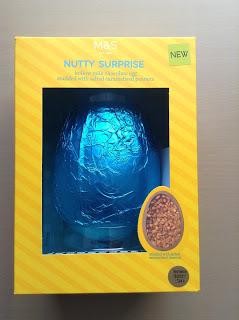 A big thankyou to Marks & Spencer who kindly sent me one of their Nutty Surprise Easter Eggs to review recently. I know - I'm a jammy so-and-so! I was super excited, moreso than anything I've ever been sent to review before.
This is part of the new M&S Easter range for 2017, which includes some very cool products such as Chocolate Ganache Salted Caramel Eggs, White Chocolate Laid Back Lamb, and even an Egg made of Fudge! You can't fault M&S for their efforts considering no other supermarket has such an interesting range (and really, nothing says Easter quite like this Shimmered Teardrop Egg, right?)
This beauty is described as a "hollow milk chocolate egg with honey caramelised salted peanut pieces". It comes with its own stand, should you wish to show it off and admire it: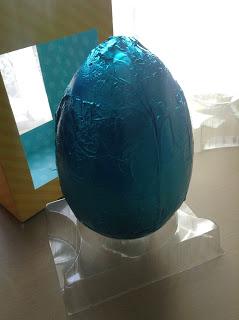 Opening the foil, the two halves split apart to reveal the glorious peanut studded center. It looked amazing!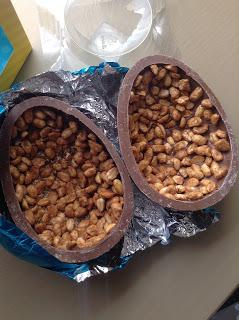 And now for the close-up...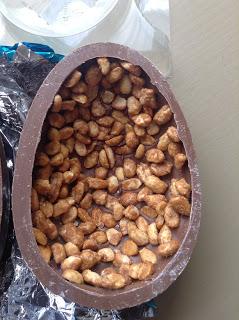 I snapped a piece of the shell off, which was very chunky and had plenty of peanuts studded in it.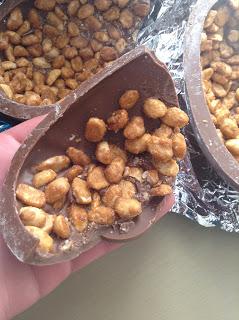 The first thing to hit me were the crunchy peanuts, which were very plentiful. Yum! They were sweet, savoury and perfectly roasted. The caramelised honey makes them super moreish. I liked that they were fairly whole rather than chopped into tiny pieces. The milk chocolate was thick and of good quality; it had a creamy melt and a nice cocoa flavor - I can't fault it. Combined with the honey caramelised peanuts this is the ultimate peanut chocolate combination, it's divine!
If you like peanuts or peanut butter then this is the egg for you this Easter - it looks sensational and tastes it too. At £12 it's not the cheapest egg around, but you definitely get your moneys worth, as it's very filling and lasts for quite a while (well it will, unless your friends pop over!)
Overall, I think M&S probably have one of the best chocolate eggs on the market this Easter. I haven't seen many that are particularly interesting this year, and most supermarkets haven't done anything different, so M&S are certainly leading the way with this.
Nutrition (per 100g): 530 Calories, 30.6g Fat, 53.5g Carbohydrates, 51.9g Sugars, 8.9g Protein, 2.4g Fibre. 
Ingredients: Sugar, honey, caramelised peanuts (peanuts, sugar, honey, salt), dried whole milk, cocoa butter, cocoa mass, emulsifier: soya lecithin, vanilla flavouring. 
Suitable for vegetarians. 
9 out of 10.