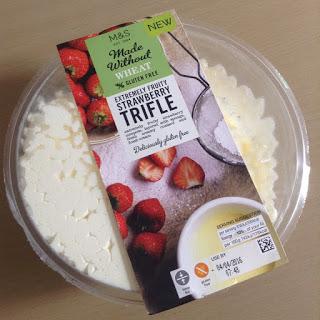 So Coeliac Awareness Week is drawing to a close, but don't worry there's still plenty more Gluten Free reviews to come! Today's treat is this "Made Without Wheat Gluten Free Strawberry Trifle" from Marks & Spencer. It's one of the many gluten free goodies added to their "Made Without Wheat" range recently.
I haven't eaten Trifle in years, but it used to be a staple in our household every Christmas. Since I've been gluten free I've gradually started craving it more and more, but alas no supermarkets made a Gluten Free trifle...until now. Thanks, M&S! Please keep up the good work :)
This trifle contains all the usual stuff, fresh cream, a layer of creamy custard, strawberry compote, and soft sponge pieces...but gluten free, of course!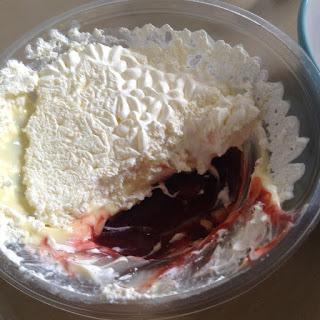 I scooped out a nice portion into a bowl, I'm not sure how many it's meant to serve, but just over a quarter seemed fair to me...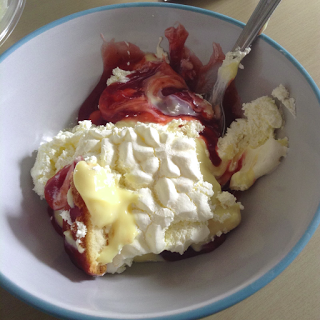 Taking a mouthful, I have to say it tastes just as yummy as any other M&S Trifle! It's the perfect mixture of fresh cream, vanilla custard, fruity strawberry and soft sponge. The flavours all go perfectly together, but of course it's extremely rich because of the cream. I didn't actually feel like eating too much of it, just the one portion was very filling and satisfying.
Overall, M&S have created another winner with this Gluten Free Trifle! It's everything you'd want in a trifle, only gluten free, so now us neglected Gluten Free folks can enjoy it too. Hurrah for food equality!
8.5 out of 10.