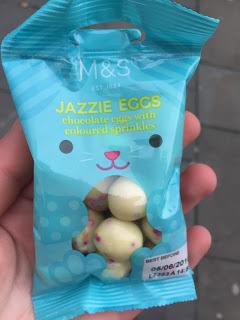 I'm a sucker for anything with coloured sprinkles, especially when they also involve white chocolate so when I spotted these NEW M&S Jazzie Eggs recently there was no question of not trying them - dairy or no dairy. Now I've been good for #veganuary and avoided dairy as much as possible, but I just had to try these. Sorry folks - it's the laws of being a snacks blogger!
Described as "solid milk chocolate mini eggs covered in white chocolate with sugar sprinkles" these are a curious mixture of both milk and white chocolate to please fans of both. I do think solid white chocolate would have been a better choice, but hey ho! They cost £1 for a 75g bag.
The eggs are not particularly evenly coated in sprinkles; the initial handful I poured out had sprinkles on just one side of the eggs.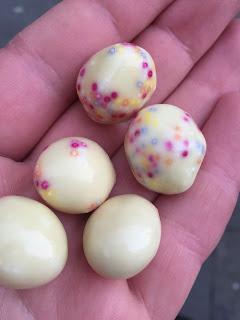 Taking a bite, the shell is somewhat soft with the sprinkles providing a slight crunch, giving way to the milk chocolate center below.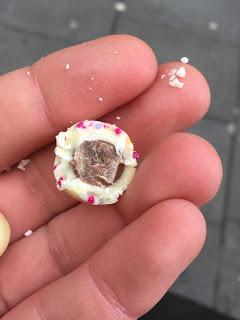 It's an odd combination, the white chocolate is very milky but clashes a little with the milk chocolate and the contrast between the two somewhat spoils the overall effect. They're still very moreish and it's nice to have crunchy sprinkles with white chocolate, but I do think all white chocolate would've been better.
Overall, a nice effort from M&S at trying something a bit different for Easter, and these certainly capture the fun and novelty of Jazzie sweets in mini egg form. I wouldn't buy them again personally but I bet kiddies will love them.
8 out of 10.