For the few dinosaurs out there who think that social media is a passing fad, listen up!  Five years ago, only 29% of online Americans used social media.  That was when your kids didn't want you on Facebook, remember?  Today, if you are marketing to women, you need to think social.
Now, there are 72% of us online using social media.  And women are significantly more likely to use social media, according to the new Pew Research Center's Internet and American Life Project Tracking Survey.    Women have lead men during all five years of their tracking.   Way back in 2005, we were still talking about how men were pursuing use of the internet for intensely than women.  Well, that's old news.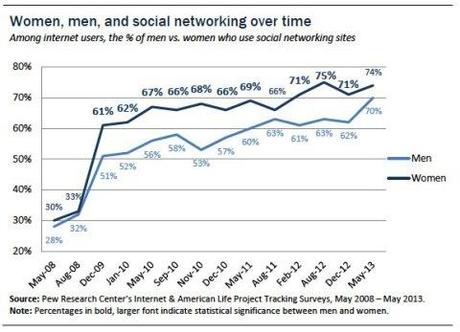 And not only do women lead men in social media, but they are the dominant audience of most of the social sites, particularly Pinterest, Facebook and Instagram.
Women do the most Facebook sharing (62 percent), while more men are on LinkedIn than women (54 percent). Men also spend more time on YouTube each week than women; men are spending up to an hour each week compared to 35 minutes for women.  Google+ is also dominated by males.
Twitter has a larger percentage of women (62 percent) and, of course, Pinterest (70 percent) is dominated by women.  Nielsen actually says 84% of Pinterest users are women and it is dominated by tablet users.