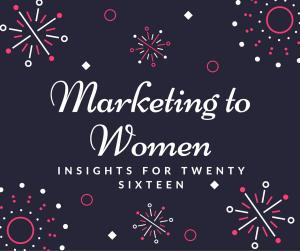 Here are some insights that will help us navigate the New Year of Marketing to Women. They are less crystal ball thoughts and more practical information for the new year.
Social is marketing. Women are embracing new platforms of social media and marketing needs to follow. Instagram is now larger than Twitter with more than 400 million users, with 59% using Instagram daily. Some 55% of online adults use Instagram, composed of 31% women and 24% men. On average, millennial moms have 3.4 social media accounts, versus the 2.6 for moms in general. (Weber Shandwick)
Marketing to Moms means marketing to Millennials. Currently, one-third of millennials have children and that number will continue to grow in 2016. Millennials increase their smartphone usage by 63% after becoming moms, and they spend 35% more time on their mobile device than on their PC or laptop. Those numbers keep growing—a trend we expect to see continue in 2016.  Some 81% of millennial moms researched or purchased items via on their phones while shopping in-store this year. And one in four moms do more than half of their shopping online. (BabyCenter/IAB)
Women expect to shop anywhere, anytime. The online shopping tipping point happened this holiday season proving the importance of omnichannel and smartphone shopping. Retail sales were up 7.9% between Black Friday and Christmas Eve, with brick and mortar sales down while online sales grew 20%. And Amazon seems to be the touchstone. A poll conducted by CNBC this holiday season found that about 49 percent of shoppers say they ''always'' or ''most of the time'' browse Amazon when they shop online. Amazon says almost 70 percent of its customers this holiday season shopped via a mobile device and the number of Amazon app shoppers more than doubled in the same period. Amazon set the bar high this year with their same day Prime deliveries. In Seattle, Amazon Santa delivered its final pre-Christmas package at 11:59 p.m. on Christmas Eve. Free shipping seems so yesterday in this last minute world.
Generation Z cannot be ignored. While some are just catching on to Millennials, it seems that Centennials or Generation Z (anyone born after 1995) are a new consumer not to be ignored. Gen Z makes up one-quarter of our country's population, and by 2020, they will account for 40% of all consumers. Gen Z is exerting a powerful influence on their families' spending. Indeed, 93% of parents say that their children shape their families' spending and household purchases. Start studying this generation and see how they fit into your consumer world.
Email is still relevant.

The widely reported "death of email" was overblown. Research tells us that emails are hugely relevant for women, but they must be mobile-friendly. Best performing emails need to have a special offer, coupon or deal.

The :15 video is the standard

. Life is busy and women don't have time to watch long videos. Consider how-to and product videos showing how the product is being used. Website videos still have a place as well as a source of buying information.

The reviews are in.

Nearly 70 percent of consumers and 82 percent of

millennials

seek opinions before buying, according to Mintel's survey of 2,000 U.S. adults. Fifty-six percent of respondents said online reviews from people they don't know help them decide which products or services to consider, and half said they would pay more for a product with positive online reviews. 

Women rely on reviews more than men. Top factors influencing women to purchase a product (84%) was a recommendation from family, friends or peers.  On average women research 10 sources of information before buying a product (versus two for men). Brands need to give women an opportunity to learn more about them and give them the tools to try, share and recommend. Monitoring your reviews and providing information to buyers is extremely important. Research has shown that 42 percent of customers who complain via social media expect a response within 60 minutes. In addition, 52 percent expect responses at night and on weekends, even if it is not during the business hours.
Brand values matter.

Women expect brands to be more open and transparent about their philosophy and values. Brands can't just sell warmth and empathy in big splashy media but not deliver when they meet the consumer online or in-store. Women expect brand service and brand delivery to be warm and empathetic.

Marketing to women is not marketing to gender

or just showing women in ads. Brands need to consider the various multiple roles of women and focus on her areas of interest – children, health, business, shopping.  

Bring back humanity.

In a time of big data, programmatic digital and native experiences, the technology seemed to trump the message. In 2016, it is time for a return to the type of brand relationships that win over hearts and minds. We can no longer "sell". It's time for valuable content, engagement, personalized communication, and living experiences.