In addition to my love of marketing and the music industry, I am also a huge geek. Superheroes, Harry Potter, Lord of the Rings, Doctor Who, Star Wars, Star Trek…if it's something geeky, there is a pretty good chance like it. One of the items on my bucket list is to attend
Comic-Con
in San Diego, so I have been reading a lot of articles about the annual event, which took place last month. Not only is Comic-Con a mecca for geeks, the convention is the perfect opportunity for marketers, especially those in the entertainment industry, to promote their products.
Trade shows and conventions have always been an important aspect of marketing, and Comic-Con has grown to become one of the largest and most popular. Today, the convention features guests that fall outside of the typical comic book and superhero categories. According to the
Los AngelesTimes
, several television shows have been featured, including "How I Met Your Mother," "Breaking Bad," and "Dexter." Metallica and Weezer held concerts during the convention. The bands were not officially part of Comic-Con, but they were able to capitalize on the popularity of the event to draw a larger crowd.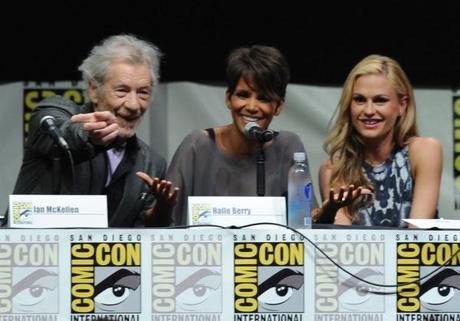 "X-Men: Days of Future Past" cast members Sir Ian McKellan, Halle Berry, Anna Paquin
Photo retrieved from: Los Angeles Times
Even though Comic-Con is branching out into new entertainment fields, comic books still seem to be the number one priority. Some of the biggest events during the 4-day convention surrounded the upcoming superhero movies, including "Thor: The Dark World," "Captain America: The Winter Soldier," and "The Wolverine." The convention center houses an arena, where they feature promotional videos and trailers for upcoming movies. Special guests are also brought in to help promote the films and television shows.
In addition to the big name filmmakers and movie stars, several companies made appearances at Comic-Con, including ComiXology. A recent
New York Times
article covered the background of the company, a publisher of digital comic books. ComiXology distributes comics by DC and Marvel, among others, and has become one of the most popular apps for reading digital comic books.
Comic-Con was the perfect outlet for ComiXology to promote its digital platform. Of course, not every company should have a booth at Comic-Con. Every company should, however, find a convention or trade show that is a good fit for its brand. Comic-Con is a success because it brings people together who share the same interests. Find a convention that does the same for your consumers.