Highlights of a three-day Québec road trip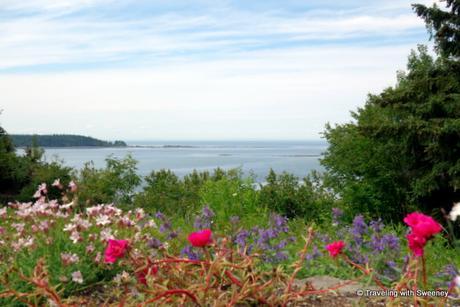 The beauty of maritime Québec along the St. Lawrence River at Reford Gardens in Grand-Métis
For three days this summer, it was a delight to be on the road in parts of Québec that I'd never visited: Bas-Saint-Laurent and Gaspésie, two of the province's maritime regions on the St. Lawrence River. Driving north from our starting point in Québec City to our first destination about 100 miles north, the village of Kamoraska, my travel companions and I were soon passing through rural areas with views on our left of the river with mountains in the distance. Before long, we would be enjoying maritime cuisine, culture, and natural beauty.
Kamouraska to Rivière-du-Loup
Although I had only an afternoon to visit Kamouraska, I was captivated by its charm, picturesque location, and culinary offerings. Strolling through the village, it was easy to see why Kamouraska is one of the "Most Beautiful Villages of Québec" and why National Geographic Travel's former editor in chief, Keith Bellows, listed it as one of his favorite Canada places.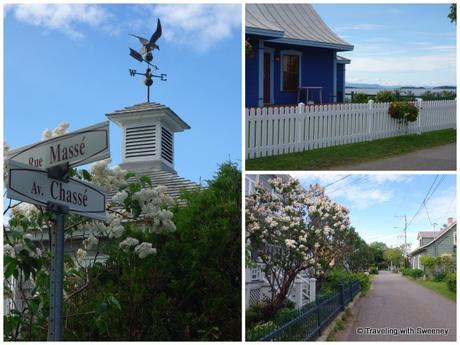 Along the streets of charming Kamouraska, weather vanes and curved eaves are common sights.
Wine and dine
Côté Est
76, avenue Morel, Kamouraska
Open May through October
My introduction to maritime culinary specialties began at Côté Est, a popular bistro located in a lovely Victorian home where Chef Kim Côté and co-owner Perle Morency serve creative regional dishes in a comfortable and charming setting on the St. Lawrence River.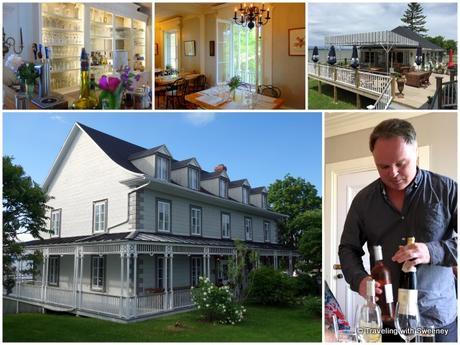 Café-Bistro Côté Est bar, dining room, and terrace; our waiter Steven describing wine selections
The most popular menu item is a seal burger with foie gras and plum jam. Seal meat, high in protein and Omega-3, has been a mainstay of sustenance for the people of Québec for generations. I didn't have the burger, but I tried the seal meat appetizer and found it tasted a bit like beef liver. My favorite part of the lunch was the grilled cheese sandwich with regional cheeses, ham marinated with rosemary, and accompanied with pear butter. Although there are several other dishes on the menu that I'd like to try, the grilled cheese alone would make a return worthwhile.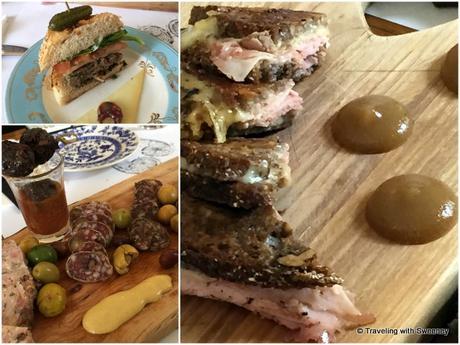 Lunch at Côté Est: Guinea fowl burger with jam, peppers, and cheese; grilled cheese and ham sandwich with pear butter; and sampler of regional meats
This area of Bas-Saint-Laurent and particularly vantage points in Kamouraska are known for having spectacular sunset views. Imagine the scene from the terrace of Côté Est in the photo below at sunset!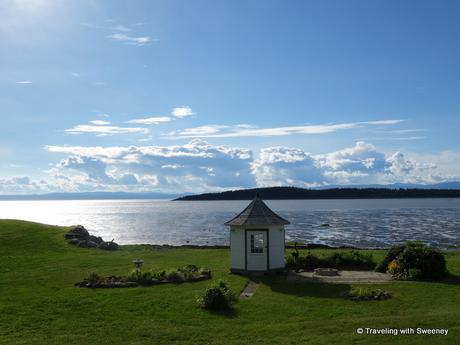 View of the St. Lawrence River and Kamouraska Islands from the terrace of Côté Est in the late afternoon
Indulge in chocolate
La Fée Gourmande
167, avenue Morel, Kamouraska
Open April through December
A culinary passion drives the creation of fine chocolates and other specialty candies, ice cream and sorbets at La Fée Gourmande in Kamouraska. Trained in France and by the shop's previous owner in the art and skill of making chocolates in the traditional French methods, owner Jean-Philippe Champagne has an infectious enthusiasm for his craft. I had a chance to get my first hands-on chocolate-making lesson, picking fresh mint from the garden as one of the key ingredients of the dark chocolates in the photo below. Of the many mouth-watering flavors, my favorite was that of lavender flowers blended in a dark ganache. If you don't want to stay too far from your chocolate source, there is also an inn above the chocolate factory.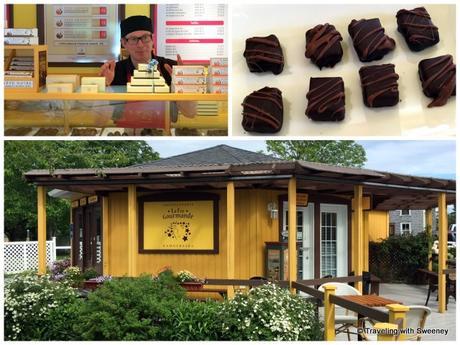 Top: Jean-Philippe Champagne; Pavè a la Menthe, a dark chocolate blended with fresh mint — Bottom: La Fée Gourmande shop
Dine, stay, rejuvenate
Hôtel Universel Rivière-du-Loup
311, boul. Hôtel-de-Ville, Rivière-du-Loup
Open year round
Driving 30 miles north of Kamouraska, we reached Rivière-du-Loup, a popular getaway destination because of its convenient location for Bas-Saint-Laurent recreational activities, whale-watching excursions, and access to the islands of the St. Lawrence for hiking and other outdoor adventures. We stayed at Hôtel Universel, a contemporary hotel with 220 rooms, a health center, and a Nordic spa. We had both dinner and breakfast in the hotel at La Verrière which serves an international menu.  There is also an Italian restaurant, Le Rialto, in the hotel. Unfortunately, I didn't have time to take advantage of the spa, but I toured the facility and it looked very enticing.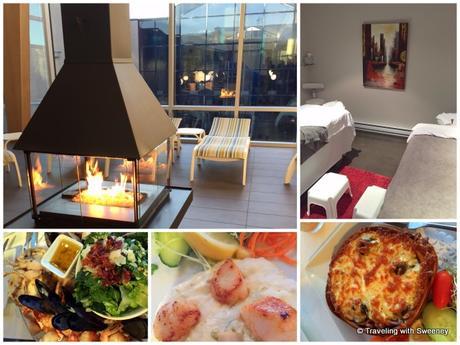 Top: Spa lounge and treatment room — Bottom: Seafood plate (mussels, shrimp, clams, and frog legs); scallops; and escargots au gratin at La Vierrière
Road trip tip: Depending on the season, keep your eyes open for whale sightings. If you have time, stop in Notre-Dame-du-Portage between Kamouraska and Rivière-du-Loup. Walk along the dock to keep watch and enjoy the views of the islands in the St. Lawrence and the homes along the rocky shore. Although we'd heard of several whale sightings in the area, we were not so lucky.
Rivière-du-Loup to Saint-Gabriel-de-Rimouski via Témiscouata-sur-la-Lac and Auclair
From Rivière-du-Loup, we headed inland about 35 miles to the city of Témiscouata-sur-la-Lac on beautiful Lac-Témiscouata for more culinary delights.
Dine and unwind in style
Auberge du Chemin Faisant
12, Vieux Chemin, Témiscouata-sur-le-Lac (Cabano)
Open year round
This fine restaurant behind the unassuming façade of a mid-20th century modern home in a quiet residential neighborhood really surprised me with its delectable cuisine and artistic décor.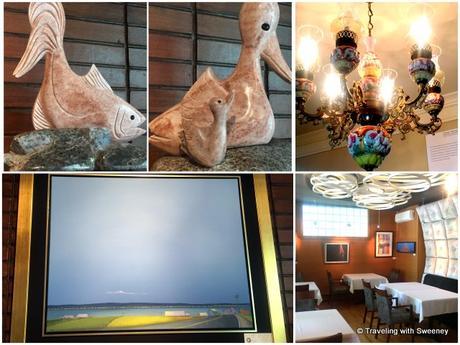 Top: Two perspectives of one sculpture by Daniel Renaud; Foyer chandelier — Bottom: Painting by Guy Paquet; Dining room artistic touches at Auberge Chemin Faisant in Témiscouata-sur-le-Lac, Québec
Owners Liette Fortin and Chef Hugues Massey have meticulously furnished their inn and restaurant in an inviting and artistic style. The intriguing art collection includes the work of Daniel Renaud who creates sculptures in alabaster stone such as the piece shown top left above that is a fish from one perspective and ducks from another when the piece is turned around. I also admired the paintings by Guy Paquet showcasing regional landscapes and scenes.  The inn's six guest rooms and other areas are also artistically decorated with vintage furnishings and antiques.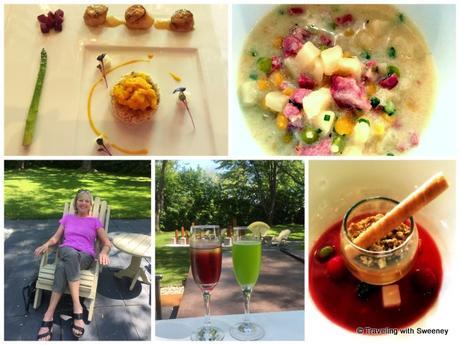 From top left: Seared scallops, risotto cake, curry pineapple-mango relish, asparagus and beets; lamb chowder; maple pudding with granola, raspberries, lychee, and jelly beans; cocktails on the terrace
Before lunch, we enjoyed cocktails in a perfectly relaxing setting on one of the terraces overlooking gardens in the back yard. Inside the dining room for our meal, we were served several courses of delicious regionally-inspired and locally-sourced fusion cuisine, including those shown and described above. Surrounded by the gallery of works by Québec artists, dining at Auberge du Chemin Faisant was a very enjoyable multi-sensory experience.
Say "cheese"
Fromagerie Le Détour
100, route 185, Témiscouata-sur-le-Lac (Notre-Dame-du-Lac)
Open year round
Following lunch, we drove about five miles further east to Fromagerie Le Détour, an award-winning cheese factory in Notre-Dame-du-Lac. It is a must-stop for visitors to the area and a favorite shop for locals. While sampling several varieties of cheese (they have over 20 made from the milk of sheep, cows, and goats), delightful owner Ginette Bégin spoke to us of her products, accomplishments, and wide recognition. Le Verdict d'Alexina, a soft cheese made with three types of milk was distinguished as "Best Blended-Milk Cheese" at the 2014 Canadian Cheese Awards. Another of the factory's award-winning and very popular cheeses is Grey Owl, a creamy goat cheese with a dark vegetable ash coating.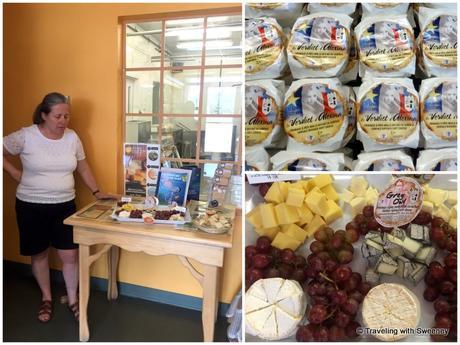 Ginette Bégin, owner of Fromagerie Le Détour in Témiscouata-sur-le-Lac (Notre-Dame-du-Lac), describing cheese selections, including award winner Le Verdict d'Alexina and their popular goat cheese, Grey Owl
Road trip tip: Admire the beautiful scenery of Lac-Témiscouata. We drove around the lake about 25 miles to our next stop in Auclair, but there is also a ferry that goes from Notre-Dame-du-Lac to Saint-Juste-du-Lac (a 15 minute ride) that runs from late June to late October.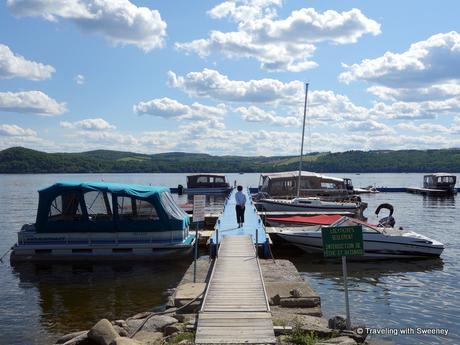 Boats at the dock of Saint-Juste-du-Lac on Lac-Témiscouata
Tour and taste
Domaine Acer
145, route du Vieux-Moulin, Auclair
Open year round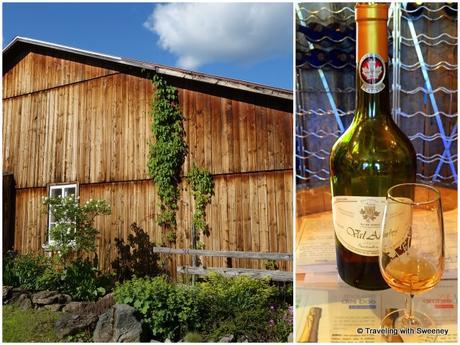 Domaine Acer in Auclair, Québec; a taste of one of four maple-based spirits, Val Ambré
Another first for me on this trip was learning about the vinification of maple syrup (a well-known product of Québec) to make fine alcoholic beverages at Domaine Acer. The business was established in 1972 by Charles-Aimé Robert to produce high quality syrup from their maple groves. In 1992, his son Robert Allier took over the business and introduced other maple products. After extensive research and serving internships with French winemakers, he began development of the wines. Robert and his wife and business partner Nathalie Decaigny launched their first alcoholic products in 1997. A guided tour of the facility is quite educational about the production process beginning with the harvesting of maple sap in the 120 acres of maple groves.
I was pleasantly surprised by the elegance of the four wines we sampled: "Prémices d'Avril", comparable to a dry white wine; "Mousse des Bois", a sparkling brut created using traditional Champagne methods; and two apéritifs, Val Ambré and "Charles-Aimé Robert" (in honor of Robert's father).
Dine, stay, and play
Domaine Valga
300, Chemin des Écorchis, Saint-Gabriel-de-Rimouski
Open year round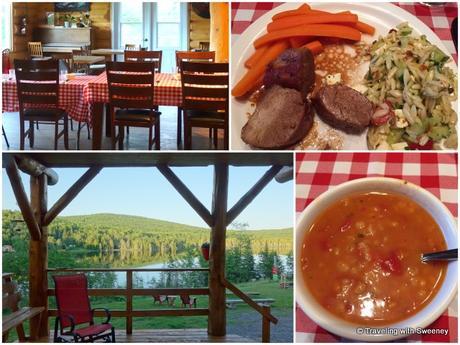 From top left: Domain Valga dining room; our comfort food meal of pork loin, orzo and lentil soup; the gorgeous view from the front porch of the inn
After a peaceful drive through green hills and valleys 70 miles from Auclair, we reached Domaine Valga, a rustic inn overlooking Lac des Frères near Saint-Gabriel-de-Rimouski where we spent the night. In its forest setting, Domaine Valga is a wonderful place to get in touch with nature and enjoy outdoor activities while in staying in a comfortable log building with nine simple and cozy guest rooms, five of which have private bathrooms. There are also two chalets on the property that sleep up to nine each. We were made to feel at home as we enjoyed the hospitality of owners Chantal Vallée and Éric Gagné who provided us with a hearty welcoming meal.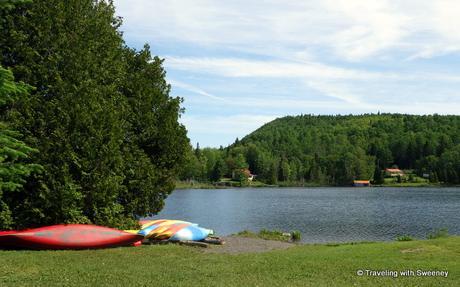 Lac des Frères at Domaine Valga
Éric and Chantal acquired the over 180-acre property in 2002 and have created this getaway for vacations and special occasions, and as a base for outdoor recreation such as hiking, kayaking, canoeing, fishing, snowmobiling, and skiing. Within walking distance of the inn, they also operate one of the largest aerial parks in Québec, Forêt de Maître Corbea, with zip lines and other recreational activities.
Road trip tip: Driving through this inland area of Bas-Saint-Laurent, be careful to watch for moose crossing the roads. They will most likely be spotted between dusk and dawn in the woods along the highways.
Saint-Gabriel-de-Rimouski to Rimouski via Saint-Flavie and Grand-Métis
Be surprised
Centre d'Art Marcel Gagnon
564 route de la Mer, Ste-Flavie
Open year round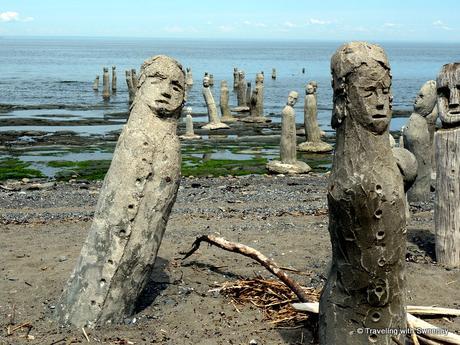 "Le Grand Rassemblement" ("The Great Gathering"), sculptures on the St. Lawrence River shoreline at Saint-Flavie
Traveling northwest about 15 miles back to the St. Lawrence River and entering the Gaspésie region, we stopped in Sainte-Flavie at the Centre d'Art Marcel Gagnon, a restaurant, inn, and art gallery to see "The Great Gathering", a nature and art exhibit of over 100 sculptures on the shore. The statues seem to come out of the sea or go back in with the tides. Then we were on our north 5 miles to Grand-Métis.
Dine, contemplate art, and stop to smell the roses
Les Jardins de Métis/Reford Gardens
200, route 132, Grand-Métis
Open May 30 to September 27 (2015 dates)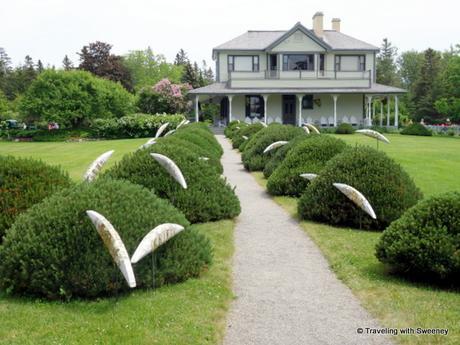 Along the path at Estevan Lodge at Reford Gardens, fish sculptures seem to jump over the bushes from the St. Lawrence River to the house.
If you are able to visit the region from late spring to early fall, Reford Gardens should be a must-visit site on your itinerary. It was one of my favorite venues on the trip with a combination of highlights – natural beauty in its setting on the St. Lawrence, exquisite gardens, fine dining, and art. The gardens operate under the direction of Alexander Reford, great-grandson of Elsie Reford who started it all. During the summer of 1926, Elsie began laying out the gardens and then supervised their construction here on the grounds of the family's summer home.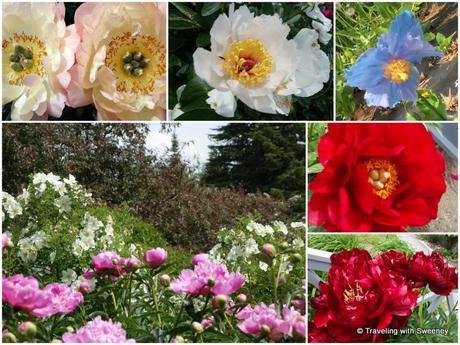 Bursts of flowers and fragrances everywhere at Reford Gardens. The Himalayan Blue Poppy (top right) is very rare, but grows splendidly here.
Several distinctive gardens, woodlands, and clearings make up the beautiful sprawling landscape at Reford Gardens. We got a special early glimpse of the Himalayan Blue Poppy, a very rare flower that Elsie Reford grew from seeds in the 1930s, one of the first gardeners in North America to attempt to grow this poppy.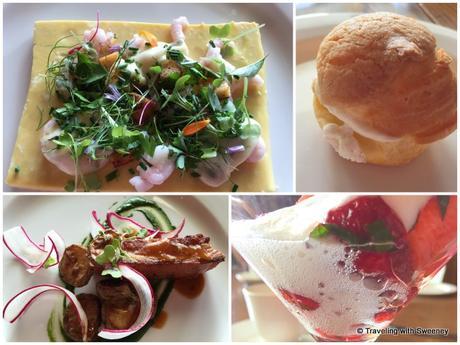 Brunch at Estevan Lodge: Omelet with chives, northern shrimp, geranium mayonnaise (top left); Homemade maple ham, grilled tomatoes, mustard sprouts (bottom left); desserts (right)
At Estevan Lodge Restaurant in the former family home built in 1887 enjoy the creatively delicious dishes of Chef Pierre-Olivier Ferry highlighting local products, including sustainable seafood from the St. Lawrence, edible plants, and fresh vegetables from the garden. The "Métis Bloom Spoon" (shown below left) is a gorgeous mouthful of edible flowers hand-picked by the chef.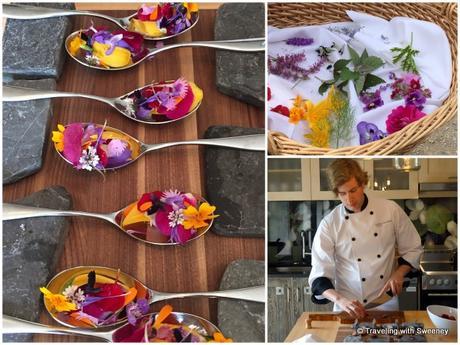 Métis Bloom Spoon", a fresh and aromatic treat created by Chef Ferry with edible flowers picked from the garden
A feast for the eyes was the festival gardens with innovative garden installations, some permanent and others part of the 2015 season. Since the festival began in 2000, landscape architects and designers from all over the world have participated. This year's collection added five new installations to the 20 from previous years. The installations are fun, touchable, interactive, reflect a connection to the natural world, and express the ecological perspectives of the designers.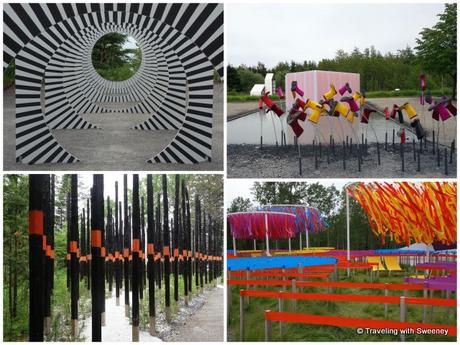 Selected works from the 16th International Garden Festival from top left: "Making Circles in the Water", "Se mouiller (la belle échappée), "Line Garden", and "Afterburn"
From Grand-Métis, we began our journey south back into Bas-Saint-Laurent for our final evening in Québec.
Dine, stay, and imagine
Auberge du Mange Grenouille
148, rue Ste-Cécile, Le Bic, Rimouski
Open May to the end of October
I imagined myself preparing to take center stage as I entered Auberge du Mange Grenouille where owners Carole Faucher and Jean Rossignol have created a unique experience in their theatrically-decorated inn. Carole, an actress whose flamboyant and infectious personality exudes the essence of the inn, was a delightful hostess.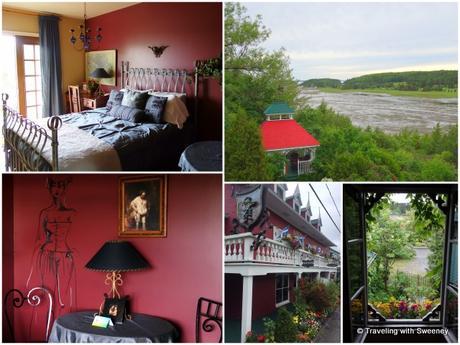 Auberge du Mange Grenouille: My uniquely-decorated room (left); views from my room (right)
Each room captures the imagination with diverse and in some cases, avant-garde furnishings, art, and décor. My room was lovely with French doors that faced the woods and coves of Bic National Park. On the opposite side of the room, a window overlooked a small garden and fountain.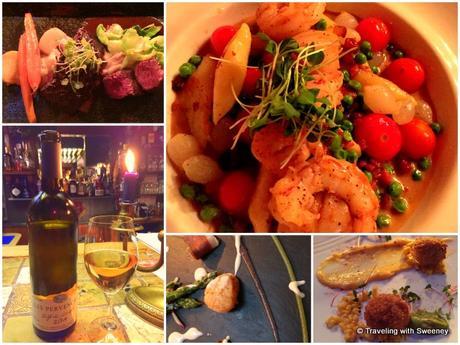 From top left: Canadian buffalo short ribs, shoulder filet; pan-seared scallops and shrimp, ricotta pasta; crab coquettes, smoked hot pepper mayonnaise; scallop and asparagus appetizer; Québec Chardonnay
The dining room was lively with guests of the inn enjoying a leisurely meal and an ambiance of joie de vivre.   The menu offers tastes of locally-sourced products such as Kamouraska lamb and other meats, regional seafood, and vegetables. As beef short ribs are a go-to comfort food for me, my choice was Canadian buffalo short ribs which hit the spot perfectly in this warm and welcoming setting.
Au revoir, Québec!
It was amazing to think how much I was able to see and do in this short period of time, prompting thoughts of future excursions into the maritime regions of Québec to indulge my senses with more of its culinary, cultural, and natural riches.
Trip tip: The closest regional airport (with car rental facility) to the points of interest I visited in Bas-Saint-Laurent and Gaspésie is in Mont-Joli. Check the Québec Maritime tourism website for detailed information about getting to and around the maritime regions.