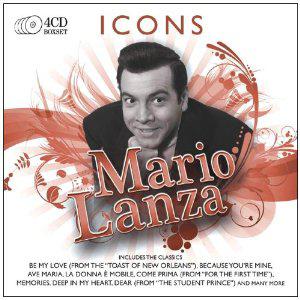 Goosebumps cover my body every time I hear his voice. He is the only singer who has ever made me cry when I hear him sing. Arguably one of the greatest singers the world has ever known, very few fondly remember him today outside of certain music circles. I'm talking about Mario Lanza, one of the most talented tenors to ever live. Arturo Toscanini, one of the most acclaimed conductors of all time and best known as the music director of the NBC Symphony Orchestra, dubbed Mario Lanza the "Voice of the Century" and that's no understatement.
Famed tenors and opera stars Jose Carreras, Plácido Domingo and Luciano Pavarotti (also known as The Three Tenors), and Andrea Bocelli have been inspired by Mario Lanza and cite him as a major influence. Much like Kenneth Branagh portraying Sir Laurence Oliver in the critically acclaimed film My Week With Marilyn, Mario Lanza was fortunate to also portray his idol, Enrico Caruso in the 1951 film The Great Caruso. I bring this up for two reasons: 1) The movie is a superb biopic showcasing one of the greatest tenors of all time in an entertaining (although fictionalized) film about another well regarded singer and 2) The Great Caruso inspired me to write this review.
The day before I started writing this review, it was my father's birthday. As long as I can remember, my father has adored Mario Lanza and considers him the greatest singer of all time (something I eventually came to concur upon my own). For the longest time, I resented my father because whenever he plays Mario Lanza, he blasts the music so loud it's almost unbearable. No, my father isn't deaf, but adores Mario Lanza so much that he wants the whole world to enjoy Mario's sweet voice. Needless to say, Mario Lanza has been a large part of my life. There is one Christmas album by Mario Lanza that for the past 20 years my dad has traditionally played it almost non-stop during the holidays. Besides my parents, Mario Lanza has been a constant in my life.
As I grew older, my appreciation for Mario Lanza broadened. No matter how much I detested hearing Lanza's loud voice, it was one of the most magnificent marvels I have ever heard. I am truly spoiled! Only recently did I accept that when a fellow co-worker stared at me blank face as I discussed classic literature, film and music. Initially I couldn't comprehend my colleague's plight. Then it dawned on me that my parents have exposed me to a wide variety of culture, which is the principal reason why I'm writing this review. There is nothing wrong with remaining "sheltered" by appreciating only certain culture offered your way. But I have always been someone that embraced both "lowbrow" and "highbrow" entertainment. Being outside my comfort zone is not noteworthy because I take pleasure in new discoveries.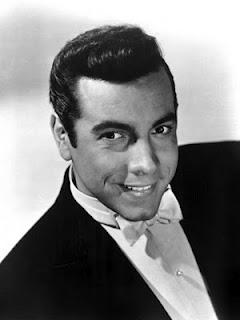 Like I mentioned earlier, Turner Classic Movies recently showcased the film The Great Caruso starring Mario Lanza.  A most entertaining biopic, I felt it was too much of a coincidence for the movie to be playing a day after my father's birthday. Speculate all you want, but I believe in fate. What are the odds that The Great Caruso would play around my father's birthday? As luck would have it, Mario Lanza's birthday was only a few weeks away, which coincidentally is today- January 31st. If Mario Lanza were still alive, he would have turned 91 today. Armed with all this information, I decided, nay, felt obligated and even compelled to write this review.
Let me be honest here. I do not consider myself an expert in any area. I am not a scholar or specialist on any subject, but a passionate enthusiast who has an eclectic taste in entertainment and life. Hopefully, my passion resonates with certain readers and connects them to music that also sparks their interest. My goal in writing this review is for someone to read this and feel compelled, even intrigued to discover Mario Lanza. If that happens, I will then consider this article a success. Plácido Domingo, one of the most prominent tenors of all time, described Mario Lanza as "one of the truly great, natural tenor voices of the past century—a voice of beauty, passion, and power." Simply put, Mario Lanza's influence, magnetism and mastery were one of the greatest gifts the world has ever known.
Therefore, I present Mario Lanza Icons, a 4 CD boxset comprised of 61 classic Mario Lanza songs that will keep you entertained and enthralled for almost 3 ½ hours. This Sony Music import contains classic screen songs, top pop hits and old Neapolitan music. For fans familiar or for those just discovering Mario Lanza, this Mario Lanza Icons boxset uncovers the magnificent man who has been referred to as the "Northern Lights in a Throat." This collection includes songs from his hit films The Toast of New Orleans (1950), The Great Caruso (1951), Because You're Mine (1952), and The Student Prince (1954).
"Be My Love," the Academy Award nominated best song from The Toast of New Orleans (1950), was a #1 Billboard hit that sold over a million copies and remains an excellent song to initiate this collection. Listen to the wonderful lyrics by four time Academy Award winner Sammy Cahn: "Be my love, for no one else can end this yearning/ This need that you and you alone create/ Just fill my arms the way you've filled my dreams/ The dreams that you inspire with ev'ry sweet desire / Be my love, and with your kisses set me burning/ One kiss is all I need to seal my fate."  Accompanied by Lanza's gorgeous voices, it's no surprise this song stunned audiences over 60 years ago.
Mario Lanza's rendition of "Drink, Drink, Drink" from the 1924 operetta, The Student Prince was popularized in the 1954 movie. "Drink, Drink, Drink" completely holds up and can be deemed mainstream accessible. I absolutely adore the opening lyrics: "Eins, zwei, drei, vier/ Lift your stein and drink your beer/ Eins, zwei, drei, vier/ Lift your stein and drink your beer/ Drink! Drink! Drink! / To eyes that are bright as stars when they're shining on me! / Drink! Drink! Drink! / To lips that are red and sweet as the fruit on the tree!"
However, my all time favorite song by Mario Lanza is the third song featured on the first CD, "La Donna è Mobile," a canzone from Giuseppe Verdi's opera Rigoletto. According to the American Heritage Dictionary, a canzone is "a lyric 13th-century Italian or Provençal poetic form" and "a polyphonic song form evolving from of poetry and resembling the madrigal in style." Although the English translation means "Woman is Fickle," it's actually an ironic song about the playboy Duke of Mantua being inconsistent with what he wants. "La Donna è Mobile" lingers as a renowned showcase for tenors to demonstrate their vocal range. Thanks principally to the music and lyrics, the song has endured extremely catchy since its inception in 1851. Frequently referenced and sung in pop culture, audiences have enjoyed "La Donna è Mobile"  most noticeably on hit TV shows like Futurama, M*A*S*H, Saturday Night Live, Seinfeld, The Simpsons, and South Park.
"La Donna è Mobile" is so well known that I would be surprised if most readers haven't heard a version of this song. Anyone can hum it. I must admit that it's extremely addicting once you start. Hands down, Mario Lanza's version of "La Donna è Mobile" persists as the best I have ever heard. And I have listened to the Carreras, Domingo, Pavarotti, Andrea Bocelli and even Enrico Caruso's versions. There are two versions featured in this boxset: one on CD 1 and the other on CD 4. Both stand really good, but I believe the version featured in the film The Great Caruso might be the best! Mario Lanza emphasized each lyric, which leaps right out of his mouth and into your heart. Many years ago I first heard "La Donna è Mobile" and I knew I had truly listened to one of the finest and foremost voices ever. When asked about his singing, Mario Lanza famously remarked, "I sing each word as though it were my last on earth." There's no doubt in my mind about how much passion this man possessed.
The Irish ballad "Danny Boy," an amiable composition added to this collection, provides ample variety. The Academy Award nominated song (by the music and lyrics team Sammy Cohn and Nicholas Brodszky) "Because You're Mine," from the hit musical of the same name, was Mario Lanza's last million selling single and another distinguished song worth enjoying. From The Great Caruso, "The Loveliest Night of the Year" illustrates why Mario Lanza was frequently compared to his idol Enrico Caruso. The brilliant, bold selection "The Donkey Serenade" from the Firefly operetta is an absolutely amazing version worth checking out with the opening lyrics as follows:
"There's a song in the air/ But the fair senorita doesn't seem to care/ For the song in the air. / So, I'll sing to the mule/ If you're sure she won't think that I am just a fool/ Serenading a mule. Amigo mio, does she not have a dainty bray?/ She listens carefully to each little tune you play./ Si, si, mi muchachito,/ She'd love to sing it too if only she knew the way./ But try as she may, in her voice there's a flaw/ And all that the lady can say/ Is hee-haw-w-w-w-w-w-w-w-w-w/ Senorita, donkey's feet are/ Not so fleet as a mosquito/ But so sweet like my Chiquita/ You're the one for me!"
The best and most notable Neapolitan songs, "Funiculì, Funiculà" composed by Italian writer Peppino Turco and Italian composer Luigi Denza, comes to life in this captivating, charismatic composition. Mario Lanza was the single, perfect voice to bring this beautiful, bold song to its true energy and essence. Comprised of a now famous melody, the tantalizing rhythm is genuinely enhanced by this Italian version sung by Mario Lanza. An English version was made popular during the 1950s, but Mario's Italian rendition remains far superior for those who understand and/or can appreciate Italian. Nothing gets better than this glorious masterpiece.
With hit songs from Richard Rodgers and Oscar Hammerstein's with "If I Loved You" and "You'll Never Walk Alone from the musical Carousel, the Italian Calypso "There's Gonna Be A Party Tonight," Richard Rodgers and Lorenz Hart's "With A Song In My Heart" (from the musical Spring is Here), Jerome Kern and Oscar Hammerstein's "All The Things You Are" (from the musical Very Warm for May), the Neapolitan "La Danza" by Gioachino Rossini, and so much more, Mario Lanza Icons is a must-own for music buffs.
Thanks to movies like Peter Jackson's film Heavenly Creatures (starring Academy Award winner Kate Winslet and the delightful Melanie Lynskey), which significantly featured Mario Lanza's music and image, plus various pop culture references, Mario Lanza has remained relevant, but, in the opinion of this writer, not as much as he truly deserves. When Mario Lanza died on October 7, 1959, at age 38, the world lost a great treasure. As many commentators have pointed out, there will never be another Mario Lanza again.
"I sing from the heart... I sing the words of a song and really feel them, from the top of my head to the tip of my toes... I sing as though my life depends on it, and if I ever stop doing that then I'll stop living," concluded Mario Lanza
--Mr Brownstone