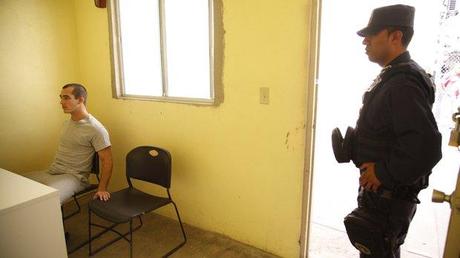 Link provided by Flying Junior, who lives in San Diego, with the following comment:


Just heard about this one.  Should fire up the faithful.  The consensus around here is the guy most likely had been drinking because it is very difficult to miss the border into Mexico.  Still, some claim it is plausible.  Interstate Freeway Five terminates at the Mexican border, but there are numerous signs warning of the approaching border, a sign that warns last U.S. exit and even a last ditch U-turn that leaves you in U.S. soil.


This guy just blew right up to the Mexico-U.S.A. border at San Ysidro and actually told Mexican Customs that he had three guns in the car.  Languishing in the Tijuana Penitentiary System awaiting trial.  They will no doubt figure out a way to send him home once he appears before a judge.  One funny thing about this story.  He actually tried to escape by climbing a wall and the Mexican guard was able to scare him back by firing into the wall instead of trying to kill him.  I think he wants the American Embassy to save him.
Andrew Tahmooressi said he was hoping for a new beginning when he drove from Florida to California in March, with all of his worldly possessions inside his Ford F-150 truck. The 25-year-old Marine reservist had dropped out of college, broken up with his girlfriend, and was uncertain of his future. But a trip to Mexico certainly was not part of his plan, he said. Tahmooressi is being held in a Tijuana prison on federal weapons charges — all the result, he said, of missing the last exit on Interstate 5 and accidentally crossing the border with three firearms.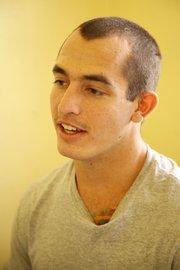 Sgt. Andrew Tahmooressi --- is being held at Tijuana's La Mesa Penitentiary. The 25 year old Marine Corps combat veteran is being held on weapons charges. Alejandro Tamayo
"I never meant to be in Mexico," Tahmooressi said in an interview Saturday afternoon at the La Mesa State Penitentiary. "I had no bad intentions, I had no intentions of smuggling my weapons, I had no intentions of selling them or anything of the sort." The charges include possession of two firearms meant for exclusive use of the Mexican military; bail is not permitted. If convicted, he faces six to 21 years in a Mexican prison, said his Tijuana attorneys. Tahmooressi's arrest in Mexico came less than two weeks after arriving in San Diego from Daytona Beach, where he had most recently been living. He had abandoned studies to be a pilot, then a mechanical engineer, and had recently broken up with his girlfriend. He had driven across the country with everything he owned, including a motorcycle, bicycle and three firearms: a 12-gauge shotgun, a .45 caliber pistol, and an AR-15, all registered.