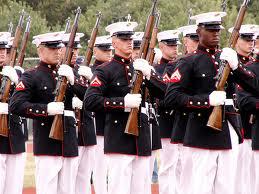 Before It's News reports
On Wednesday Marine Sgt. Gary Stein was notified by the Marine Corps that he was in violation of the Pentagon's policy for blatantly condemning President Obama and Defense Secretary Leon Panetta.
Stein's actions could now lead to his dismissal and a possible downgrade in ranking.
The Marine who is based in Camp Pendleton, California, created a Facebook page called "Armed Forces Tea Party," which currently has approximately 19,000 likes and has photos showcasing slogans such as "NObama" and "One Nation, under Obama, with poverty and unemployment for all," has been under the microscope since 2010.
What do you think? Are military guys wrong for openly criticizing the Commander-in-Chief.
Isn't it criminal for marines to commit acts of disrespect and disobedience?
What's your opinion? Please leave a comment.