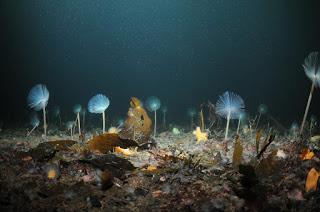 Peacock worms on a flame shell bed - © Ben James/SNH
Scotland's Marine Protected Areas (MPA) network is helping our efforts to combat climate change, according to a report published today Friday 3rd Feb' by Scottish Natural Heritage (SNH).
The amount of carbon stored within Scotland's inshore MPA network is equivalent to four years of Scotland's total greenhouse gas emissions, scientists estimate in the report.
The world's oceans and coastal ecosystems play a vital role in trapping and storing carbon dioxide from the atmosphere that would otherwise contribute to climate change.
So-called 'blue' carbon is captured and stored across a range of marine habitats and seabed types. Some blue carbon is stored in living habitats, such as seagrass beds, kelp forests, cold-water coral reefs, and mussel beds. The majority is stored in seabed sediment, accumulated over many years, much the same as our onshore peatlands.
As with peatlands on land, healthy marine habitats can provide us with multiple benefits, including by storing carbon. However, when they are damaged or destroyed, the greenhouse gas is released back into the atmosphere.
Scientists estimate that about 90% of the blue carbon within Scotland's MPA network is stored in seabed sediments and relatively stable. The living habitats, however, such as maerl and flame shell beds, are more sensitive to physical disturbance and many of these are protected features in the MPA network.
The report published today highlights that, although primarily designed for biodiversity, our MPA network brings many benefits, including by helping to reduce climate change.
John Baxter, SNH's principal marine adviser, said: "Scotland's seas fulfill many important services, such as providing us with food and energy. But one that has been largely overlooked until recently is the capacity to store vast carbon deposits. This makes it clear that good stewardship of these habitats is an essential part of our strategy to combat climate change.
"This report represents the current best estimate of the blue carbon stores in Scotland's inshore MPA network but it also highlights some limitations in our knowledge and suggests what further research is needed to help improve our understanding of the processes involved."
Mike Burrows from the Scottish Association for Marine Science, the principal author of the report, said: "Coastal vegetation and sediments are sources and stores for 'blue' carbon. While it has been a challenge to map coastal habitats and sediment deposits, our understanding of the processes involved have allowed us to calculate how much blue carbon is produced and stored in each of the MPAs. We now have a good baseline for directing efforts to protect blue carbon in Scotland's coastal seas."
Bill Austin of the University of St Andrews, who led the work on the coastal blue carbon sediment stores, said: "Scottish marine sediments hold a vast, largely unaccounted component of Scotland's marine carbon resource, representing a large proportion of the total UK stock."
The report estimates the stores of blue carbon in each of Scotland's inshore Nature Conservation MPAs and Special Areas of Conservation. Scotland's network of Marine Protected Areas (MPAs) covers approximately 20% of our seas. Developing a network of well-managed MPAs is one way the Scottish Government aims to meet its 2020 Biodiversity Challenge outcome of 'clean, healthy, safe, productive and biologically diverse' coasts and seas.
Commissioned Report 957: Assessment of blue carbon resources in Scotland's inshore Marine Protected Area Network is available on the SNH website.