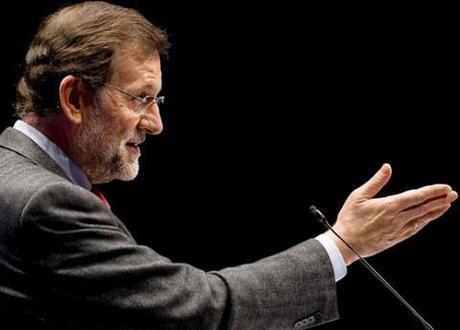 Spain's new prime minister, Mariano Rajoy. Photo credit: Partido Popular de Cantabria, http://flic.kr/p/9pEtHo
The conservative People's Party (PP) has swept to victory in the Spanish elections, winning a strong majority over the incumbent Socialists. PP leader Mariano Rajoy has insisted that he will deal with the economic crisis engulfing Spain. But can he really rescue a country that is widely considered to have one of the most unstable economies in Europe?
The right man for the job? PP politician Jose Maria Lassalle told Reuters that Rajoy has the right qualities to tackle the crisis: "He's a long-distance runner, not a sprinter, and the economic crisis needs long-distance runners," he said. However, Ciaran Giles of The Associated Press described the PP leader as "a lusterless career politician who thrives on ambiguity — rarely revealing what he thinks".
No market rally. Rajoy may be celebrating, but it seems the global financial markets are not. Writing on a Guardian liveblog, Graeme Wearden pointed out that even though Rajoy now has a clear mandate for economic reform, trading remains "limp". Wearden suggested this may be due to austerity-minded Rajoy's pre-election reluctance to spell out the details of his plans for reform in order to avoid alienating voters. What's more, Wearden quoted market analyst Michael Hewson as saying the 3-week government changeover period in Spain is causing concern: "There is… a significant risk that events could overtake Spain if there is further deterioration in Spanish bond yields on the scale we saw last week," he said.
"Hard times lie ahead," said incoming Spanish Prime Minister Mariano Rajoy after winning the election.
Too late? Indeed, currency strategist Marc Chandler told Bloomberg that time is of the essence for eurozone countries: "The economies are deteriorating faster that the austerity is being implemented," he said. According to the report, Rajoy faces a considerable challenge when he becomes PM, with Spain's high unemployment, crisis-hit banking system and large deficit: "Rajoy will be fighting to remain in the euro."
Too much bureaucracy. However, some commentators believe that speedy reform is impossible due to the EU's administrative structure. Writing for The Wall Street Journal, Irwin Stelzer described the EU as "a bloated bureaucracy that sits atop the bureaucracies of the individual member states, which in turn sit atop the bureaucracies of regional governments that resist reforms or spending cuts"; this, Stelzer argued, would hold back reform in Spain. On a similar note, The Telegraph published an interactive graphic to show how "red tape and bureaucracy" have held back eurozone economies.
'Weak link'. Rajoy is under pressure to tackle Spain's financial woes not only for his country's sake but also as part of the wider eurozone crisis. Writing for the BBC, Robert Peston described Spain as "the weaker link in the eurozone chain" and said that the country's financial foundations are even shakier than Italy's. According to David Gow in The Guardian, EU leaders remain hopeful that regime change in Spain can slow down the crisis – but not that hopeful: the European Commission is expected to put forward plans to take charge of struggling eurozone countries' budgets.