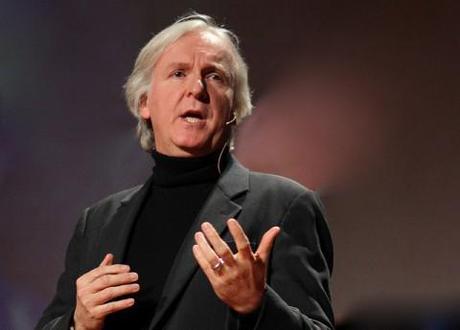 Hollywood director and deep sea explorer James Cameron. Photo credit: Jurvetson
Visionary Hollywood director James Cameron has returned to the surface after plunging nearly seven miles down to the deepest place in the ocean, the Mariana Trench in the western Pacific. Titanic and Avatar director Cameron's daredevil deep-sea dive – part scientific, part artistic – represents only the second manned expedition to the ocean's deepest depths – the earlier descent was made by US Navy Lt Don Walsh and Swiss oceanographer Jacques Piccard way back in 1960. Cameron intends to release a documentary charting his remarkable journey.
Cameron made the solo descent in a submarine called "Deepsea Challenger," taking over two hours to reach the bottom. Cameron spent more than three hours exploring the ocean floor (he had planned to spend six) before a 70-minute ascent, according to widely reported updates from the exploration team. Cameron has spent the last few years working in secret with his team of engineers to design and build the seven-metre long craft, which weighs 11 tonnes, reported the BBC.
As he reached the bottom of the Mariana Trench, Cameron sent out a Tweet reading: "Just arrived at the ocean's deepest pt. Hitting bottom never felt so good. Can't wait to share what I'm seeing w/ you."
What drove Cameron to do such a thing? In a BBC interview prior to the dive, Cameron explained his motivations: "I grew up on a steady diet of science fiction at a time when people were living a science fiction reality. People were going to the Moon, and Cousteau was exploring the ocean. And that's what I grew up with, what I valued from my childhood."
Why bother? "While places like the Mariana Trench were once thought to be of little interest, there has been a recent resurgence of scientific interest in the deep," noted Rebecca Morelle, science editor, BBC. She reported that scientists are finding remarkable life that can resist the colossal pressures, from deep-sea fish to shrimp-like scavengers called amphipods in the depths. Scientists are also trying to understand the role that deep trenches play in earthquakes.
The Mariana Trench is 120 times larger than the Grand Canyon, and more than a mile deeper than Mount Everest is tall, reminded The Daily Telegraph.
Much-needed boost for under-funded deep sea research. "More people have walked on the surface of the Moon than have visited the bottom of the Marianas Trench" noted i09.com, which marveled at Cameron's drive and determination to push forwards oceanography – "the overwhelming majority of our planet is covered in oceans, and yet we still know so few of their deepest, darkest secrets." "The lack of knowledge surrounding the oceans' depths isn't particularly surprising when you realize that funding for deep sea research has been dwindling for years," lamented the website, which said that "with any luck, Cameron's efforts will go a long way in piquing public interest in deep sea research."
Gawker hailed 
"science nerd" Cameron and noted that Piccard and Walsh "spent a weak 20 minutes at the bottom."
Sniping from the sidelines. Dr Alan Jamieson, from Scotland's oceanography exploration firm Oceanlab, told the BBC: "I think what James Cameron has done is a really good achievement in terms of human endeavour and technology. But my feeling is that manned submersibles like this are limited in scientific capabilities when compared to other systems, mostly due to the fact there is someone in it. Remote or autonomous systems can collect a far greater volume of useful scientific data for far less money."