Mariah Carey And Her Manager Have Parted Ways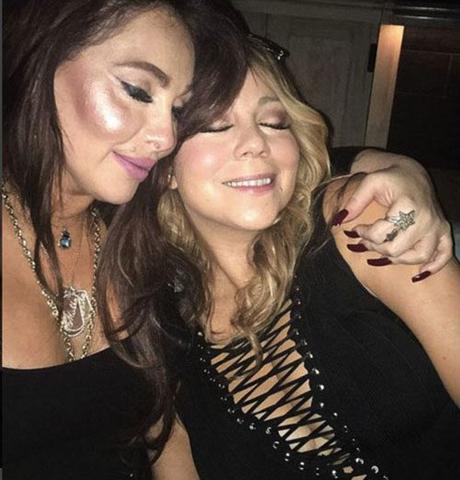 Mariah Carey followed up her stomping of the concrete over at Hollywood TCL Chinese Theater with consciously uncoupling with a key member of her Hello Kitty brigade. The newly unemployed is her longtime manager Stella Bulochnikov. The trills of the worker unicorns over at Mimi's must have been especially sing-songy last night seeing as Mariah's crew reportedly hated Stella. She was supposedly the impetus for a butterfly flurry of resignations from Team Elusive Chanteuse last year.
The Blast says that it wasn't exactly a firing. Stella reportedly exited Mimi's employ because of some recent odd behavior of Carey's which is said to be reminiscent of the "Mariah Carey is on TRL Live giving out ice cream but something's obviously wrong" era.
According to our sources, Bulochnikov found it increasingly difficult to manage Carey due to her erratic behavior, culminating in the bizarre video Carey posted to Facebook a few weeks back.
The video in question was a Facebook Live video from last month in which Mimi traipsed through her home, babbling about several different things including her new Christmas song ("The Star" which is the theme for an animated flick of the same name), her chaise lounge, and her nails.
Throw in a plug for an HSN showcase featuring a festive limited edition "Mariah Carey for Spanx" collection and that looks like typical Mimi to me, but friends were "extremely concerned."
Sources close to Carey tell us friends and close music associates are "extremely concerned" because her recent behavior has been "manic" and similar to 2001 when she experienced an "emotional and physical breakdown."
Another reason for Stella's exit might be Mimi's current rental boyfriend Bryan Tanaka having "gotten more and more involved in Mariah's day-to-day work schedule and overall career." Someone forgot to give Mimi the memo (on Lisa Frank stationary of course) that you should NEVER have a significant other as your manager. That move will eventually result in the two of you glaring at each other across the aisle in a courtroom. (Actually, Mimi would probably have a minion glaring for her. Glaring can be taxing for someone so delicate and ethereal.)
Pic: @MariahCarey
Source: Mariah Carey And Her Manager Have Parted Ways
5 total views, 5 views today